Amazing Ways To Use Thieves Household Cleaner!
Amazing Ways to Use Thieves Household Cleaner! Plant & Mineral Based Ingredients, Non-toxic All Purpose Cleaner that is safe to use around kids and pets.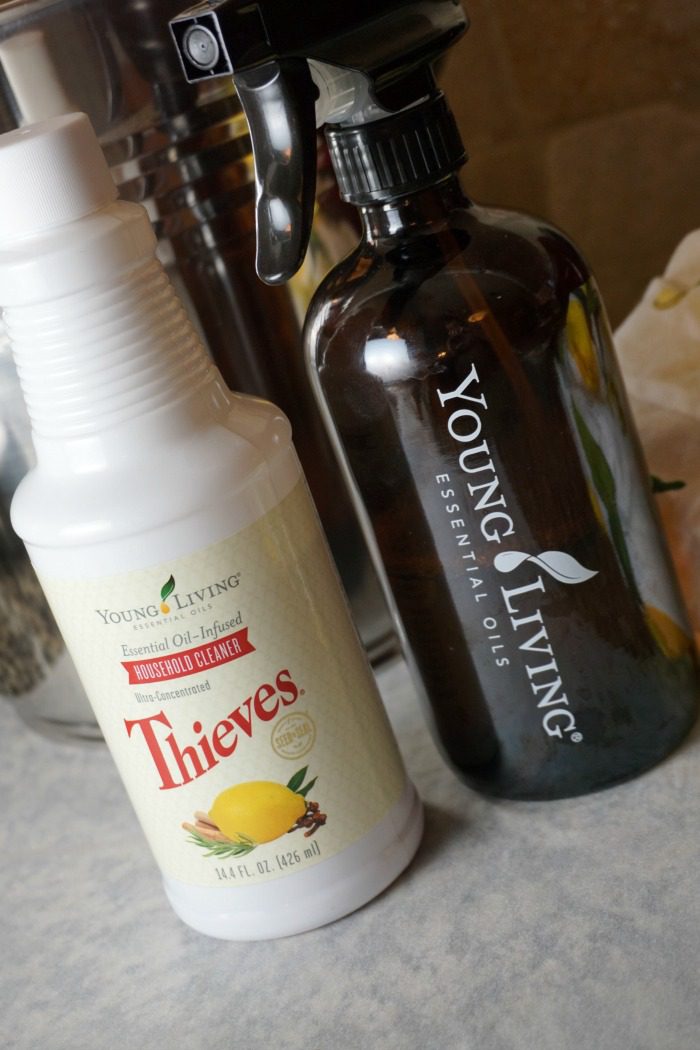 If you are looking for a safe, plant based cleaning product that is safe for everyone in your home, this one is for you! Here are some Amazing Ways to Use Thieves Household Cleaner as an all purpose cleaner for every area of your home!
Watch this video for a quick Thieves Cleaner Tutorial! 
To start with, let's talk about a basic way to dilute Thieves Household Cleaner.

All you need is 1 cap of Thieves Household Cleaner to a 16oz spray bottle. Add distilled or purified water to your spray bottle first, and then add the 1 cap of Thieves Household cleaner.
This is an all purpose spray for any are of your home. If you are needing more power, add an extra 1/2 or 1 cap of cleaner to your bottle. When I talk about spraying with Thieves Household Cleaner below, this is the recipe that I am using.
It's so simple and can be used on every surface in your home. This is how I keep my Thieves Cleaner stored on my kitchen counter. I use it after cooking, or cleaning up messes! I also grab the same bottle for daily household chores.
If you are looking for a little "extra" when it comes to cleaning, here are some MORE ways you can use Thieves Household Cleaner that you may not have thought about!
Thieves Household Cleaner
Kitchen:
Countertops – 1 Cap Thieves Household Cleaner + 2 Cups Water
Dishwasher – 1 1/2 Caps as detergent (just add to bottom of dishwasher)
Bathroom:
Toilet Bowl – 1/2 Capful in the Toilet Bowl (scrub with toilet brush & flush)
Toilet Surface & Seat – Spray seat and top of toilet and wipe with a paper towel.
Sink – Use diluted Thieves Household Recipe and spray generously. Wipe off with microfiber towel or washcloth.
Grimy Tub – Baking Soda + Thieves Spray (Add baking soda to your tub and then spray it with Thieves Household Cleaner to make a paste. Use a sponge or towel to scrub grimy areas and wash clean with water.
Bedrooms:
Beds – When changing the sheets, spray mattress pads and cover with Thieves Household Cleaner.
Side Tables – Dust as normal.
Trash Cans – Spray with Thieves House Hold Cleaner and wipe clean with paper towel.
Laundry Room:
Laundry Detergent – add 2 capfuls of Thieves Household Cleaner per load.
For White Loads – 2 Capfuls Thieves Household Cleaner + 1/2 Cup 20 Mule Team Borax.
Floors:
Mopping – fill sink or bucket with warm water and add 1-2 capfuls of Thieves Household Cleaner.
Other Uses:
Dusting – I use the basic dilution ratio mentioned at the top of this post for dusting all surfaces of my home. 1 Cap of Thieves Household Cleaner diluted in purified or distilled water in a 16 oz Spray Bottle.
Carpets – spot cleaning or deep cleaning spills and stains.
Cars – Dash & bumpers. Also cleans leather interior or seats.
Pantry Shelves
For even MORE ways to use Thieves Household Cleaner, text: THIEVES to (501) 204-0424!
The options really are endless. Basically you can replace every toxic cleaner in your home and just grab this one. It's so easy and works wonders! Plus, this cleaner is a HUGE value because one bottle goes a long way – and you can use it just about everywhere! I can't wait for you to try it!
If you have any questions, or want to get your hands on a bottle of this AMAZING Cleaner! Let me know! Submit the form below and let's talk!
Disclaimer: These statements have not been evaluated by the Food and Drug Administration. This information is not intended to diagnose, treat, cure, or prevent any disease. The information on this site is not intended or implied to be a substitute for professional medical advice, diagnosis or treatment. Please confirm any information obtained from or through this web site with other sources, and review all information regarding any medical condition or treatment with your physician. Never disregard professional medical advice or delay seeking medical treatment because of something you have read on this website.
Pricing subject to Change at any time. Please make sure you check the current price on Amazon.com before purchasing.