Be Still | A Sweet Summer of Learning and Growing!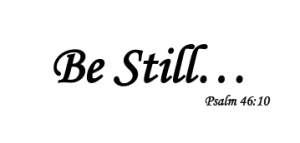 Learning to "be still" – easier said than done.
Learning to "be still" is something I have to remind myself of daily. Something I have been learning since the beginning of Summer. "Be Still", "Rest", and "Wait". Simple words that are hard to hear, and simple words that are even harder to apply.
Psalm 46:10 "Be still, and know that I am God"

Matthew 11:28 "Come to Me, all of you who are weary and burdened, and I will give you rest.

Psalm 27:14 "Wait for the Lord; Be strong and let your heart take courage; Yes, wait for the Lord.
Being still does not mean that you stop asking, stop seeking, and stop praying, it means you keep asking, you keep seeking, and you keep praying. It is a process of waiting on God's timing and His perfect will. Through this time I have learned that God answers prayers when you are being still and listening for His voice. It is amazing to me how He answers even the smallest prayer request or gives the simplest reminders that He is in control and He's got this!
I am so thankful for God's faithfulness and His hand on my life guiding me through this journey. There are many Bible verses I have been reminded of during this process that give me hope and a desire to know Him better. I can honestly say this has been one of the sweetest summers yet! I long to be in His arms – protected and safe right where I belong. I know I am in God's hands. I know He is directing my steps. And I know that He will never leave me or forsake me!
Though it is not easy, I want to "be still", "rest", and "wait", because ultimately His plan is better than anything I could ever ask or imagine for myself. I must let go and trust that He is God, He is Faithful, and He is Good! Being still, resting, and waiting on Him is exactly where I am right now – and there is no other place that I would rather be.
What are you trusting God for in your life right now?