Cheap Hair Spray that Works!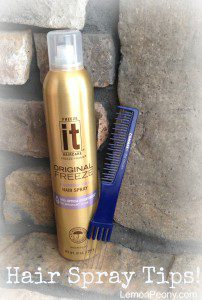 If you are looking for a Cheap Hair Spray that actually works and stays in place, be sure to check out one of my favorites!
Grab this Cheap Hair Spray the next time you are shopping and try it out! I am a fan of trying new beauty products, and I am always looking for products that give me the best results. When I was searching around for my perfect Hair Spray, I tried expensive products and cheap products to figure out which brand I liked best.
I found that one of my favorite products is the Freeze It Original Spray Hair Spray – Volumizing Hold! This product is only $3.97 at Walmart, and I think it works better than most of the expensive brands I have tried.
Freeze It Hair Spray has Optical Brighteners for enhanced shine, and is all weather proof with 24 hour hold! Now, you may be thinking "yeah right, all weather proof", but I do think that this hair spray works great when it is humid, cold, dry, or damp. I can do my hair straight, curly (with a curling iron), or naturally curly and it always gives me a great look!
I love that it holds all day long no matter what style I choose! Plus, I at the end of the day, I can brush my hair out and it will have a great texture the next day!
Freeze It Hair Spray smells great too, which is always a benefit when it comes to hair products! Since it is so cheap, it might be worth giving it a try! You can always experiment with several different hair styles to see which one holds the best with this hair spray!
I think this hair spray gives me the best hold when I curl my hair with a 1-1/4″ curling iron. All I have to do is curl my hair in a couple of different sections, tease it a little, and then spray the curls so they stay all day! I personally use the 1-1/4″ Hot Tools Professional Curling Iron and I love it! Right now you can get this curling iron at Amazon for only $27.59 + Free Shipping, down from $58! That is a savings of 52%, but keep in mind that Amazon prices can change quickly! Since this item is priced over $25, you will receive Free Super Saver Shipping or Free 2-day Shipping with Amazon Prime!
Here are some of my Hair Spray Tips for great looking hair all day long!

Tease your hair with a comb at the crown of your head if you are looking for Extra Volume (I use a Style Lifter with Prongs to tease my hair, and I like to tease a couple of different sections at the top for added volume)!
Style then Spray your hair and let it sit about 5 minutes!
After 5 minutes, finalize your style and spray your hair one last time (I feel like this helps the hair spray set, and adds volume & texture)!
I like to use my fingers to finalize my hair style after it's been sprayed once. I feel like it is easier than trying to use a comb or a brush. Maybe thats just the texture of my hair, but it is always worth trying!