Crockpot Chicken Rigatoni Recipe!
If you are looking for a new dinner recipe, be sure to check out this Crockpot Chicken Rigatoni Recipe!
This Crockpot Chicken Rigatoni Recipe with Homemade Spaghetti Sauce is one of my favorites! This is an easy recipe to throw everything into a crockpot and let it cook all afternoon! This would also be a great recipe to freeze and save for later. Just make your sauce ahead of time, freeze it, and then it is ready to go when you are looking for a quick meal option! All you would have to do is make some fresh noodles and warm up the sauce!
Crockpot Chicken Rigatoni Recipe!
Here's What You Need:
1/2 Box Rigatoni Pasta
5 Chicken Tenders
1 Can of Diced or Crushed Tomatoes
1 Can of Tomato Sauce (8oz)
1/2 Can of Tomato Paste (3oz)
1/4 Cup Water
2 Tablespoons Sugar
1 1/4 Tablespoons of Chili Powder
3/4 Teaspoon of Garlic Powder
3/4 Teaspoon Parsley
3/4 Teaspoon Onion Flakes
1/2 Teaspoon Pepper
1/2 Teaspoon Salt
1/4 Teaspoon Oregano
Small Pinch of Red Pepper Flakes (Optional)

Directions:
1. Mix Water and Tomato Paste in the Crockpot and stir until the Tomato Paste is mixed in.

2. Add in all other ingredients into the Crockpot and cook on High for 4-5 Hours (Stir Occasionally).

3. After the sauce has cooked for 3 hours, remove the lid and let it finish cooking. This will help to thicken the sauce.

4. Cook pasta according to directions on the box (I like mine cooked about 12 minutes).

5. Serve the sauce over the pasta, or mix the Rigatoni in with the sauce in the Crockpot.

6. Top of with Parmesan Cheese and Enjoy!
This recipe will serve 2-3 people, but you can always double or triple the recipe for a crowd ( or if you are wanting to freeze some of the sauce for another meal).
Cooking time may vary depending on how much sauce you make. Also If you are using raw chicken, you just want to be sure the chicken is fully cooked. If you are using already cooked chicken, the time is not as important and can vary depending on your time schedule. You can always cook this recipe on lower heat for 6-8 hours.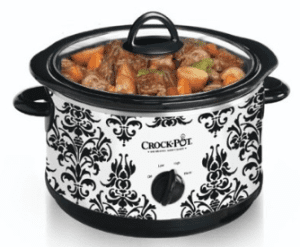 Check out this fun 4 1/2-Quart Slow Cooker Crock Pot for only $19.99 at Amazon (down from $29.99)! I love this pattern – so fun if you are looking for something a little bit different! Plus, receive Free 2-day Shipping if you have Amazon Prime, or get Free Super Saver Shipping on orders of $35 or more!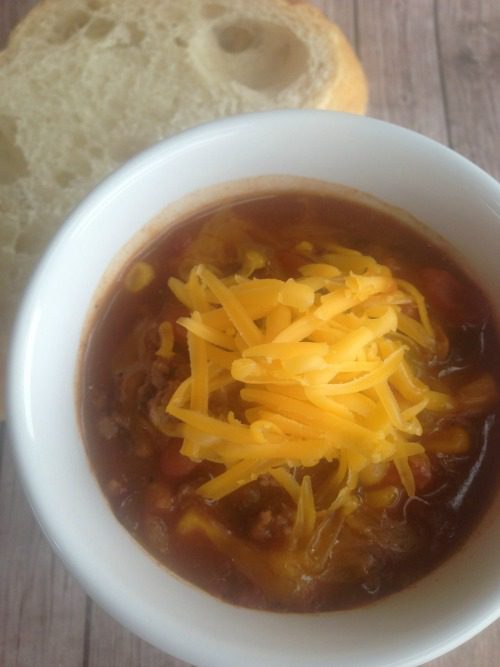 Also, be sure to check out this Easy Taco Soup Recipe for another great meal that you can throw in the Crockpot! This is an quick and easy recipe that your entire family can enjoy!
Pricing subject to Change at any time. Please make sure you check the current price on Amazon.com before purchasing.