Microwave Peanut Brittle Recipe!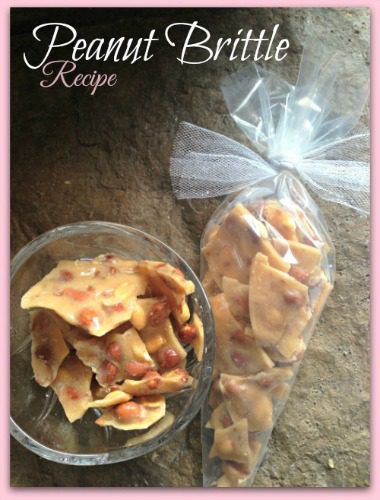 I am a HUGE fan of Peanut Brittle, especially around the Holidays! Here is my favorite Microwave Peanut Brittle Recipe!
Check out this Microwave Peanut Brittle Recipe for a great treat for all of your friends and family members! Any time of the year is a great time for Peanut Brittle, but it is especially wonderful around Thanksgiving, Christmas, and Valentine's Day! Be sure to check out this recipe and try it for yourself. If you are looking for a special treat to make for friends, this can easily be put in bags and tied with a cute ribbon for a creative gift idea!

Peanut Brittle Recipe
Here's What You Need!

1 Cup Karo Syrup
2 Cups Raw Peanuts
2 Cups Sugar
1 Teaspoon Salt
2 Tablespoons Butter
2 Teaspoons Vanilla
2 Teaspoons Baking Soda
Directions: 
1. Mix Karo, Peanuts, Sugar, and Salt in a large microwaveable bowl.
2. Microwave and stir the mixture as follows…
4 minutes, stir
4 minutes, stir
4 minutes, stir
2 minute, stir
3. Add Vanilla and Butter and Stir.
4. Microwave 1 minute (keep in mind that the Peanut Brittle will be VERY HOT! Be sure to use pot holders and be very careful!
5. Add 2 Teaspoons of Baking Soda and stir quickly until the Peanut Brittle starts to foam.
6. Quickly pour the Peanut Brittle on to aluminum foil that has been sprayed with cooking spray. Tip: Put the aluminum foil on a baking sheet or something that will be able to withstand the heat.
7. Spread the Peanut Brittle as thin as possible and let the Peanut Brittle cool for 45 minute to an hour.
8. Break the Peanut Brittle apart into small pieces and enjoy!
This is the perfect recipe to make for your family or to share with friends. You could always try this recipe with pecans or cashews if you are not a fan of peanuts! Try it for yourself and let me know how it goes! This is one of our family favorite recipes because it can be made in the Microwave and you don't have to use a candy thermometer!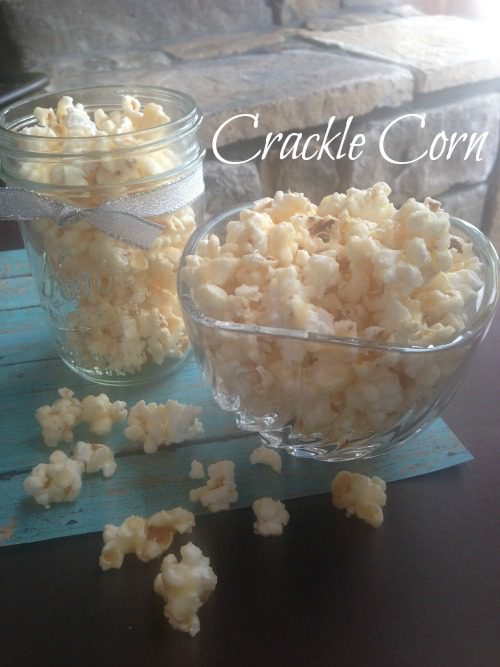 Also, be sure to check out my Crackle Corn Recipe for another great treat that is perfect for sharing with friends or giving away as gifts!

Visit Julie Story's profile on Pinterest.


Pricing subject to Change at any time. Please make sure you check the current price on Amazon.com before purchasing.
Posted by
Julie Story
. This post may contain affiliate links. Please read our
Disclosure Policy
.