7 Wedding Planning Hacks!
This post for 7 Wedding Planning Hacks has been compensated by Collective Bias, Inc. and its advertiser. All opinions are mine alone. This post was sponsored by Starbucks as part of an Influencer Activation. I received compensation and complimentary products to facilitate my review. #StarbucksCaffeLatte #MyStarbucksatHome #CollectiveBias

Wedding planning is in high gear over here, and I just want to share with you my top 7 Wedding Planning Hacks to help you along the way if you are planning a wedding!
Wedding planning is fun and sometimes stressful. These 7 Wedding Planning Hacks will help you keep your focus where it needs to be so that you can enjoy the process and the journey along the way! All of these things have saved me time and money along the way because I am able to simplify the process and focus on the main tasks at hand! I'm also going to share with you one of my favorite Wedding Planning Hacks that includes Starbucks® Caffè Latte K-Cup® pods! 
7 Hacks for Wedding Planning!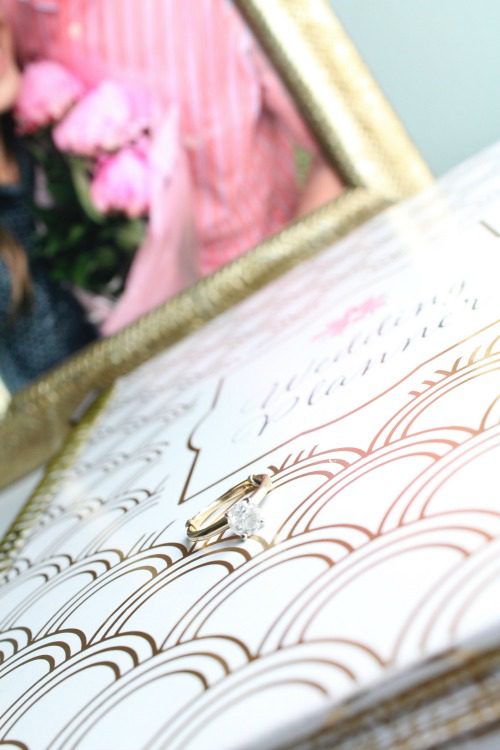 1) Wedding Planner
Get yourself a wedding planner! A binder or notebook that you can keep all of your wedding information in one spot. You can keep this online if you'd like, but I like to keep an actual paper planner with all of my pictures and information as well as my monthly calendar!
It's super helpful to have everything in one place so that you don't have to search for it when you need it. As you get information from different venders, it helps you to stay organized so that you can make a clear and informed decision.
2) Wedding Tribe
Find a wedding tribe to walk through this season of life with you. I am so blessed to have my wedding tribe that includes my Mom, Sister, and Sister-in-Law. These ladies have been there for me every step of the way! They talk details with me and help me to see the big picture. My Fiancé is amazing and talks through wedding plans with me, but when it comes to some of the small details he is just excited about being married and isn't worried about the small stuff. That is where my wedding tribe comes in handy and helps me dream along the way of our big day! They also are so encouraging to me during this season. It's so nice to have people cheering you on as you make this big life change.
If you don't have family close by, your wedding tribe can be some of your best friends! Perhaps it's some of your bridesmaids or mentors!
These ladies right here are some of my favorite and have had a huge impact on me! All of these women have poured into my life from my 91-year-old Grandmother to my 6-year-old niece!
3) Organized List
Lists. Lists. Lists. Keep your lists in your wedding planner and keep them up-to-date.
Here are some of the things I have made lists for that has been super helpful…
Bridesmaids.
Groomsmen.
Houseparty.
Flower girls/Ring Bearers.
Wedding addresses (master list).
Couples shower address list.
Bridal shower address list.
Lingerie shower address list.
Dates for Showers.
Important dates on the calendar that you need to plan wedding events around.
Wedding ceremony set-up.
Wedding reception set-up.
Rehearsal dinner set-up crew.
Rehearsal dinner clean-up crew.
People who have offered to help the week of the wedding.
A wedding reception tribe to help out on the big day.
Wedding reception clean-up.
Wedding ceremony clean-up.
Hostess gifts.
Items I need to rent.
Items left to buy.
Having so many different, specific lists keeps me organized and on task for each area of the wedding. I feel like I can relax and not stress out because I have a plan that is specific and detailed. Plus, I have several key go-to people to help me out in specific areas so that I can delegate those tasks to people that I trust that I know will do a good job. It helps to take the stress off of me and allows me to enjoy the process.
I added a whole bunch of tabs in my binder to keep track of the calendar and important information! This has been super helpful and I highly recommend doing this!
4) Starbucks® Caffè Latte K-Cup® pods
Wow, after all those lists, who is ready for some coffee?! I am a huge fan of saving time and money, so coffee in the Keurig at home is my go-to every. single. morning! Iced Lattes have become my drink of choice and have become a staple in my wedding planning. Starbucks® Caffè Latte K-Cup® pods are super easy, and add a burst of flavor to your wedding plans! Starbucks® Caffè Latte K-Cup® pods are made from milk, with no artificial flavors – another bonus for wedding season! Plus, they come in 3 Starbucks® signature flavors (Caramel, Mocha, and Vanilla). You can also pick up Starbucks® seasonal flavors such as Pumpkin Spice and Peppermint Mocha – only available for a limited time!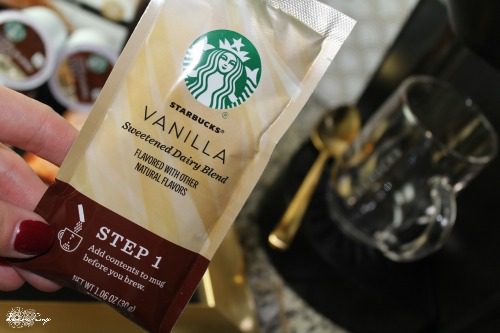 Curious how this two-step process works? It's easy!

1) Pour the flavor packet into your mug.

2) Brew the Starbucks® Caffè Blend K-Cup® pod in your Keurig® brewer. 

Stir and enjoy! That's it! It doesn't get much better than that, especially during this super busy season of life – no matter what stage you're in!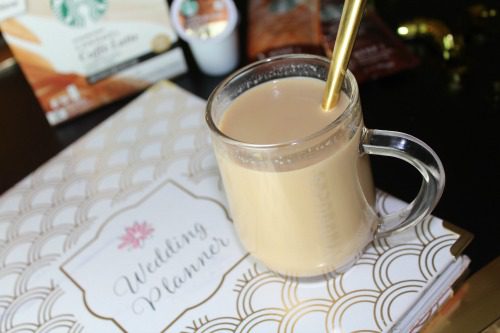 Curious where you can grab these NEW Caffè Latte K-Cup® pods from Starbucks®? They are available nationally at your local grocery store!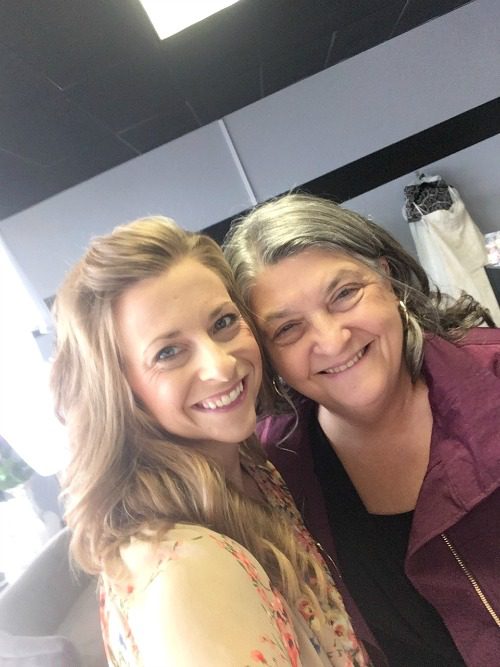 5) Top 3 Wedding Dreams
If you are getting overwhelmed with wedding planning, be sure to pick out your Top 3 Wedding Dreams! What are the three main things that you want to focus on for your wedding? Every person may have different goals, but stop and think about what areas you want to focus on and what areas you could save or spend less time.
My Mom has been a huge help as we plan the wedding from talking through details with me and running errands! This photo is from the day we picked up my wedding dress!
Here are my top 3 wedding dreams! 

1) Wedding Photography

I LOVE photos, so choosing a wedding photographer that I loved was super important to me. We met with several different photographers and decided to go with the one that fit our style the best. 

2) Wedding Dress

I have dreamed of wearing a wedding dress since I was a small child and walking down the isle to the man I love! Well that day is here (almost)! My wedding dress is one that fits me just perfectly and makes me feel absolutely beautiful! To me it was important to find something that I loved and not just something trendy or that others approved of. 

3) Friends and Family

I think one of the things we are most looking forward to is the people who will share this day with us. These are the people who have encouraged us along the way and supported us in our relationship. These will also be the people who pray for us and encourage us as we start our new family. Having this support system makes the day even more special because we know we are not alone in this journey. I understand that this day is about us, but one of our dreams is to be able to thank and hug every person that comes to support us. 
You're dreams may be different than mine. Your goals may include the reception, or the cake, or perhaps even the music or ceremony. There are so many different areas to choose from, so be sure to narrow down the ones that you want to highlight on your wedding day.
6) Planning Meetings
Something that has been super helpful to me is having planning meetings with my wedding tribe. Specific lunches or times that we can talk, plan, and focus on wedding details. This has helped save time and energy because it keeps us from having to talk about wedding details 100% of the time.
Lunches with my sister have been super helpful as we plan the wedding! She has so much great advice and is a great party planner! I don't know what I would do without her!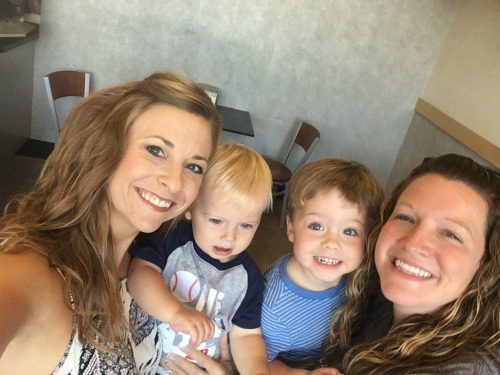 7) Soak it all in
Yes, it may feel like there is so much to do – and there probably is… but be sure to soak it all in. This will be the only time you are in this season of life, and though it may feel like forever, it really is only a short amount of time. Enjoy the little things that you may not get the chance to do again. Be present in each moment and don't worry about the small things. At the end of the day you will be married to the one you love and ready to start your life together as a new family!
I got to go cake testing with my sister-in-law and nephews! The boys had a blast trying the different flavors of cake! So much fun and so many memories!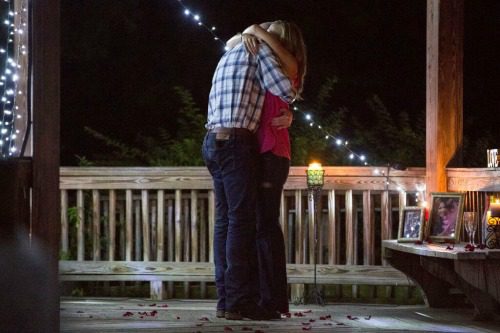 I understand this is a hard and stressful season of life. For some, it is the hardest point in a couple's relationship! I am still working on this, but trying to enjoy each moment and anticipate with hope of what is to come. Take this time to enjoy your Fiancé and fall in love all over again!
As you're falling in love all over again while planning your wedding and waiting for the big day, be sure to fall in love with these NEW Starbucks® Caffè Latte K-Cup® Pods! You'll be glad you discovered this simple sanity saver for wedding planning! 
Visit Julie Story's profile on Pinterest.


2016 Starbucks® Corporation. All rights reserved. Keurig, Keurig HOT, K-Cup and the K logo are trademarks of Keurig Green Mountain, Inc., used with permission.