Cheap DIY Kids Alphabet Game!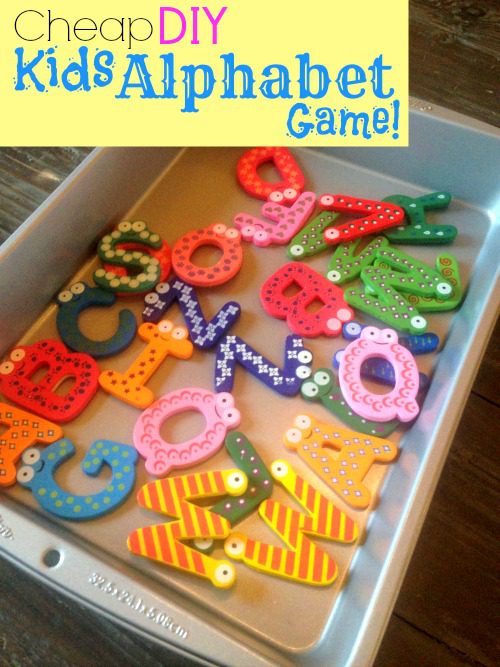 If you are looking for a new, fun kids game, check out this Cheap DIY Kids Alphabet Game!
This Cheap DIY Kids Alphabet Game is easy to throw together, and can give your kids hours of enjoyment! Plus, it is a great learning tool! All you need is some Magnetic Alphabet Letters and a Baking Sheet!
Pick up a set of Colorful Magnetic Letters at Amazon for only $3.93 + Free Shipping! I recommend getting at least two sets of letters so that you can spell words with multiples of the same letter. If you have more than one child, get a set for each kid in your family! These are great because all of the letters have eyes at the top. I find this helpful for kids who are beginning to learn their letters so that they know which way the letter is supposed to go.
After your letters arrive, you can use a baking pan or cooking sheet that you already have in your kitchen to save money! This gives the letters something to stick to, and it also helps the letters stay in place for when you are building words!
There are several games that you can play with these letters, here are some of my favorites!
Alphabet Soup – Use the letters as if you were making soup (you could even put them all in a large bowl)! Before you can put the letter in your soup bowl, the child must identify which letter they have. For older kids, have them spell a word, or create a word, before they put the letters in their bowl to stir and "eat"!
Letter Discovery – For younger kids, mix the letters up on the floor. Then say the letter you want them to find. They must find the letter and put it on the baking sheet! This is a great way to help them learn how to spell their name or other small, fun words!
These are only a couple of games that you can play with letters, but there are so many more! Be creative and have fun! Keep in mind that these will also stick to the fridge for another fun activity!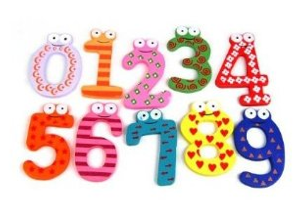 You can also check out the set of Colorful Magnetic Numbers! Get this set for only $2.89 + Free Shipping! These also make great gift ideas for little kids! Perfect for Birthdays Gifts, Easter Basket Gifts, Christmas Gifts, or Stocking Stuffers!
It is amazing to watch how quickly kids will learn to recognize letters and words! I hope you enjoy these games as much as the kids that I nanny for!
Pricing subject to Change at any time. Please make sure you check the current price on Amazon.com before purchasing.