Chocolate Almond Toffee Recipe!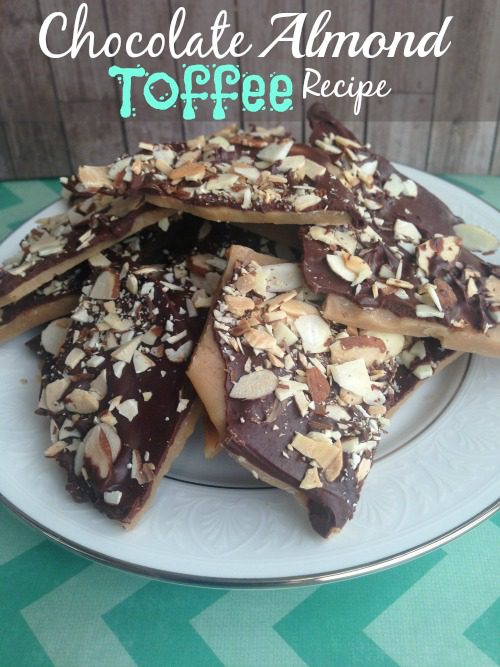 Here is a really yummy Homemade Chocolate Almond Toffee Recipe for you to try with your friends and family!
This Chocolate Almond Toffee Recipe is easy to make and great for any holiday or special occasion. You can put this in cute little bags and give it away as gifts, or serve it in a bowl at a party! This is also great to keep around your house if you love the chocolate toffee combination! Toffee is one of my favorite candies (either store bought or homemade), so I am excited to have a go-to recipe that I can make in a hurry! Plus, this is a simple recipe that makes about half a batch. Double the recipe if you are making it for a crowd!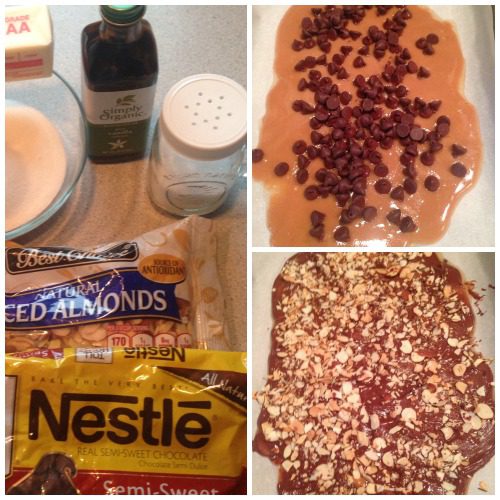 Here's What You Need:

1/2 Cup Unsalted Butter (1 Stick)

1/2 Cup White Sugar

1/8 Teaspoon Salt

1/4 Teaspoon Vanilla

1/3 Cup Almonds

1/2 Cup Semi-sweet Chocolate Chips
Directions:
Spread Almonds on a baking pan lined with parchment paper and toast the Almonds in the oven for 5 minutes on 350 degrees. I used Sliced Almonds, but you can also chop whole almonds in a food processor.
Combine Butter, Sugar, and Salt in a Heavy Sauce Pan and stir on a medium high heat until the butter and sugar are fully melted.
Once the ingredients have melted and come to a slow boil, continue stirring with a whisk for 6-9 minutes on medium high heat or until your caramel mixture turns a medium brown color and begins to thicken. This will continue to boil while you are stirring, and you want to stir continuously so that it does not burn.
Pour the caramel mixture onto a baking pan that has been lined with parchment paper (do not spray with cooking spray).
Place the Semi-sweet Chocolate Chips on top of your toffee and let them sit for 2-3 minutes.
Use a spatula to smooth the Chocolate Chips over the toffee.
Pour your Almonds on top of the chocolate and press them down so that they stick.
Place your Chocolate Almond Toffee into the refrigerator for 30 minutes to harden, or let it cool completely for a couple of hours.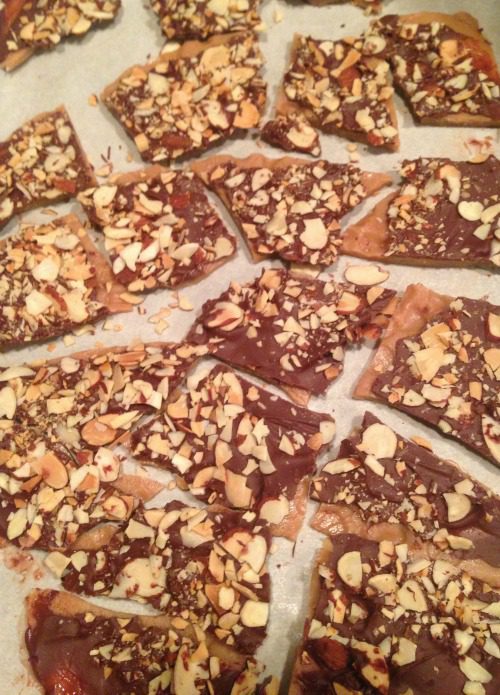 After it is completely cool, break the Toffee into pieces and ENJOY!
*The hardest part about this recipe is making sure that you cook it long enough, but not too long that it burns. To test your toffee to see if it is done, drop a little into a glass of cold water and see if it hardens immediately. This is the hard crack stage for candy so you know that it is ready.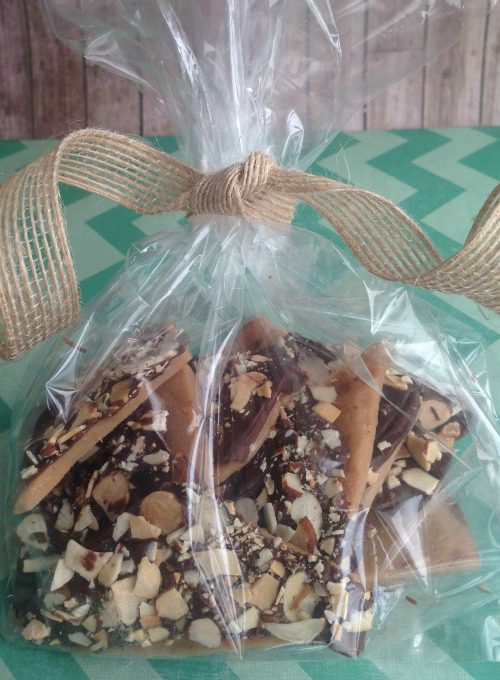 If you are not a fan of Almonds, you can always use Pecans, Cashews, or Walnuts for your favorite toffee! Grab some Cellophane Bags to give this away to your friends as a gift around the Holidays or special treats at a party!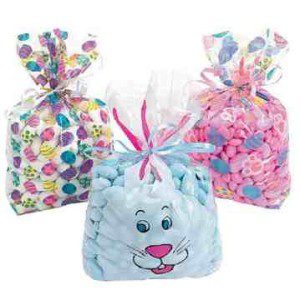 There are even Colored Cellophane Bags and Holiday Themed Bags to choose from! Find bags for Christmas, Easter, Valentine's Day, and more! Plus, receive Free 2-day Shipping if you have Amazon Prime, or get Free Super Saver Shipping on orders of $35 or more!
Plus, if you are looking for other candy recipes that you can make at home, be sure to check out this Microwave Peanut Brittle Recipe!
Pricing subject to Change at any time. Please make sure you check the current price on Amazon.com before purchasing.