Cupcakes and Sprinkles | Enjoying the Sweet Moments in Life!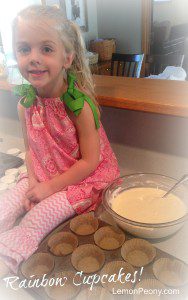 Cupcakes and Sprinkles  – the perfect way to end the weekend!
This weekend I got to spend some quality time with my sweet, precious 3-Year-Old Niece!  It was a special day of Cupcakes and Sprinkles!
On Sunday we had a special time of baking Cupcakes together. She helped me put all of the cupcake papers into the pan before we filled them with batter.  As soon as she realized we were making cupcakes, she started asking about sprinkles. She knew that when you make cupcakes you are supposed to frost them and then put sprinkles on them. The two go hand-in-hand. You cannot have one without the other. We found a jar of colorful sprinkles to use and she decided she was going to make a rainbow cupcake with all of the colors (except purple, because we didn't have any purple sprinkles).
She was determined that the icing and sprinkles needed to go on the cupcakes before they baked in the oven, but I assured her that we needed to bake the cupcakes before we put the icing and sprinkles on them so that they did not melt. She finally agreed with this idea and decided to go play until the cupcakes were finished baking.
Every few minutes she would come bouncing into the kitchen (because she never walks anywhere), and would ask "are the cupcakes ready for icing and sprinkles?" I would tell her no and she would bounce off to play again. She was doing a good job of waiting patiently, but she never forgot that we had cupcakes in the oven and sprinkles for decoration!
When we had finished lunch, and it was time for her to decorate her cupcake, she really did use every color of sprinkles that we had! Her rainbow cupcake was beautiful and she was so proud! She had thought about exactly how she was going to decorate it and couldn't wait for the moment when she could enjoy her treat! She even made a quick decision when she had to decide between a "big" cupcake or 2 "little" cupcakes. She chose the big cupcake without even thinking twice! She had her mind set on what she wanted and was so excited when the time finally came to eat her cupcake!
I love spending time with my niece because in so many ways she is my mini me! Even though she is only three, I can learn so much from her and see God teaching me through her little life.
Just like my sweet Niece, once I get my mind set on something I like to have it right then. Sometimes I don't want to wait for the cupcakes to bake before adding icing and sprinkles. I know in the end that waiting for the cupcakes to bake would make the treat even sweeter, but sometimes it is hard for me to see the end result in my own life. Even when someone tries to help me understand that it may not be God's timing or God's best for me right now, I want to keep asking and questioning all of the options just to see if maybe the cupcake is ready to enjoy. Most of the time the answer is "wait", be patient and content where I am right now. I don't need to rush the future because God has it all taken care of.
Like my Niece, I need to "bounce" through life and just enjoy where God has placed me. I need to enjoy the many blessings He has given me like these precious moments with my Niece. These are moments I can never get back and will have to look back on forever. God is teaching me that there is beauty in the waiting. There is beauty in the future.
God has been reminding me of this verse in my life…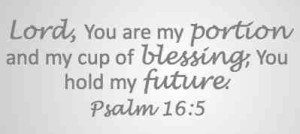 I can rest in Him, wait for His timing, and trust His plan because He knows exactly what I need. I want to be able to "bounce" through life and enjoy the little moments because God holds my future and He is faithful!
Rest in Him, Wait for His timing, Trust His plan – He holds my Future!
If you are looking for a yummy white cake mix to make cupcakes, here are the items we used for our cupcakes!