Flat Spring and Summer Sandal Trends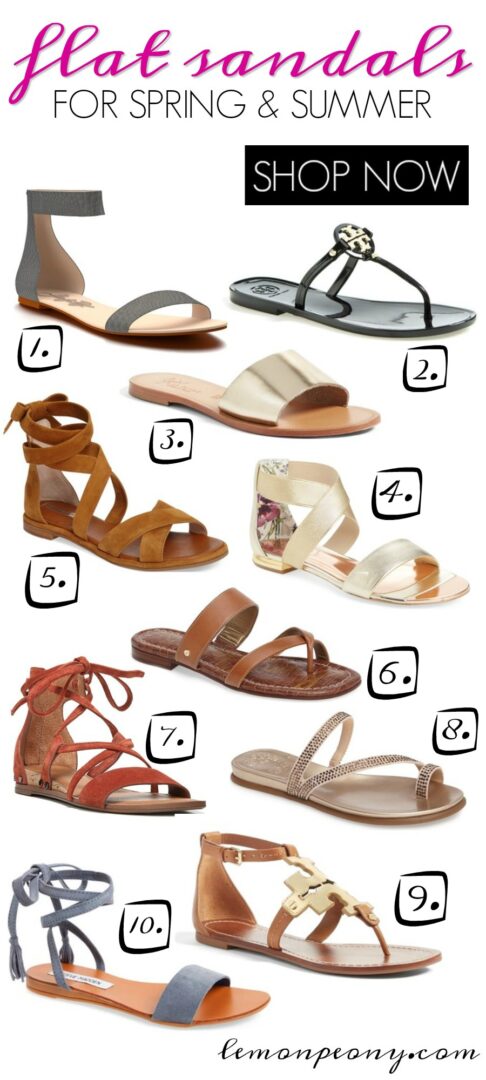 Who else is ready for spring dresses and sandals?! I know I am! One of my favorite times of year is when you can kick off the boots, shed the coats, and slip in to something light and pretty!  It's time for my Top 10 Flat Spring and Summer Sandal Trends that will have you hoping for a pedicure before the day is done!
These are some of my favorite styles and trends that you can get right now! Plus, there are so many options to choose from! I love flat sandals because you can dress them up or go casual. Wear them with shorts and a tank, or throw on your favorite sun dress and floppy hat! Whatever you style, you can't go wrong with these Flat Spring and Summer Sandal Trends! Plus, here is even more of my favorite Fashion for Spring and Summer!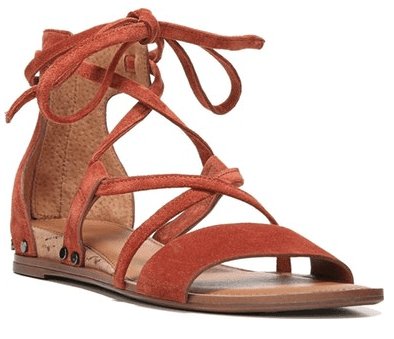 These are adorable! I love the color and that you could pair them with almost any outfit!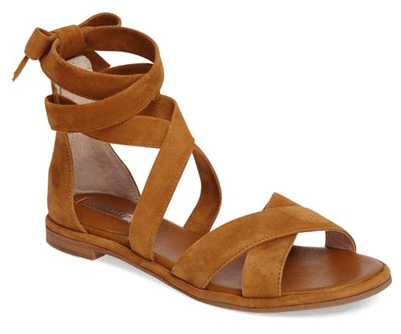 Can we say, "YES PLEASE"! I mean, look at that bow in the back! Plus the straps that go up the ankle are my favorite!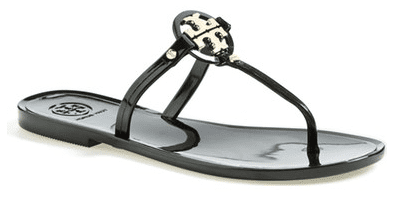 Tory Burch 'Mini Miller' Flat Sandal
These are super cute, sophisticated, and classy. An everyday pair of sandals for any occasion!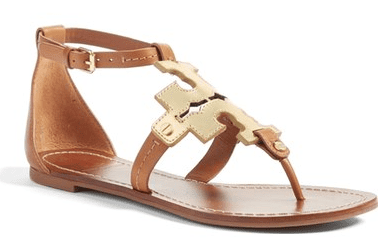 I want these SO bad! Love the details on the arch of the foot, and gold and tan are always a great color combo for spring and summer!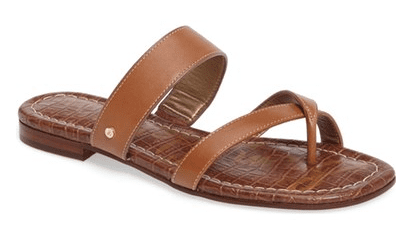 Basic, comfortable, and easy to slip-on and go! These would be a great everyday, running out the door, throw on a pair of blue jean shorts and a tee!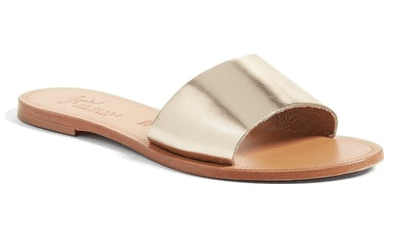 For when you want simple and comfortable with a touch of shimmer and shine! Love that these are basic, yet make a big fashion statement.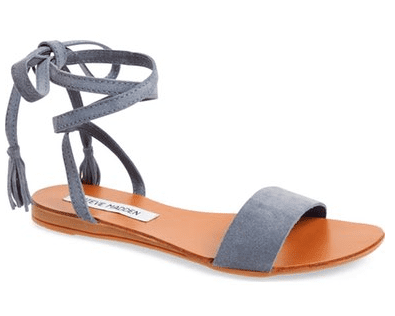 Steve Madden Kapri Wraparound Lace Sandal
Looking for something cute that you can dress up or wear super casual? These are for you! Love the color for this season!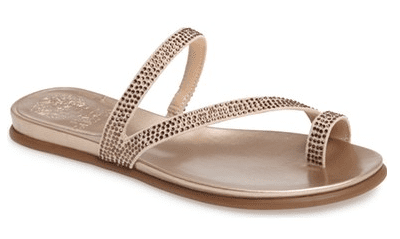 Wanting something with a little more shine!? This is a great way to add sparkle without going overboard. And I do tend to go overboard with the sparkles!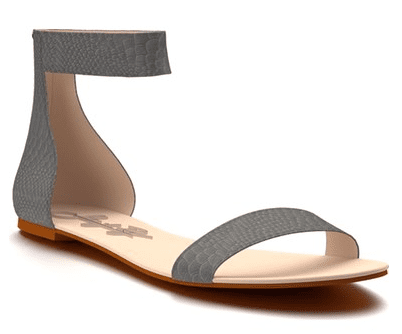 These are a little more pricy, but I just love the material pattern on these! Perfect to dress up with your favorite cropped pants, skirts, or dresses!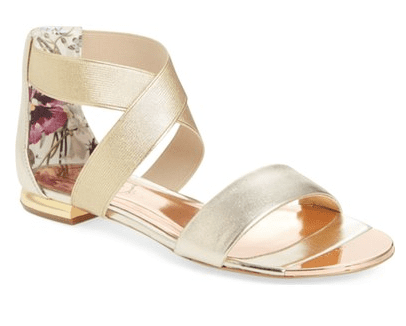 These are a great on-the-go, everyday sandal when you want to be comfortable and yet have a touch of flare!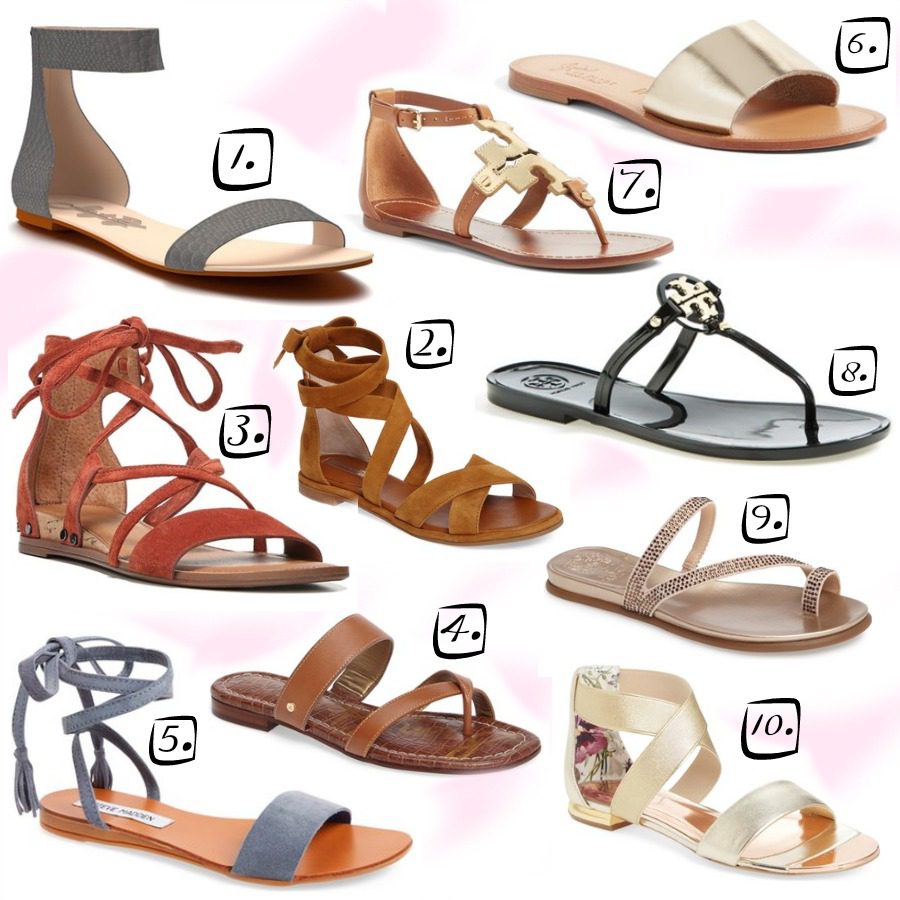 I don't know about you, but I'm ready to throw on my favorite pair of sunglasses and sundress and had to the mall! Or, maybe I'll just stay in my nice  warm house and do some online shopping so that I have these when the weather finally changes! Shop now at Nordstrom and get FREE Shipping on any order! I mean, what can be better than that?!
What are your favorite trends?! If you could pick your favorite pair from this list, which would you choose?! I can't wait to hear all of your answers!

Visit Julie Story's profile on Pinterest.