How to Make a Balloon Arch Garland!
How to Make a Balloon Arch Garland! Simple tips and tricks for making the Best Cheap Balloon Arch or Garland at Home for any occasion!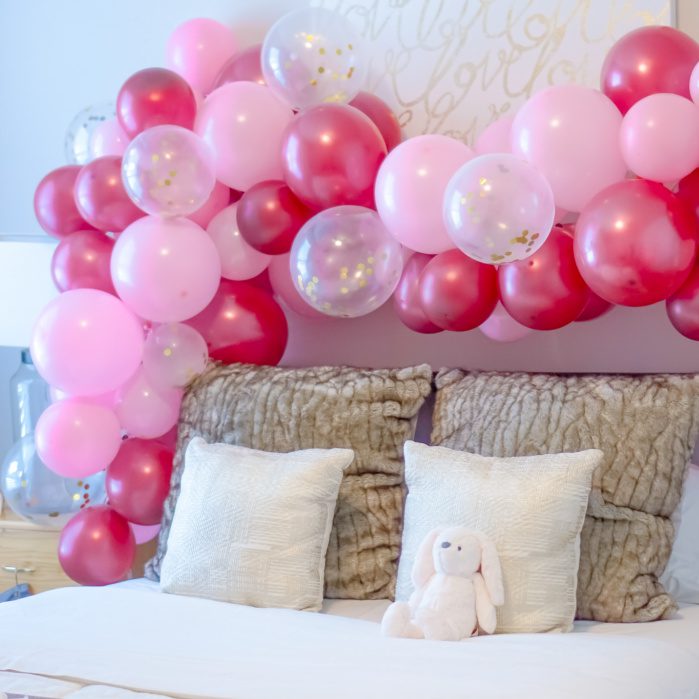 Here's How to Make a Balloon Arch Garland that is Cheap and Easy!
When I was preparing for our gender reveal party, I really wanted to make a balloon arch or garland to hang in our home. I didn't realize how EASY this was to DIY and super cheap and affordable too!! You could make these for Birthday Parties, Wedding Showers, Baby Showers, or any event or special occasion!
When I started searching out balloon arches and garlands, I didn't realized you could get an entire kit at Amazon for around $15!
I got this exact Burgundy Pink Balloon Arch Garland from Amazon for only $14.99 (as of 08/23/2020 03:49 CST) and was SO impressed!
What do you need to make a Balloon Arch or Garland?
There is a huge selection of Balloon Garland Kits at Amazon to choose from in many different colors and styles! This is the way to go if you know what colors/styles you are looking for.
Here are the top things you need to make sure the kit includes!
The Balloon Tape Strip is KEY!!! I even saved my tape strip after my party so that I could make another garland and just buy some cheep balloons!
Get this Balloon Tape Strip and Glue Dots for only $6.99 (as of 08/23/2020 03:50 CST) and create your own garlands and arches at home! This is the most important part to making your garland!
How to Make a Balloon Garland
Start by blowing up at least half or almost all of the balloons in different sizes. Have some small and some large of each size so that your balloon garland looks full and unique.
Attach balloons randomly or in a pattern to the balloon tape strip. This is great because you are just pushing them through the holes. If you want to switch out a couple of balloons later it's so easy – so don't worry about it being perfect at the beginning.
Once you have the balloon garland about as long as you need it, decide where you want to hang it. I used these mini command strips and string.
Fill in the last part of the arch once you hang it so you know you have everything right where you want it. Use the glue dots to attach even more balloons without threading them through the tape (I added a lot of smaller balloons at the end with glue dots).
Stand back and admire your work! It really is easier than you think. I created my balloon garland in about an hour all by myself (and without an air pump).
*If you wanted to use a Balloon Air Pump, it might make the process go even faster (and you would save your lungs).
How many balloons do you need to make a garland?
I bought this set with 115 balloons and didn't even use them all! I would say if you have anywhere around 100 balloons you will be good to go (however, it never hurts to have some extras. You can always customize the colors and sizes you want.
How to attach a balloon garland to the wall?
These Clear Command Mini Hooks are PERFECT for attaching your balloon garland to the wall. Just tie some string around your garland where you want it to hand and adjust the string as needed!
Can you make a balloon garland the night before?
YES!! Absolutely! I was worried about making my garland too early, but it has lasted really well! I would totally feel comfortable getting it set up the night before an event or party.
How far in advance can you make a balloon garland?
I would say 1-2 days to keep it looking it's best, but even after 5 days, my balloon garland still looked great! Keep in mind this is if you are using the balloon garland inside and not outside.
Grab a Balloon Garland Arch Kit RIGHT NOW!! It's so easy & simple to make a DIY Balloon Arch Garland at home! Super cheap and affordable! All of the supplies you need and under $20 in most cases! You just can't beat that for super cute party decor or a backdrop!
Download this FREE e-book today!!
Get access to 11 Sweet & Easy Dessert Recipes when you subscribe to our e-mail list!
Join LemonPeony on Pinterest!.


Pricing subject to Change at any time. Please make sure you check the current price on Amazon.com before purchasing. As an Amazon Associate I earn from qualifying purchases. Click here to view my entire Disclosure Policy.