Peanut Butter Apple Crisps | Healthy Snack Recipes!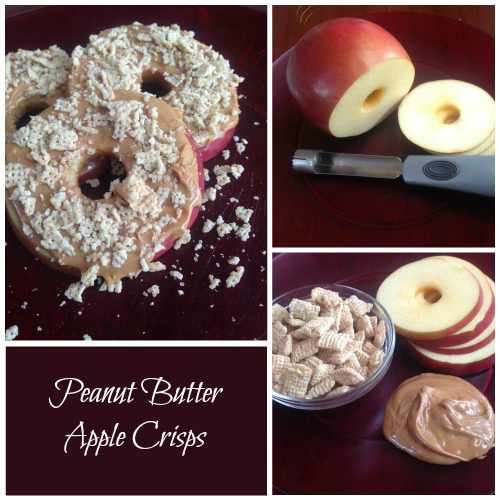 If you are looking for Healthy Snack Recipes for your family, be sure to check out my Peanut Butter Apple Crisps!
Peanut Butter Apple Crisps are a great snack idea for you or your family. Plus, they are super easy to make and absolutely delicious! This is an easy snack recipe for a party or you could make these for an after school snack for your kids. There are only 3 basic "ingredients" in this recipe which makes it easy to throw together quickly! If you are a fan of Peanut Butter and snacks that have a nice "crunch" to them, you will want to be sure to try out this recipe! Peanut Butter Apple Crisps have the perfect taste and texture for all ages!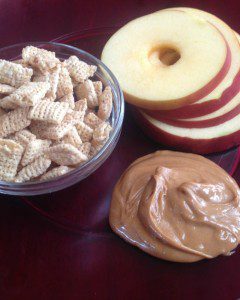 Here's What You Need:

Apples

Peanut Butter

Rice Chex Cereal

Apple Corer
When I made these, I used Gala Apples, Peter Pan Natural Creamy Peanut Butter, Original Rice Chex Cereal, and an Apple Corer like this one at Amazon! Grab this Apple Corer Now for only $8.99! Plus, receive Free 2-day Shipping if you have Amazon Prime, or get Free Super Saver Shipping on orders of $35 or more!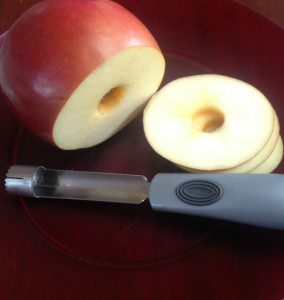 Directions:
Wash and take the core out of the apple with an Apple Corer.
Slice the apples to your desired thickness or just make apple slices.
Spread your favorite Peanut Butter on top of the sliced apple and place on any type of plate or serving dish.
Crunch up Rice Chex Cereal and sprinkle it on top of the apples covered in Peanut Butter!
That's All – Eat and Enjoy!!
My favorite part of this snack is the Rice Chex Cereal. The Rice Chex add a wonderful crunch that is different from the crunch of an apple. Plus, the Rice Chex add a special flavor that just goes so well with Apples and Peanut Butter!
This is a great recipe for kids because most kids like Peanut Butter, Apples, and Rice Chex Cereal! If you put them all together it creates a special treat that looks cool and tastes even better! Plus, this would be a fun snack to make with your kids. They could help you crunch up the Rice Chex and sprinkle them on top of the Apples covered in Peanut Butter!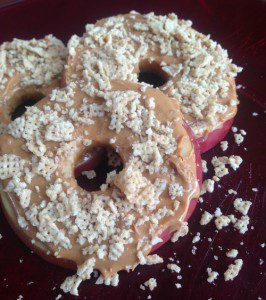 Since it is almost Christmas, I decided to slice my Apples in circular shapes so that they looked like Christmas Ornaments after you sprinkle the Rice Chex Cereal on top! What are some other fun, creative ways to serve this kid friendly snack?
Pricing subject to Change at any time. Please make sure you check the current price on Amazon.com before purchasing.