Top 5 Things to Do at the Bentonville Film Festival!
This shop for Top 5 Things to Do at the Bentonville Film Festival has been compensated by Collective Bias, Inc. and its advertiser. All opinions are mine alone. #LoveYourLawn #GardensNotLandfills #CollectiveBias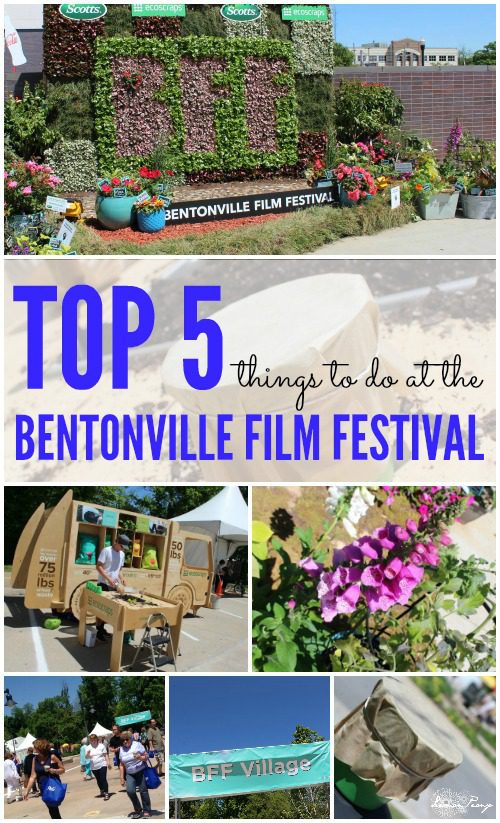 I had so much fun exploring the BFF Village yesterday! After exploring the beautiful downtown Bentonville on a gorgeous day, here are my Top 5 Things to Do at the Bentonville Film Festival! If you live in Northwest Arkansas, this is a fun family friendly festival that has many activities for kids and adults!
Get out and enjoy this festival and the beautiful weather this weekend! I'm so glad I got to attend, and I hope you take time to check it out for yourself!
Top 5 Things to Do at the Bentonville Film Festival!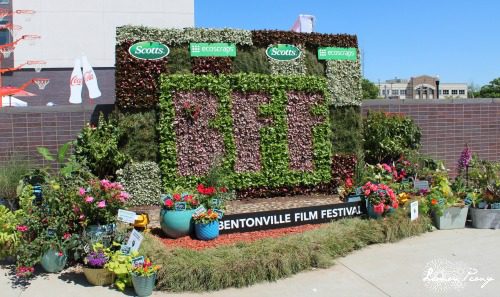 1. Get Your Picture Taken at the BFF Step and Repeat Wall Sponsored by Scotts® and EcoScraps®!
This beautiful display shows all of the things that you can grow beautifully in EcoScraps® soil! Plus, this is the perfect place to take your pictures for social media! I know you love to get your picture taken at special events, well, Scotts® and EcoScraps® has made this easy for you! You can snap a picture with you favorites and have memories that will last a lifetime.
While you are on the Step and Repeat to get your photo taken, be sure to check out all of the different plants and vegetables they have planted around the path! I saw so many beautiful flowers and produce that makes me want get out in my garden and plant even more! There were even beautiful red tomatoes and green peppers! Everything that is planted is labeled so that you can take it all in and know what you are seeing – I think this was fun since I love finding new items I want to plant in my garden each year!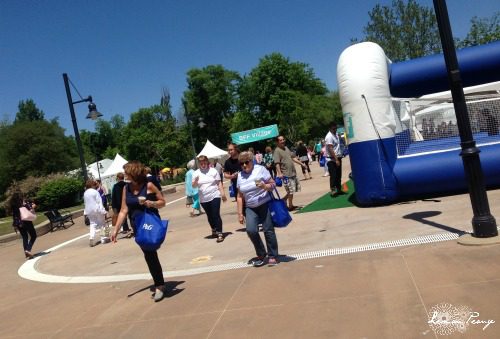 2. Enjoy the People and Music!
I was able to meet and talk to so many different people while I was at the festival. Everyone was happy to be there and the sun was shining! There were smiling faces everywhere, and it  was a really fun atmosphere! Everywhere you look there is a new booth or activity to visit! This is a great place to get out this weekend and enjoy the weather! The sponsor village is open through the weekend, so be sure you take your family to enjoy this free event!
3. Plant dill seeds at the EcoScraps® Dump Truck!
This is one of the coolest things I have seen in a while. They had an EcoScraps® Dump Truck set up displaying their product, but they also had a table where you could plant your own seeds! All I had to do was add some EcoScraps® Soil, put the seeds in the pot, and then fill the pot with more EcoScraps® Soil!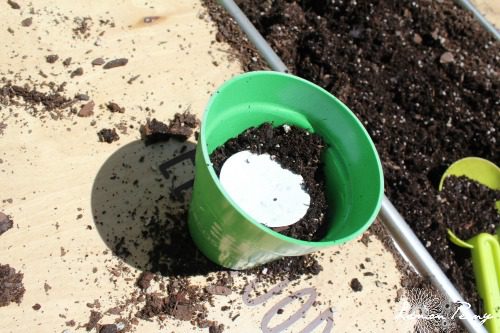 As I planted my seeds I got to talk to the Scotts® representitives about EcoScraps® soil! They told me that it takes about 25 pounds of vegetable and fruit compost to make 1 bag of Organic Compound Soil. EcoScraps® uses recycled food waste to produce nutrient-rich garden products! They have composting sources all over the United States and many grocery stores, restaurants, and farms that contribute to EcoScraps®! Instead of leftover waste going to a landfill, the recycled food waste is used to produce sustainable garden products that help you grow healthier plants in a way that is beneficial to the environment!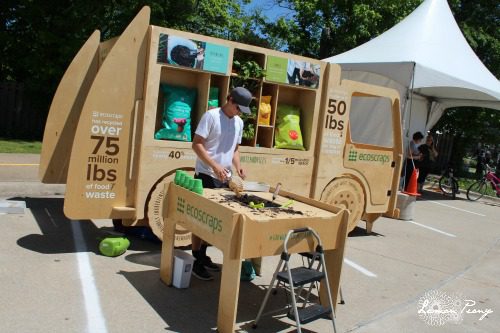 EcoScraps® works in such a way that they receive the produce that is about to expire or reach it's expiration date at the grocery stores. Instead of throwing these scraps away they take them and turn them into Organic Compound Soil! The soil comes in many different varieties, including a potting mix and gardening soil. There are even specific types of EcoScraps® soil that provide the nutrients needed for growing fruits and vegetables or roses and flowers!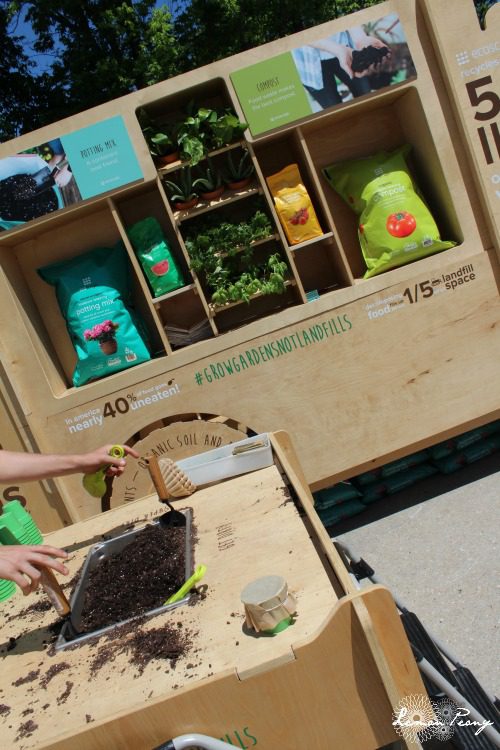 EcoScraps® works to recycle everything from meats, bakery items, fruits ,and vegetables. It is their goal to fill your garden with Eco-friendly Soil instead of the landfill.
Plus, don't forget to get your picture in the Dump Truck!!!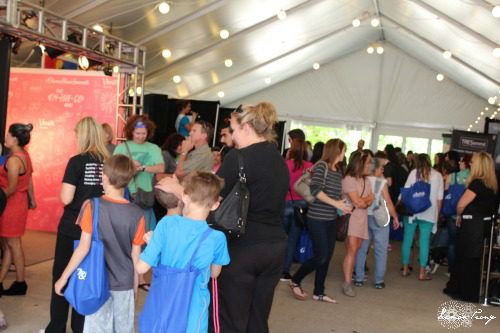 4. Get Free Stuff!
Besides planting your own seeds and getting to grow a Dill Plant, there are many booths and vendors at the festival for you to enjoy! Most all of them have giveaways and fun activities to do! You can get your picture  made with your favorite super heroes, play games, get pampered and more! I even saw a place where puppies can enjoy the festival! Head to downtown Bentonville this weekend to see what kind of stuff you can get!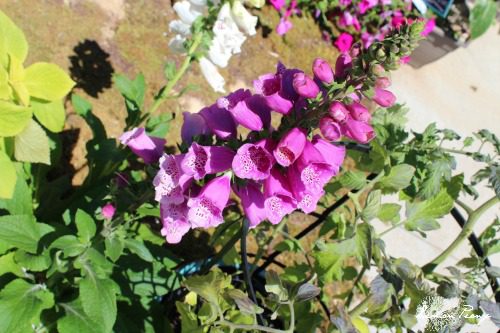 5. Walk Around the Bentonville Square!
Finally, either before or after you visit the sponsor village at the festival,  be sure you take a walk around the beautiful Bentonville Square! There are paths, flowers, and so many shops and restaurants to visit! I found some really nice boutiques that I enjoyed looking at while I was walking around!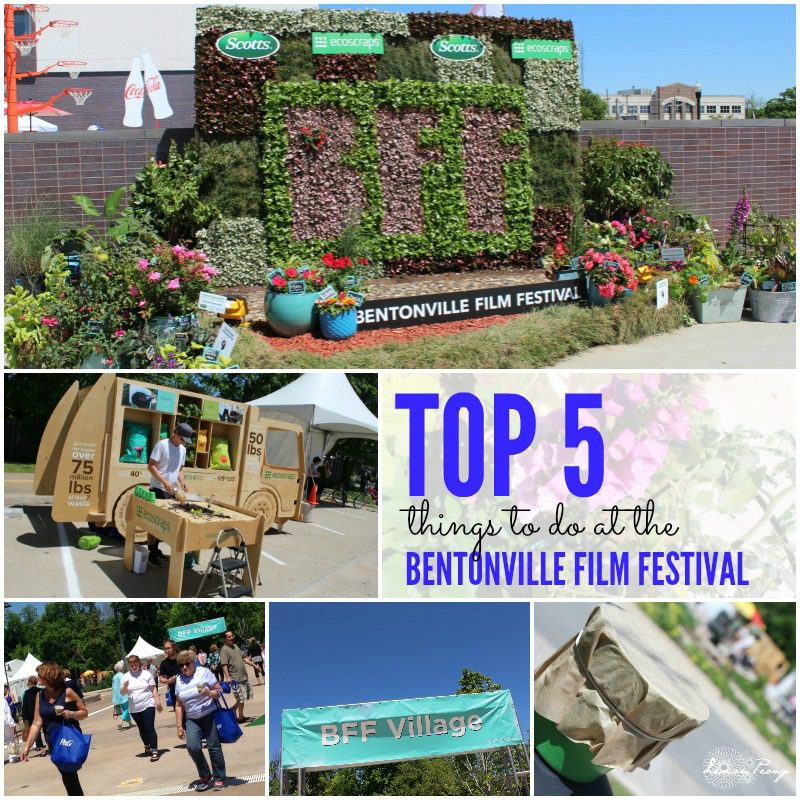 Take this weekend to enjoy something nice in Northwest Arkansas. If you don't live in Northwest Arkansas, be sure to check out the Bentonville Film Festival next year! A special thanks to Scotts® and EcoScraps® for shining the light on composting and coming up with a new way to use organic waste!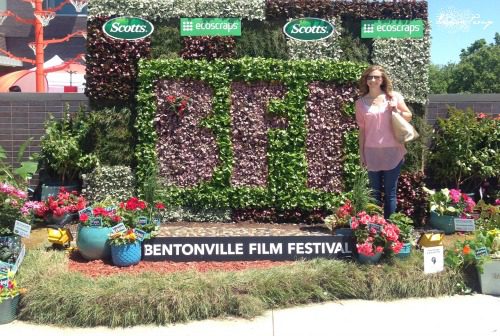 After attending the festival I got really motivated to work in my garden this weekend! I was so inspired with all of the beautiful gardening that I want to plant some flowers for myself! If you could use EcoScraps® for any gardening project, what would you do?

Visit Julie Story's profile on Pinterest.