Cheese Ball Recipe (Made with Parsley or Pecans)!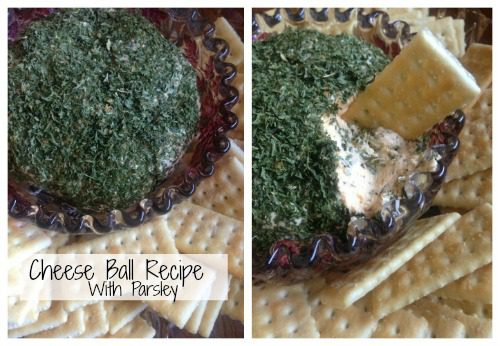 Here is a great Cheese Ball Recipe if you are looking for an appetizer to take to a Holiday Party or for a special occasion!!
Try this Cheese Ball Recipe (with Parsley or Pecans) for a Holiday Party, Wedding Shower, Baby Shower, or any other special occasion! We normally have this on Thanksgiving and Christmas when the whole family gets together to celebrate! Cheese Ball and Crackers is a great appetizer to snack on while you are waiting for the main course. Plus, it is so good and addictive that you will want to keep coming back for more! We normally have some left over after the holidays, so it also makes a great snack for after the party=)!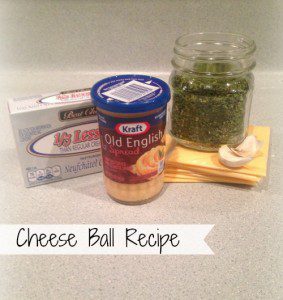 Here's What You Need! 

8 Slices of American cheese

1 5oz Jar of Old English Cheese Spread

1 8oz Package of 1/3 Less Fat Cream Cheese

2 Garlic Cloves

Parsley or Chopped Pecans
Directions:
Blend all of the ingredients (except for the parsley) in a food processor. I use Kraft Old English Cheese Spread for my Cheese Ball.
Remove the Cheese Mixture from the food processor and place it on cling wrap that has been sprayed with cooking spray!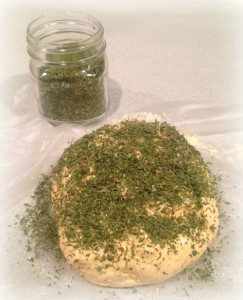 Roll the cheese into a ball and sprinkle the top with Parsley (add as much or as little Parsley as you desire)!
Cover the Cheese Ball with Cling Wrap and put it in the refrigerator for an hour or two (the time really doesn't matter, you just want it to get cold again)!
Take the Cheese Ball out if the fridge, unwrap the cling wrap, and place it on your serving bowl or plate (this is a great time to reshape the cheese into a better "ball".
Finish off with more parsley, and to make it look pretty!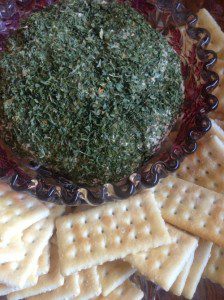 One of the best parts about this recipe is that you can make it ahead of time or the night before your party! Just make this recipe before you go to bed, put it in the refrigerator overnight, and take it out when you are ready to serve this to your guest!! Finish off the recipe with a touch of parsley, a nice serving bowl, and some Crackers!
This Cheese Ball is a great Finger Food for kids or adults! Serve it with Club Crackers, Ritz Crackers, or regular Saltine Crackers!
If you are not a parsley fan, you can always use Chopped Pecans to finish off this recipe and make it look pretty! You can even divide the Cheese Ball Recipe into two smaller balls after you mix the ingredients in the food processor. If you have two smaller Cheese Balls, you can finish one with parsley and one with pecans!
If you are serving this on a plate, think about shaping it into a "Cheese Log" instead of a ball! You can create almost any shape with the cheese mixture after you take it out of the food processor! You could even make a "heart shape" for Valentine's Day! You could even use these adorable Heart Shape Molds at Amazon for Valentine's Day, or these Christmas Tree Pans for Christmas!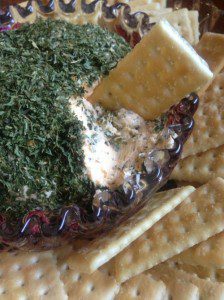 Try it now for Christmas and make it one of your new Family Holiday Traditions!
You can grab the Old English Cheese Spread, Parsley, and Chopped Pecans on Amazon if you are looking for an easy place to purchase these items!
Pricing subject to Change at any time. Please make sure you check the current price on Amazon.com before purchasing.