DIY Homemade Body Butter | Only 4 Ingredients!
DIY Homemade Body Butter Recipe! All Natural and Only 4 Ingredients that are safe for your skin! The Perfect for lotion for using with Essential Oils!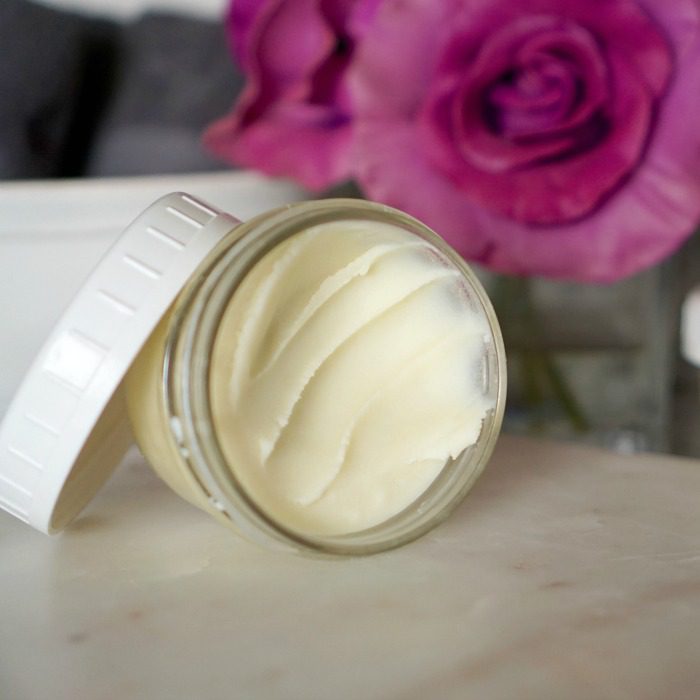 If you are looking for a great recipe for a DIY Homemade Body Butter, this is one that you will want to try!
I have been using this DIY Homemade Body Butter Recipe for the last 4 years! It's the only lotion that I ever use, and my hubby even loves it too!
It is perfect for dry and sensitive skin, and it only contains 4 ingredients! This Body Butter is easy to make and it lasts for a long time. Plus, you can grab all of the ingredients on Amazon so that you don't even have to leave your house to find everything!
Plus, here are even more of my favorite DIY Homemade Beauty Recipes!
Why you will love this Homemade Body Butter!
It's simple ingredients without any chemicals or fragrances
Easy to make and the perfect gift idea for friends!
Customize your body butter with your favorite essential oils
What you need to make Homemade Body Butter
A double boiler – You can always use a large heat safe bowl on top of a pan with a little water in it, but the double boiler makes it so easy!
Hand mixer – after your body butter cools a little you will want to beat your body butter to make it smooth.
Time – this isn't a quick recipe, but it's pretty hands-off so you can make it while you're getting other things done. The mixture will need to heat on the stove for about 45 minutes to 1 hour.
How to use this Homemade Body Butter
Every day all year for the entire body.
Face Cream (add frankincense essential oil for extra skin support – optional)
Diaper Cream (add gentle baby or lavender essential oil – optional)
Chest Rub (add eucalyptus and peppermint essential oil)
Muscle Rub (add peppermint or cypress essential oil)
*I only recommending using Young Living Essential Oils for their purity and quality control for producing 100% Therapeutic grade Essential Oils.
Best ingredients for making Homemade Body Butter
Use this body butter in the winter or summer. It really is perfect all year long for any skin type! I love the way it keeps my skin so soft and silky all day long. Plus, it even smells great!
I also love that these are pure, organic, and natural ingredients. You know exactly what you are putting on your skin.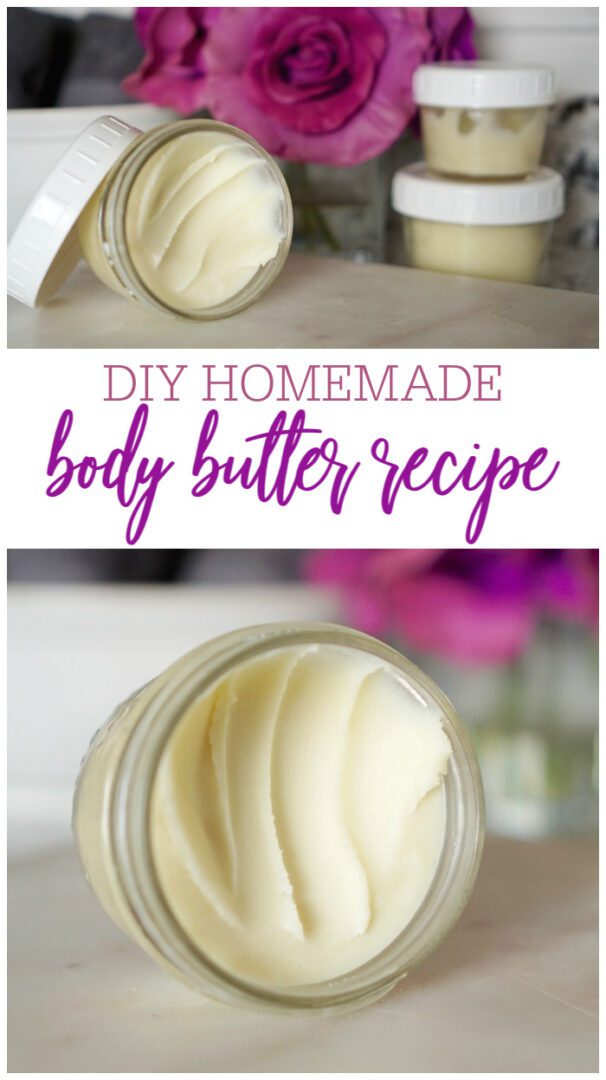 DIY Homemade Body Butter Recipe
Here's What You Need:
1/2 cup Beeswax
Directions:
Melt all ingredients, except Vitamin E oil, in a double boiler.
Remove from heat, add Vitamin E Oil, and stir.
Let cool for 15 minutes.
Use a hand mixer to mix the lotion on a low speed.
Pour into desired container and let them sit over night to cool completely.
Keep in mind that this recipe makes about 3 cups of Body Butter, but you can always cut the recipe in half or double the recipe to stock up or to give some as gifts!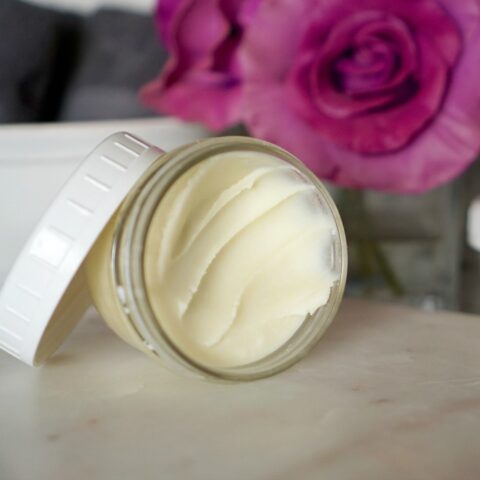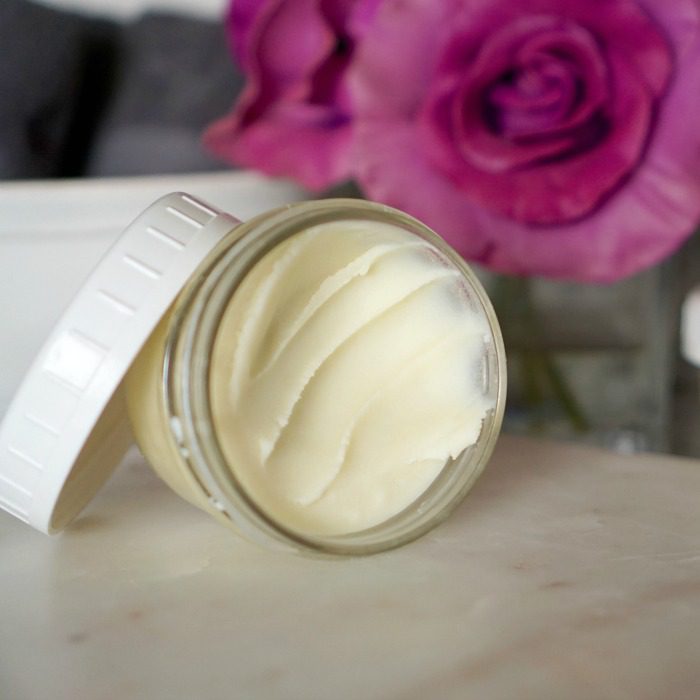 DIY Homemade Body Butter | Only 4 Ingredients!
Total Time:
1 hour
50 minutes
DIY Homemade Body Butter! The BEST Homemade Lotion Recipe for Dry and Sensitive Skin without Fragrance! Easy to make and the perfect gift for friends!
Materials
1/2 cup Beeswax
1 Cup Coconut Oil (8 oz)
1 1/2 Cup Shea Butter (12 oz)
1/4 Cup Vitamin E Oil (2 oz)
Tools
Double Boiler
Mason Jars or Jars for Storing Lotion
Beeswax
Coconut Oil
Shea Butter
Vitamin E
Instructions
In a double boiler, melt all ingredients, except Vitamin E oil. Keep on the heat until all ingredients are melted and then another 30 minutes.
Remove from heat, add the Vitamin E Oil, and stir.
Let cool for 15 minutes.
Use a hand mixer to mix the lotion on a low speed.
Carefully transfer hot lotion liquid to mason jars or jars for storing.
Notes
I have found the longer you heat the mixture after it is melted helps keep the lotion from getting grainy overtime. I like to heat mine about 30 minutes after all the beeswax is melted.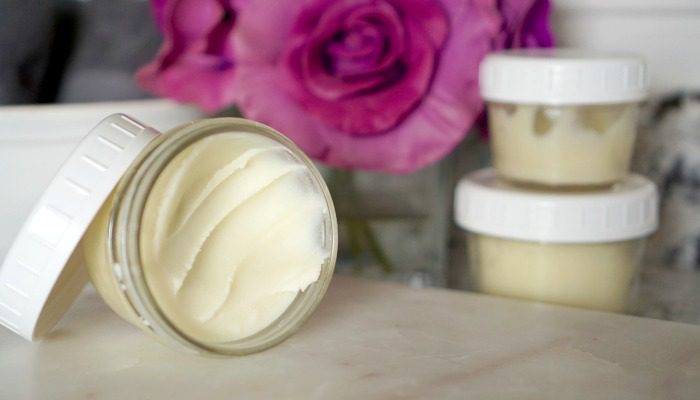 I made this DIY Body Butter for several of my friends for Christmas and put it in little 4 Ounce Mason Jars to give away. Since this is one of my favorite beauty products, I thought it would make a great gift for my girlfriends.
Another reason this is one of my favorite products that I use daily is because I can use it as a carrier oil for Essential Oils.
I do not add my oils at the time I make it because I want to add my oils in as needed. One day I might add Peppermint and Eucalyptus for breathing, and the next day I may add Pan-Away and Peppermint for muscle support.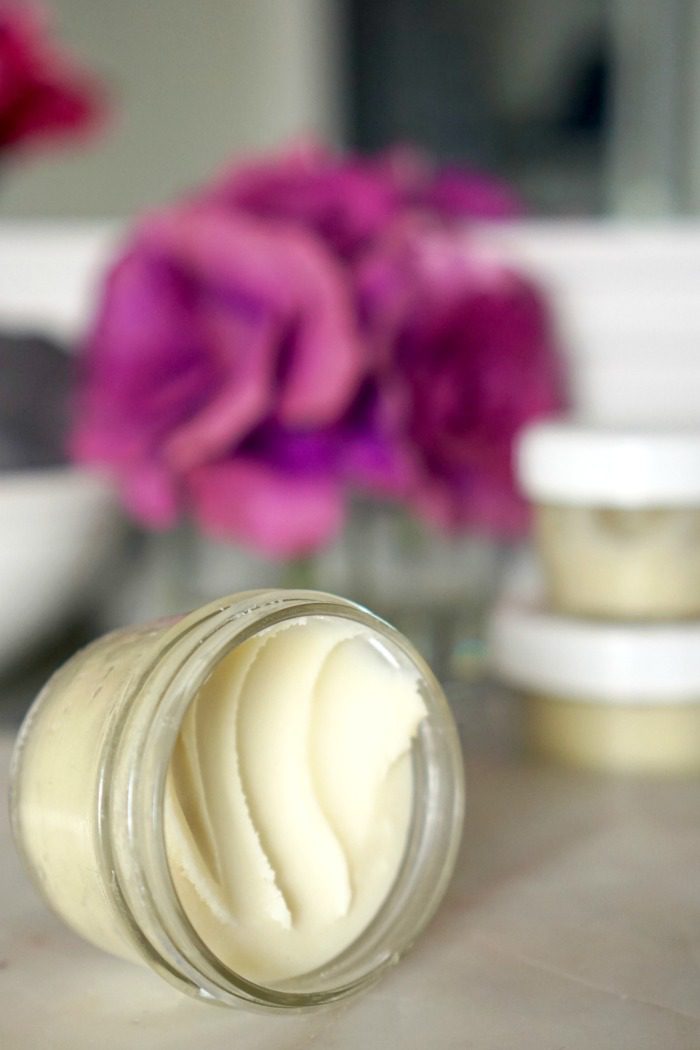 I simply put some body butter in my hands, add the oils I want, and rub on my body where needed. It's so simple! If you want more information about Essential Oils, Click Here!
Make a batch for your friends and give it away at Christmas, Birthdays, Mother's Day, or Valentine's Day!
Also, be sure to try this Homemade Peppermint Lavender Lip Balm! It's another one of my favorite go-to easy gift ideas for friends, neighbors, or giveaways!
If you have ANY QUESTIONS about Essential Oils or how to get oils in your home, I would LOVE to help you! Please use this form to email me and let me know how I can help you get started! I would be more than happy to help you.
The best part is you no longer have to get a starter kit to become a Young Living Member! You're able to order anything off the website for yourself by creating a free account! Spend $100 and get a 24% discount on everything you buy, or just buy the one oil you're looking for! It's so easy Sign Up Now!

Download this FREE ebook today!!
Get access to 9 DIY Homemade Recipes when you subscribe to our e-mail list!
Join LemonPeony on Pinterest!.


Disclaimer: These statements have not been evaluated by the Food and Drug Administration. This information is not intended to diagnose, treat, cure, or prevent any disease. The information on this site is not intended or implied to be a substitute for professional medical advice, diagnosis or treatment. Please confirm any information obtained from or through this web site with other sources, and review all information regarding any medical condition or treatment with your physician. Never disregard professional medical advice or delay seeking medical treatment because of something you have read on this website.
Pricing subject to Change at any time. Please make sure you check the current price on Amazon.com before purchasing. As an Amazon Associate I earn from qualifying purchases. Click here to view my entire Disclosure Policy.