DIY Lemon Recipes | Not from Concentrate Homemade Lemon Juice!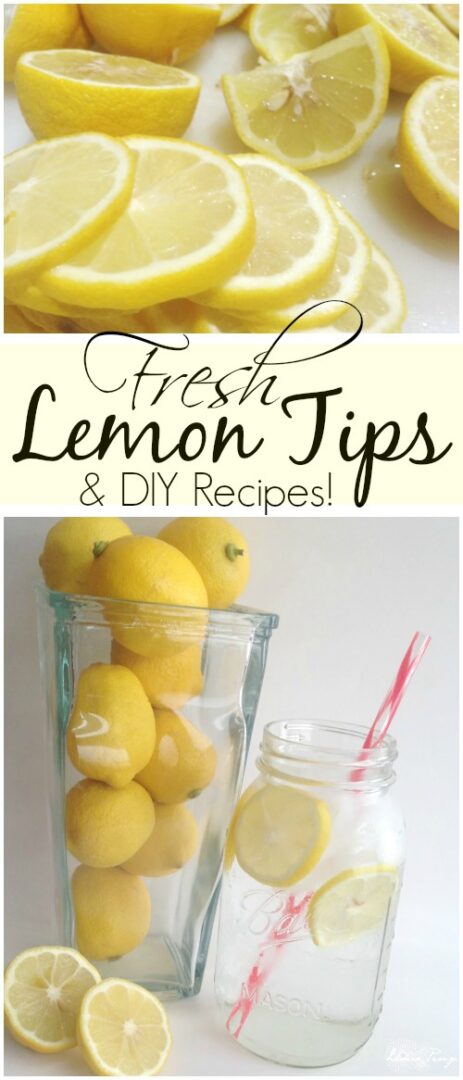 Here are some great DIY Lemon Recipes! Check out my Not from Concentrate Homemade Lemon Juice and All Natural Lemon Lime Sugar Scrub!
Lemons are one of my favorite fruits, so these DIY Lemon Recipes are perfect for me! I love the fresh smell and taste of lemons! I will drink 3 – 4 times as much water if I put lemon in it, and I love that lemon has so many great natural health benefits! Recently the lemon juice that I buy from the store disappeared from the shelves! I checked 3-4 different stores around town to find this lemon juice and could. not. find. it! I realized I was drinking way less water since I didn't have the lemon juice, so I decided to make my own EASY DIY Lemon Juice Ice Cubes to pop in my water cup!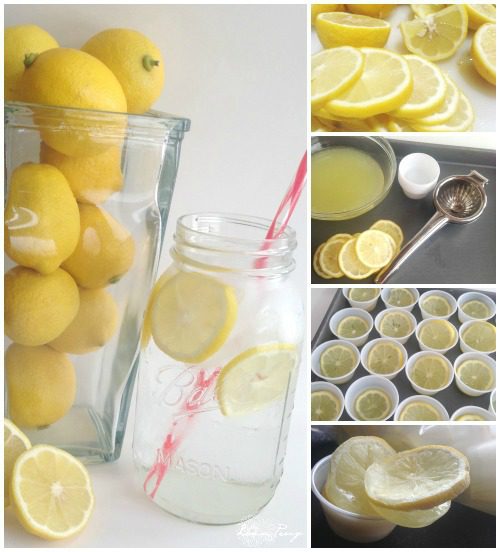 DIY Lemon Juice Ice Cubes (Not from Concentrate)
Here's What You Need:
1oz Plastic Cups
Lemons
Lemon Juicer

Directions: 
1. Cut your Lemon down the middle first.
2. Cut thin Lemon Slices (BEFORE you squeeze the lemon in the juicer) and take the seeds out.
3. After you have 3-4 lemon slices from each lemon, cut the rest of the lemon in quarters to make it easier to squeeze.
4. Squeeze all of the lemons into a large bowl.
5. Pour the Lemon Juice into a pitcher so that it is easier to pour into cups.
6. Set out your plastic cups on a baking sheet so that they have a flat surface to put in the freezer.
7. Pour a thin layer of Lemon Juice into each plastic cup and put a lemon slice on top!
8. Place the Lemon Juice Ice Cubes in the freezer over night.
9. After your Lemon Juice Ice Cubes are frozen, you can remove them from the baking sheet and put them all in a plastic bag in the freezer!
Now, when you are ready to add lemon to your water, just take out one of the cups of lemon juice and throw it in your cup (remove the plastic cup first and throw it away :))!! It's already portioned out into single sized servings and will last for a couple of water refills in your cup!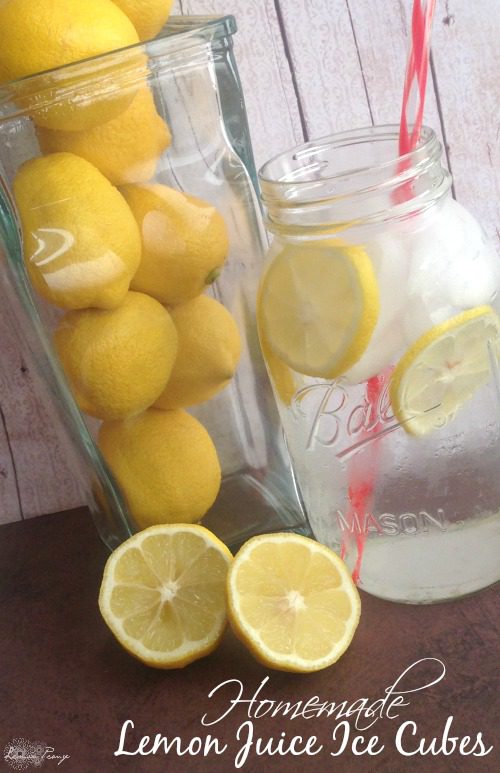 If you like a LOT of lemon in your water, you can always use 2 Lemon Juice Ice Cubes! I normally take my water in a 24oz Tervis Tumbler or you could get a Glass Water Bottle with Silicone Sleeve.
Besides the taste, lemon water makes me feel healthy and I think it helps keep me well. It is a great way to boost the immune system, cleanse your system, helps your skin, and is a great source of Vitamin C!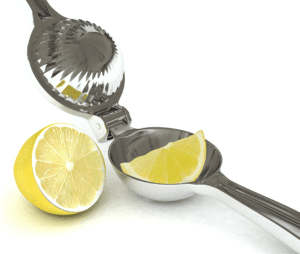 Be sure to check out all of the Lemon Juicers at Amazon if you don't have one at home! Plus, receive Free 2-day Shipping if you have Amazon Prime, or get Free Super Saver Shipping on orders of $35 or more!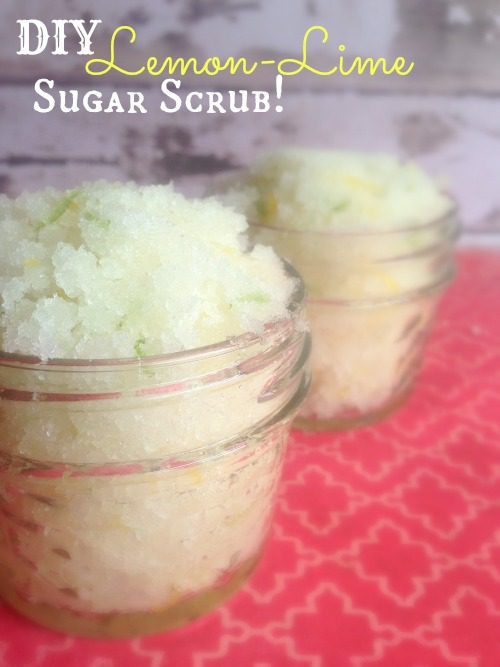 Either before or after you make your Lemon Juice Ice Cubes, think about making this All Natural Lemon Lime Sugar Scrub using the lemon rind from your lemons! This is a great exfoliating sugar scrub for soft and smooth skin that is made with essential oils!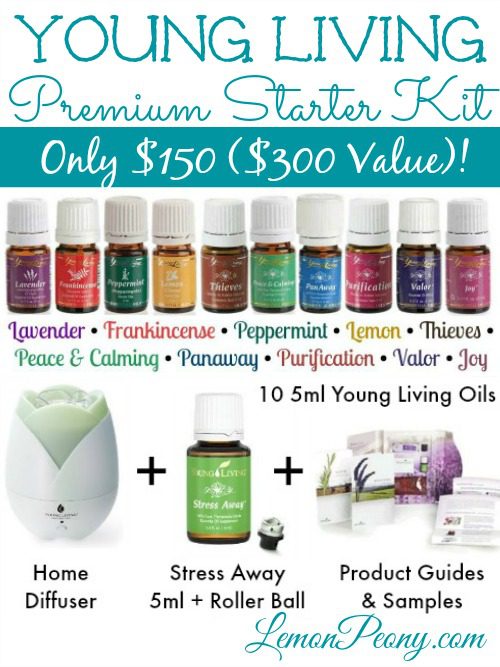 If you are wanting to try Essential Oils, I recommend getting the Premium Starter Kit from Young Living! This kit is only $150 when you sign up as a Whole Sale Member, and has over a $300 Value! This is what I started with, and I loved trying all of the different oils!
By signing up as a Wholesale Customer you'll save 24% on all future purchases + there are some great deals to get you started! This is how you get the Premium Starter Kit, and there are no strings attached or obligations to purchase anything in the future or sales requirements.
The Premium Starter Kit includes the Everyday Oils Collection, a Home Diffuser, Welcome to Young Living Booklet, a User's Guide, Stress Away (5-ml), an AromaGlide Roller, and Sample Packets!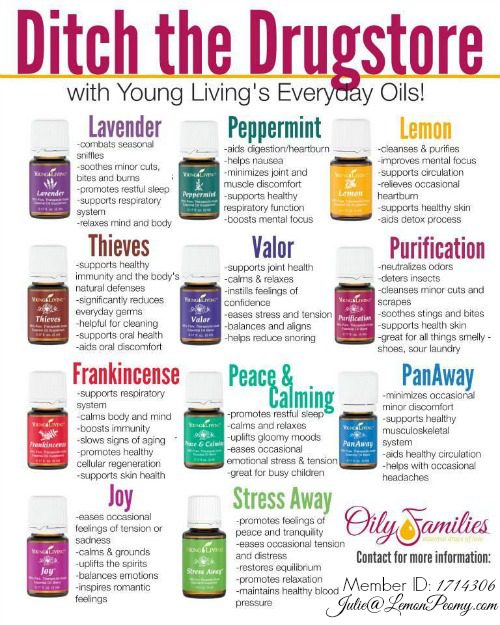 The Everyday Oils Collection includes ten different 5 ml Essential Oils (Joy, Frankincense, Lemon, Lavender, Peppermint, Purification, Panaway, Peace & Calming, Thieves, & Valor) There are so many ways to use essential oils that promote health and are all-natural!
The Premium Starter Kit is GREAT if you are new to essential oils!
If you are looking for where to start first, one of my favorite combinations to diffuse is Lemon and Lavender!
I would LOVE to help you get started on your Essential Oils Journey, so ask me any questions or Sign Up Now to get started (be sure to leave your e-mail address so I can contact you)!
Also, be sure to check out all of my Essential Oil Recipes and Tips for more information!

Visit Julie Story's profile on Pinterest.


Disclaimer: These statements have not been evaluated by the Food and Drug Administration. This information is not intended to diagnose, treat, cure, or prevent any disease. The information on this site is not intended or implied to be a substitute for professional medical advice, diagnosis or treatment. Please confirm any information obtained from or through this web site with other sources, and review all information regarding any medical condition or treatment with your physician. Never disregard professional medical advice or delay seeking medical treatment because of something you have read on this website.
Pricing subject to Change at any time. Please make sure you check the current price on Amazon.com before purchasing.
Posted by
Julie Story
. This post may contain affiliate links. Please read our
Disclosure Policy
.