Easy Flavored Popcorn Recipe | Crackle Corn!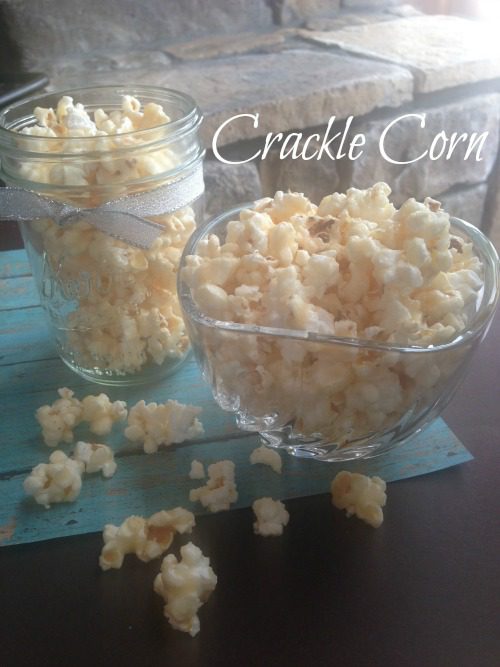 If you are looking for an Easy Flavored Popcorn Recipe, be sure to check out my recipe for Crackle Corn!
This Easy Flavored Popcorn Recipe for Crackle Corn is one of my favorites to make during the fall and winter. Something about it just feels like a holiday tradition! Perhaps that is because my Mom made this every October and around Christmas time. Once you make this recipe it will become one of your favorites! You can make it for a Holiday Party or just to keep around your house. It would also make a great Christmas Gift to give to co-workers or teachers! You could put the Crackle Corn in a decorative holiday bag and tie it with ribbon, or you could put some in a little Mason Jar and wrap a big ribbon bow around the top of the jar for a cute gift wrapping option! This would also make a perfect Christmas gift for friends or neighbors because you can gift wrap it in such creative ways! I found some cute Mason Jars at Amazon that are perfect for this!
If you aren't looking for gift ideas, just make this for yourself and your family! It is definitely a treat you will want to keep around year after year! I know once we make this at my house it doesn't last very long at all. This would be a great recipe to take to a Family Thanksgiving Dinner or Christmas Dinner with your family! This would also make a great snack for before or after your holiday meal! Really, Crackle Corn is great ANYTIME! You could even make this for a special Christmas Movie Night with the family!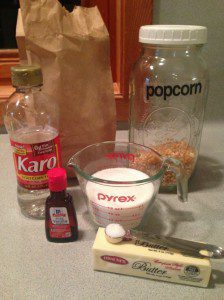 Crackle Corn
Here's what you need!

A Large  Baking Pan (I used a 9 1/2″ x 15″ Baking Pan)

A Brown Paper Lunch Sack

4 Quarts of Air Popped Popcorn (1/2 Cup of Popcorn Kernels)

1/2 Cup (1 Stick) Butter

1/2 Cup Karo Corn Syrup

1 Cup Sugar

1/2 Teaspoon Salt

1/2 Teaspoon Vanilla
Directions:
Pre-heat your oven to 250 Degrees.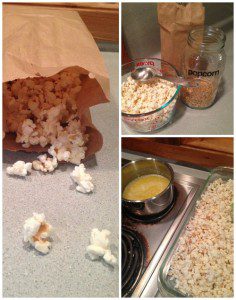 Pop Popcorn Kernels in a Brown Paper Bag – I used 1/4 cup of popcorn kernels to make 2 quarts of popcorn in a brown paper bag. I microwaved the kernels for 1 minute and 30 seconds, but keep in mind that the popping time could vary depending on your microwave. I did this two times so that I had 4 quarts of popcorn.
*Tip: 8 Cups of Popcorn = 2 Quarts of Popcorn, so you will need a total of 16 Cups of freshly popped popcorn!
Combine the Butter, Karo Corn Syrup, Sugar, and Salt into a sauce pan and cook it on the stove until the ingredients begin to boil (be sure to stir this while it is on the stove). Keep in mind that this "Crackle Mixture" will start to boil after the butter and sugar have melted.
After the butter and sugar have melted, let the "Crackle Mixture" boil for 5 minutes (do not stir during the 5 minutes).
After 5 minutes, remove the "Crackle Mixture" from the stove and add in the vanilla.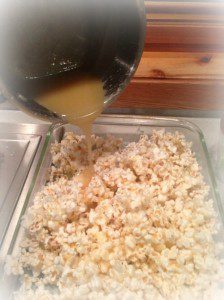 Put the 4 quarts of popcorn into the large baking pan that has been sprayed with cooking spray so that the popcorn does not stick. Pour the "Crackle Mixture" over the top of the popcorn and mix it in with a spatula (I found that if I sprayed my spatula with cooking spray it didn't stick to the sugar as much). Also, I recommend that you "fold in" the "Crackle Mixture" so that the popcorn doesn't get smashed.
Once the "Crackle Mixture" is all mixed in, place the baking pan into the oven!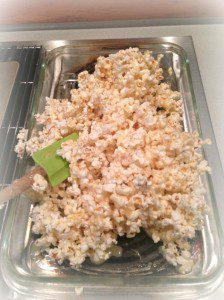 Bake the Crackle Corn for 1 hour.
*Here is the trick, you must stir the Crackle Corn every 15 minutes while it is baking. I find it easier just to set the timer for every 15 minutes so that I do not forget to stir it!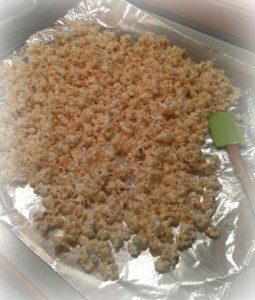 Once the baking/stirring process is complete, pour the Crackle Corn on to aluminum foil that has been sprayed with cooking spray to cool. It only needs to cool about 20-30 minutes and then you can store it in whatever container you choose, or start gift wrapping your Crackle Corn for special gifts!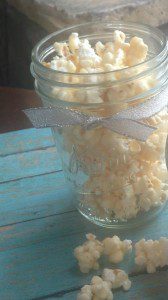 I hope you enjoy this recipe as much as I do! Let me know how your Crackle Corn turns out!
Pricing subject to Change at any time. Please make sure you check the current price on Amazon.com before purchasing.