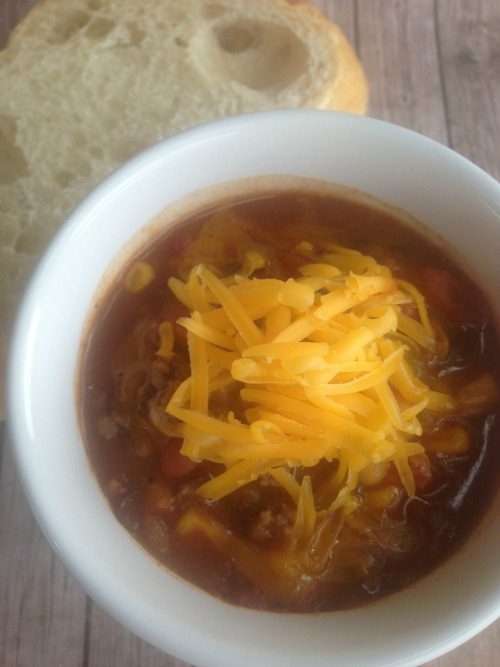 Here is my favorite Easy Taco Soup Recipe! This is one of my go-to recipes for when I am in a hurry!
You can make this Easy Taco Soup Recipe on the stove or in a Crockpot. All you have to do is combine all of the ingredients and let it cook for a while! This is a great soup to make all year long, but it is especially wonderful on a cold night! This Taco Soup has a lot of flavor, and really does satisfy! This is also a great healthy dinner option for your family. You will want to keep this recipe close by so that you can add it to your meal plan!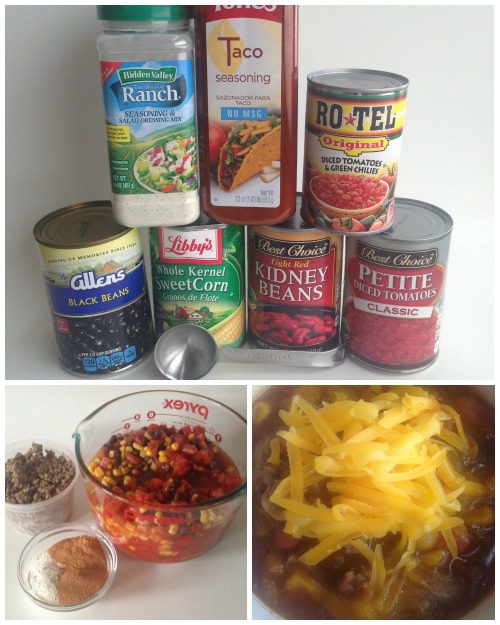 Here's What You Need:

1/2 lb Hamburger Meat

1 can of Kidney Beans

1 can of Black Beans

1 can of Diced Tomatoes

1 can of Corn

1 can of Rotel

3 Tablespoons of Ranch Dressing (or 1 package of Ranch Dressing Mix)

2 Tablespoons of Taco Seasoning (or 1 package of Ranch Dressing Mix)

Directions: 

Brown Hamburger Meat.

Combine all of the ingredients in a dutch oven, or heavy pan, and cover with a lid.

Cook on medium heat until the soup begins to simmer.

At this point the soup is ready to eat, but you can cook it even longer for more flavor!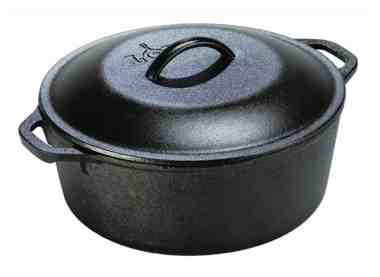 If you need a Dutch Oven, check out this Pre-Seasoned Dutch Oven with Dual Handles (5-Quarts) for only $30.54, down from $60! That is a savings of 50%! Plus, receive Free 2-day Shipping if you have Amazon Prime, or get Free Super Saver Shipping on orders of $35 or more!
You can also check out the Hidden Valley Original Ranch Seasoning and Salad Dressing Mix at Amazon!
Top off your Taco Soup with Crackers and Cheese! You can crumble crackers on top of your taco soup, or sometimes I like to use oyster crackers! This recipe also goes great with Cornbread or Fritos! Keep in mind that this is a great recipe to make for a crowd! You can easily double the recipe and feed 8-10 people!
Plus, Taco soup makes a great leftover recipe for the week! You can even freeze some of your leftovers for another meal!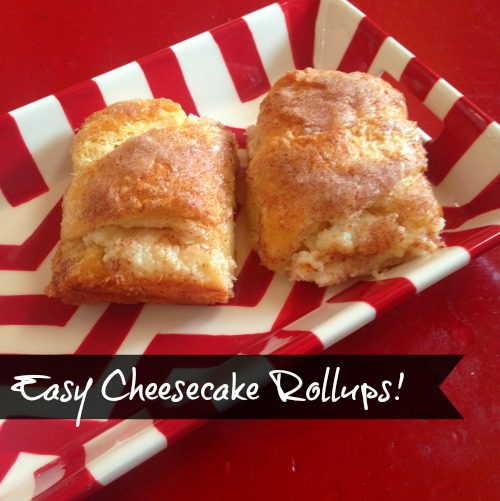 If you are looking for a great recipe to go with your Taco Soup, be sure to try these Easy Cheesecake Rollups! You can make these in about 5 minutes and pop them in the oven! YUMMY!
Pricing subject to Change at any time. Please make sure you check the current price on Amazon.com before purchasing.