Leopard Print Transition Outfits for Fall!
Leopard Print Transition Outfits for Fall! Leopard Shoes, Leopard Cardigans, and Leopard Accessories to transition from summer to fall in style!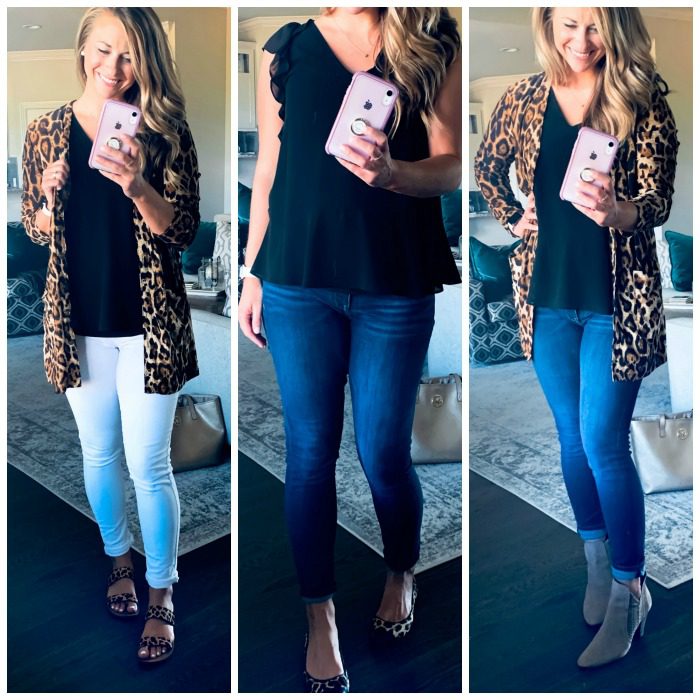 I am LOVING the Leopard Print Trend right now! Here are some Leopard Print Transition Outfits for Fall! Cute Leopard Shoes, Cheap Leopard Cardigans, and Adorable Leopard Accessories to help you stay in style as the weather changes from Summer to Fall!
Plus, here are even more of my favorite Fall Transition Outfit Ideas!
I have to admit that this Lightweight Leopard Print Cardigan is currently my favorite transition piece to go from Summer to Fall! It's the perfect length and layers so well with tanks and tees! Plus, the fabric is SO SOFT!
I ordered a medium, so I'd say that it fits true to size! Grab yours now before they sell out! I can't believe you can get one for around $20 at Amazon + Free Shipping with Amazon Prime!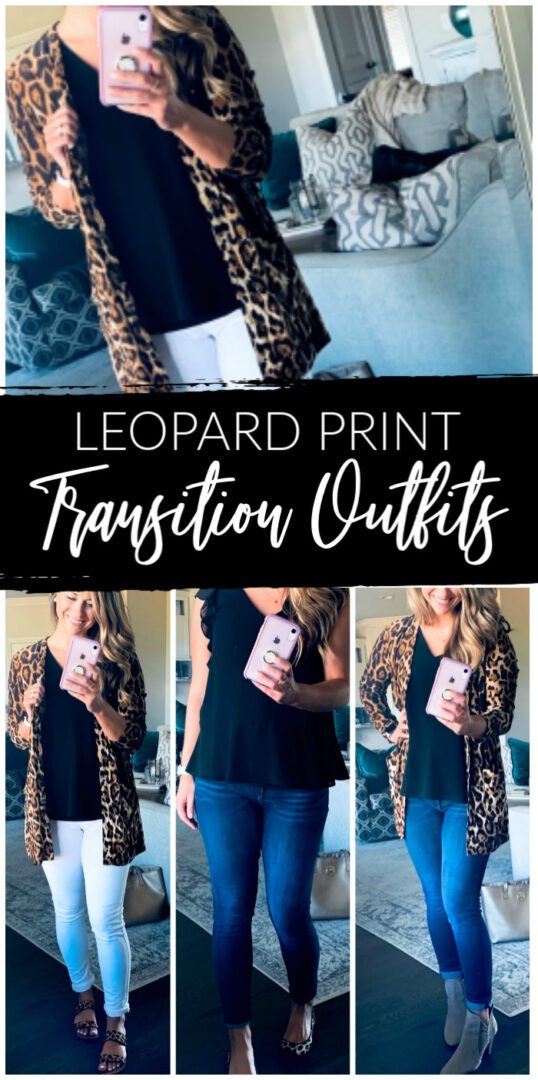 What can I wear leopard print shoes with?
I would say you can wear leopard print shoes with anything! Any color or style. Especially fall colors and solids. I don't think I would mix leopard print with another pattern, but if you have on basics or neutrals, leopard print shoes are a great option!
How do I use leopard print accessories?
I like to use leopard print accessories to accent any style. It could be as simple as a pair of leopard print earrings or a leopard print watch band. Be sure to check out all of these Leopard Print Accessories at Amazon for under $10 or $20! There are so many cute options!
What do you wear with leopard print boots?
I would wear leopard print boots like these with any black or neutral outfit. Since boots or booties are such a statement piece, they would be super adorable with a fall colored cardigan or coat! They would also be cute to wear with a black or solid colored dress for Fall and Winter!
What is the best color to wear with leopard print?
I would always choose black, but you can really wear any color! Leopard print is such a neutral color that it goes with almost anything!
Is leopard print neutral?
YES!! I would say you can wear leopard print with almost any outfit! It's super cute to wear as a statement piece or as an accessory! It's the perfect neutral color because it goes with white, black, tan, cream, brown, or any solid color!
I paired all of my outfits with a simple Black Short Sleeve Blouse like this one from Nordstrom. Any black blouse or top would work which is perfect since most of us have one laying around in the closet!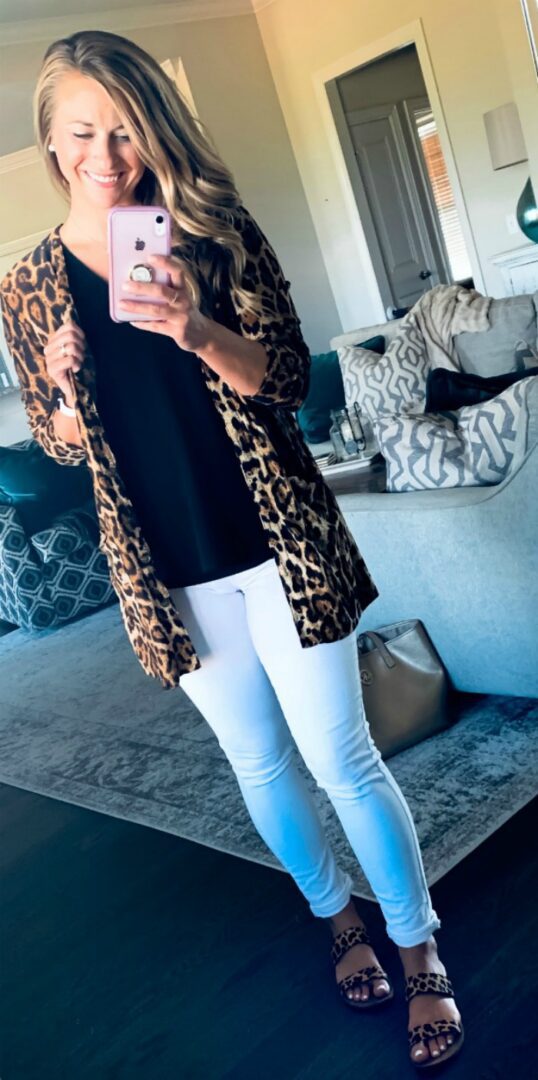 White Jeans and Leopard Print Cardigan Outfit
I am LOVING this simple and light weight Leopard Print Cardigan! I paired it with a pair of white skinny jeans and a black blouse! Here I have on leopard sandals, but if that's too much, you can always wear gold, black, or tan!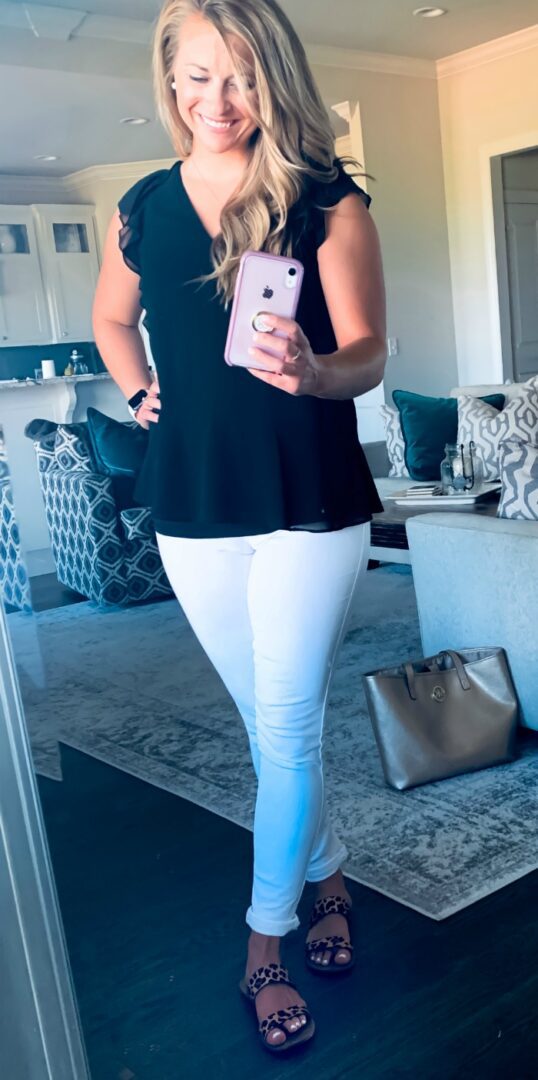 White Jeans, Black Shirt, Leopard Print Sandals Outfit
For warmer days, take off the cardigan and transition into fall with a simple black blouse, white jeans, and leopard print sandals! You could always wear closed toe shoes or booties too! I love how simple this outfit is with simple accessories!
These Leopard Print Sandals are from J.Crew Factory, but they are not available in Leopard anymore. They are available in a couple of other colors, so I'll go ahead and link them for you!
Leopard Print Flats and Jeans Outfit
When the weather starts to get cooler, you could wear ballet flats like I have on in the picture, or here are some super cute Leopard Flats and boots for Fall and Winter! These are all at J.Crew Factory which is awesome because they run so many great sales and deals! Plus, the shoes I have from J.Crew Factory are super comfortable and hold up really well!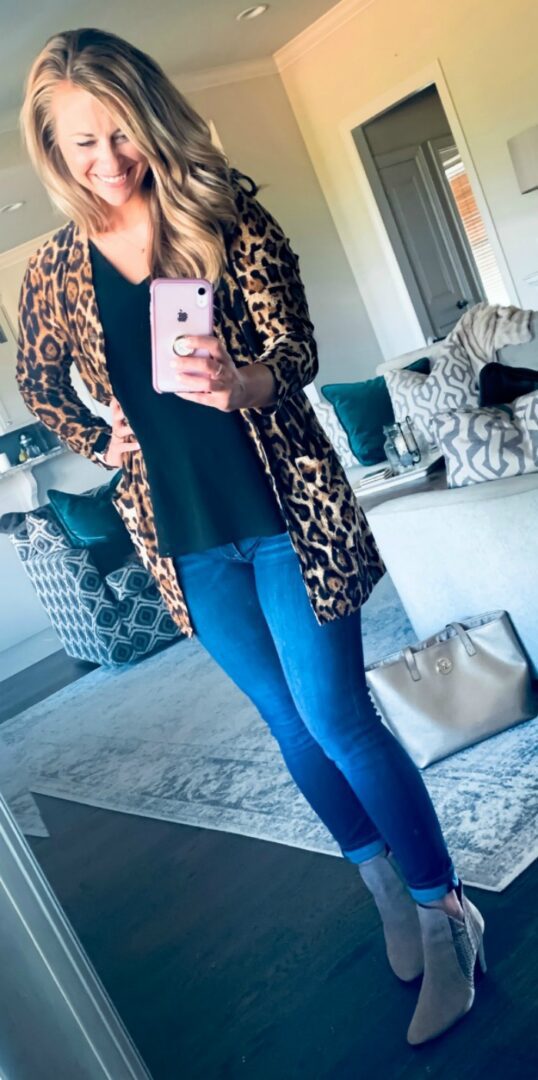 Booties and Leopard Print Cardigan Outfit
Once the weather cools off even more and you are ready to ditch the short sleeves and sandals, pair this Leopard Print Cardigan with your favorite neutral boots or booties!
I think my favorite thing about this Leopard Print Cardigan is that it is so light weight and layers really well with tanks and tees!
Plus, it's only about $20 on Amazon with Free Shipping with Amazon Prime! That makes it such a great deal to grab now and wear all season long!
I'd love to know what your favorite transition pieces are!! Are you more likely to throw leopard print shoes or a cardigan into the mix?!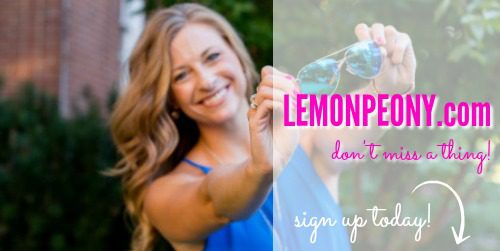 Join LemonPeony on Pinterest!.


Pricing subject to Change at any time. Please make sure you check the current price on Amazon.com before purchasing.