Vintage Dresses | Neutral Colors, Lace, and Gold!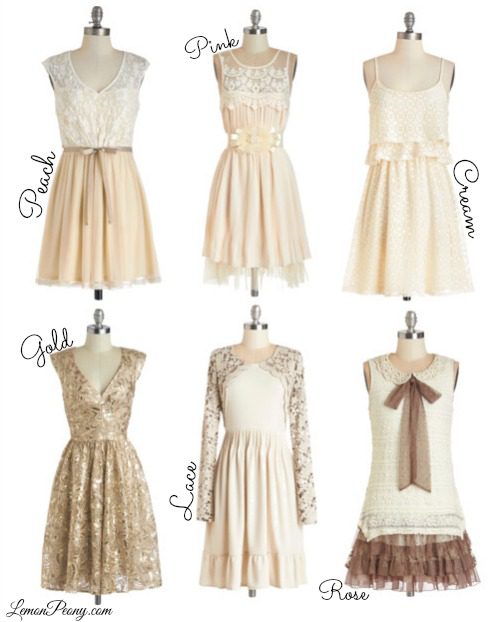 Be sure to check out these Vintage Dresses available now at ModCloth! These dresses are so cute, and I love the Neutral Colors, Lace, and Gold styles! You can wear these during the spring and summer with nude pumps, or you can wear them during the fall and winter with brown or colored tights, ankle boots, and a cute colorful jacket! Since Bold Accessories and Jewel Tones are so in style this season, get a neutral dress as a base and then change up the accessories! Plus, some of these dresses would make an awesome Christmas Dress or Women's Dress for Thanksgiving!
Shop at ModCloth.com and receive FREE Shipping on orders of $50 or more, FREE Exchanges and Easy Returns!

Plus, If you shop through LemonPeony.com, you will receive $15 off your purchase of $50 or more! Shop Now!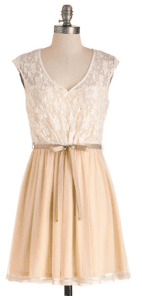 Pick up this White Hot Cocoa Dress for $59.99! That means you pay only $44.99 + FREE Shipping! This would be a great Thanksgiving Dress, Christmas Dress, or New Years Dress! I love the lace and the color combination on this dress!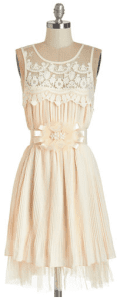 This Exuberant Attitude Dress is on sale now for only $58.99, down from $84.99! That brings your price to $43.99 + FREE Shipping! I would wear this dress with brown tights, brown ankle booties, and a colorful coat for fall!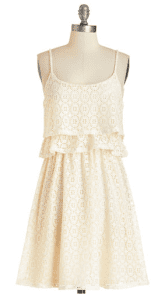 Get the Breezy to Love Dress for only $41.99, down from $59.99! Add a cute accessory or handbag to bring your cart up to $50 and then receive $15 off! This would be another fun dress to layer for fall or winter! It would also work in the spring and summer with a light cardigan!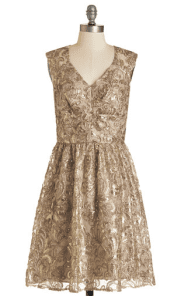 This dress is my favorite Christmas Dress for this season! I love the gold color, the style of the dress, and yes, the name! Get the Twinkling at Twilight Dress in Champagne for $169.99! Save $15 which means you pay $154.99!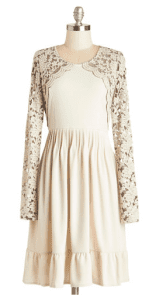 If you are looking for the Perfect Dress for Fall and Winter, check out this Ryu Graceful Lady Dress! The sleeves are lace and the body is simple! Wear this with a cute pair of boots and some colored tights for fall! Get this now for $104.99! That means you pay only $89.99 + FREE Shipping!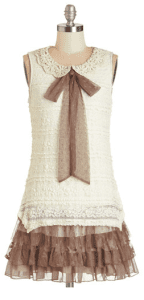 Here is another great style to wear with ankle boots and a colorful coat! Get this Sweet Cred Dress for only $84.99! That brings your price to $69.99! I love the details on this dress and the color combination!
Get your favorite look now and and get $15 off orders of $50 or more! Vintage Fashion, Vintage Dresses, and Vintage Accessories are so much fun and are the perfect fall and winter styles!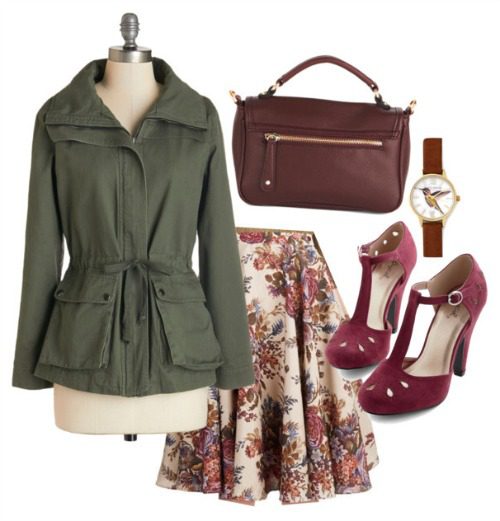 Also, be sure to check out this Vintage Floral Skirt outfit with Trench Coat! I love the colors on this outfit, and the style! So fun for fall!
What are some of your favorite Fashion Trends right now?!

Visit Julie Story's profile on Pinterest.


Posted by
Julie Story
. This post may contain affiliate links. Please read our
Disclosure Policy
.