Zesty Italian Chicken Lettuce Wraps Recipe!
This Zesty Italian Chicken Lettuce Wraps Recipe shop has been compensated by Collective Bias, Inc. and its advertiser. All opinions are mine alone. #SpringIntoFlavor #CollectiveBias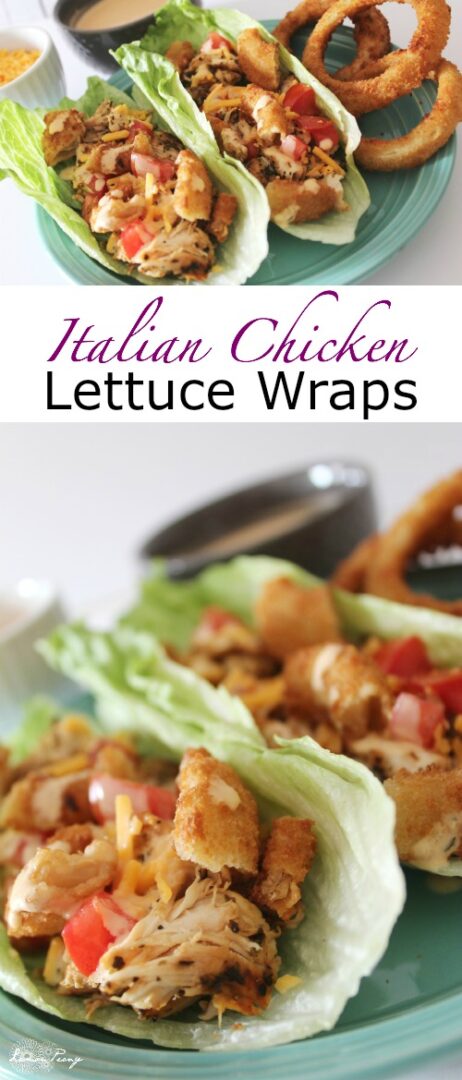 If you are looking for a new dinner recipe that is full of flavor, check out this Zesty Italian Chicken Lettuce Wraps Recipe!
This Zesty Italian Chicken Lettuce Wraps Recipe is a quick and easy dinner recipe to enjoy with your family all spring and summer long! Spring and summer are the perfect seasons for fresh recipes that pack a lot of flavor. Since I love easy and simple recipes that anyone can throw together in a hurry, I decided to make these Zesty Italian Chicken Wraps with Alexia Crispy Onion Rings!
These crispy onion rings made it easy to have an upscale meal without spending a lot of time or energy in the kitchen. This is a meal that you can throw together at the last minute after a busy day.
I love the springtime because the days start getting longer and the weather is so nice and beautiful. I love being able to spend more time outside walking, playing volleyball, and hanging out with my friends. The last thing I want to do is spend a lot of time in the kitchen cooking a meal. This is an easy go-to recipe that you can make for lunch or dinner. It's also an easy recipe to share with friends for a springtime party that everyone can enjoy! Plus, here are even more of my favorite Recipes!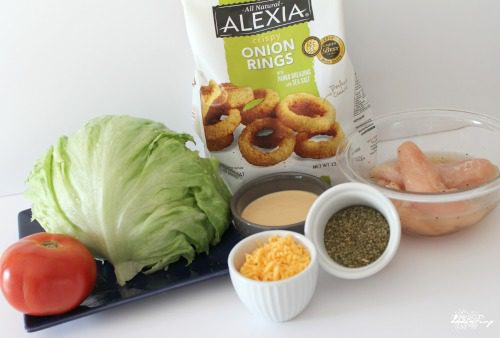 Zesty Italian Chicken Lettuce Wraps
Here's What You Need:
Chicken Tenders
Onion Rings*
Diced Tomato
Shredded Cheese
Head of Lettuce
Olive Oil Sweet Vinegar Dressing
Chipotle Ranch Dip Italian Seasoning

*You can make as many onion rings as you'd like since you can always just eat whatever you don't use on your lettuce wraps! I used about 1 onion ring per lettuce wrap and ate the other ones that I had baked :)!

Directions:
Marinade the chicken tenders in the Olive Oil Sweet Vinegar Dressing for 30 minutes to 1 hour.

Cook the onion rings according to the directions on the package.

Wash and core the head of lettuce so that you have lettuce leafs that you can fill.

Sprinkle italian seasoning on both sides of the chicken tenders and cook until they are fully done.

Shred the cooked chicken using two forks so that it is a nice texture for your lettuce wraps.

Fill your lettuce with chicken, tomatoes, cheese, & onion rings.

Drizzle Chipotle Ranch Dressing on top of your lettuce wraps, eat, and enjoy!
These Chicken Lettuce Wraps would also make a great appetizer recipe! Wrap up your favorite additions including tomatoes, cheese, spicy ranch dip, onions, sour cream, or any of your favorite toppings! I personally love that the onion rings give this recipe a burst of flavor and that they are super easy to make!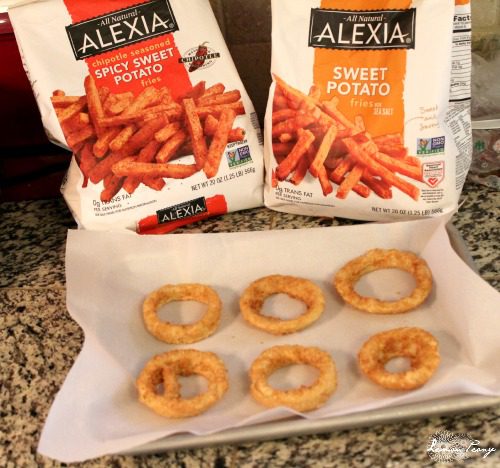 Another thing I like about the Alexia products is that they are high quality and that you can choose from so many different varieties! Check out the Alexia Sweet Potato Fries with Sea Salt, Alexia Spicy Sweet Potato Fries, and more! Plus, all of the Alexia products are made with natural ingredients!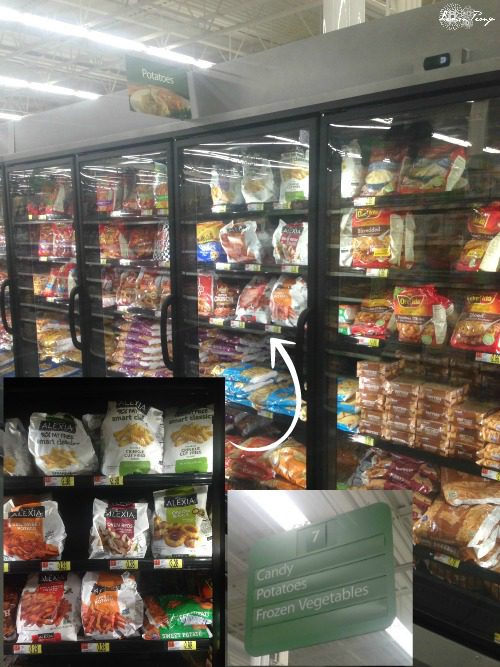 I got my Alexia products at Walmart, and they are super easy to find in the freezer section! I can't wait to try the Alexia Spicy Sweet Potato Fries! Mmm!! They look delicious!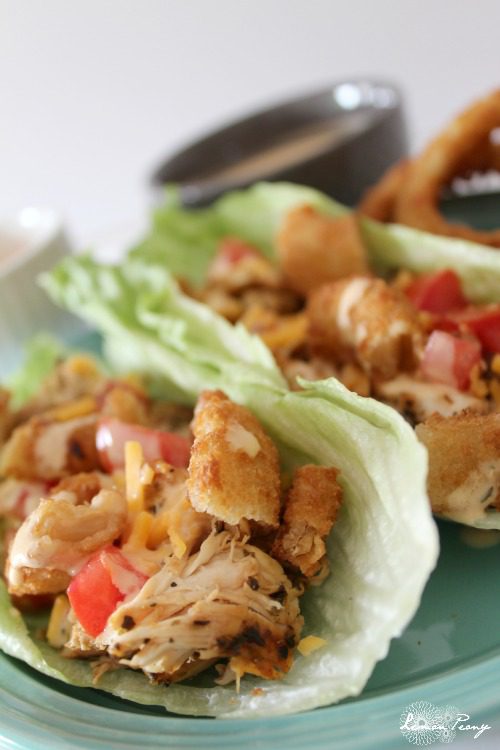 I am all about side dishes and appetizers that are easy to throw together when you do not have much time. Alexia products are the perfect side dish or appetizer to keep in your freezer for when you need something quickly to feed your family! Plus, I love that I could just pop these onion rings in the oven to bake and not have to fry them!
Check out Alexia Foods on Facebook and Pinterest for more information and fun recipes!
What are some of your favorite spring recipes!? Leave a comment and let me know some of your family favorite spring recipes!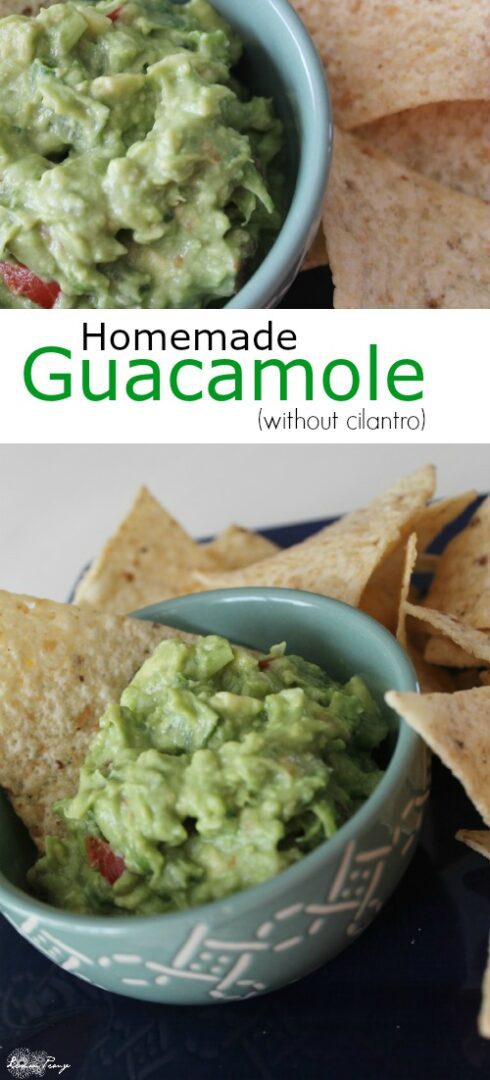 Also, be sure to check out this yummy Homemade Guacamole Recipe — Mmm!  This is one of my favorites!

Visit Julie Story's profile on Pinterest.


Pricing subject to Change at any time. Please make sure you check the current price on Amazon.com before purchasing.
Posted by
Julie Story
. This post may contain affiliate links. Please read our
Disclosure Policy
.