DIY Lemon Lime Sugar Body Scrub!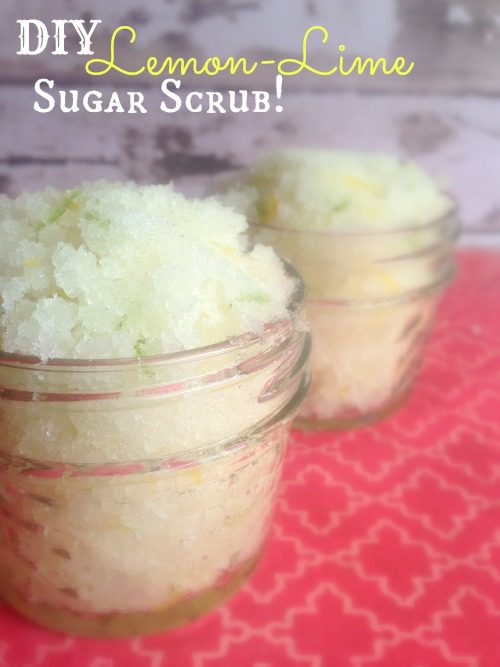 Just in time for summer – DIY Lemon Lime Sugar Body Scrub!
If you love the refreshing feel of exfoliating body scrub, be sure to check out this Homemade Recipe for DIY Lemon Lime Sugar Body Scrub! This stuff is truly AMAZING! Perfect for Mother's Day Gifts, Birthday Gifts, or to use yourself all year long! This body scrub has a great refreshing scent and feels wonderful! I like to use it after I shave to keep my legs nice and silky. I also use this on my arms, body, and face. All of the ingredients are natural, so you are not putting anything harmful on your body! Try it now!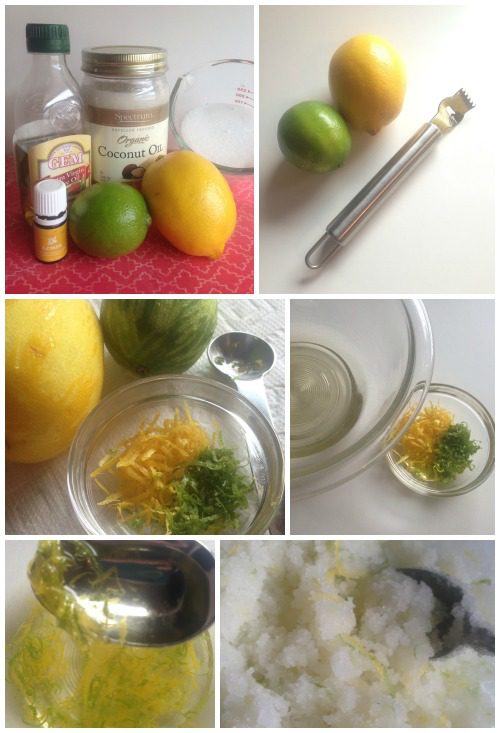 DIY Lemon Lime Sugar Body Scrub
Here's What You Need:
1 Teaspoon Lemon Zest
1 Teaspoon Lime Zest
1/2 Teaspoon Olive Oil
2 Drops Lemon Essential Oil
1/4 Cup Coconut Oil
1 Cup Sugar

Directions:
1. Zest Lemon and Lime with Lemon Zester.

2. Melt Coconut Oil for 30 seconds in the microwave in a microwave safe bowl.

3. Combine Olive Oil, Zest, and Essential Lemon Oil to the Melted Coconut Oil.

4. Slowly stir in Sugar until it is the consistency you prefer (you can always add a little more or a little less sugar).

5. Fill jars or a small bowl with your Lemon Lime Sugar Body Scrub!
I used 4 Oz Jelly Canning Mason Jars to store my Lemon Lime Sugar Body Scrub. These are a great size to keep in your bathroom, or to give away as gifts! This recipe makes 8 ounces. If you are making this for gifts, or want to keep some on hand for future birthdays, you can always double the recipe!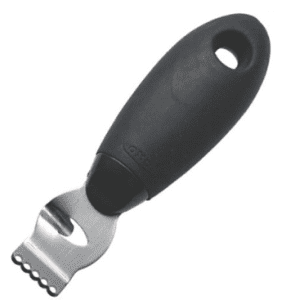 If you need a Lemon Zester, check out this OXO Good Grips Lemon Zester at Amazon for only $7.95! Plus, receive Free 2-day Shipping if you have Amazon Prime, or get Free Super Saver Shipping on orders of $35 or more!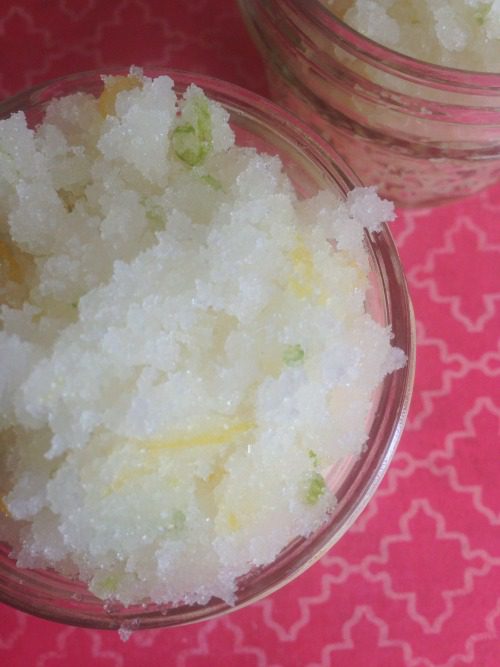 This Sugar Body Scrub was so easy and fun to make! I love the way it makes my skin feel soft and refreshed. I can't wait to give some away to all of my friends! I hope you enjoy it as much as I know I do!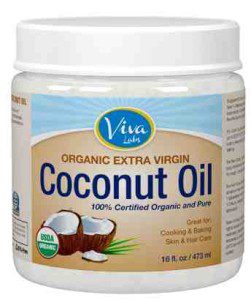 A great way to save some money is to get your Organic Coconut Oil at Amazon! Get a 16-Ounce Jar of Organic Extra Virgin Coconut Oil for $10.95. This is cheaper than you can get it at Walmart or your local store. Receive Free Shipping with Amazon Prime, or Free Super Saver Shipping on orders of $35 or more! Plus, I like having extra on hand to use on my face or to make my favorite Body Butter.
If you are looking for the Young Living Lemon Essential Oils, you can grab these here! This stuff is seriously amazing and smells wonderful! I just got the Premium Starter Kit and it includes the Everyday Oils Collection, a Home Diffuser, and much more! I am loving using my Young Living Oils for all kinds of things! Let me know if you would like more information, or just try it out! The Premium Starter Kit is a really great deal for all that you are getting!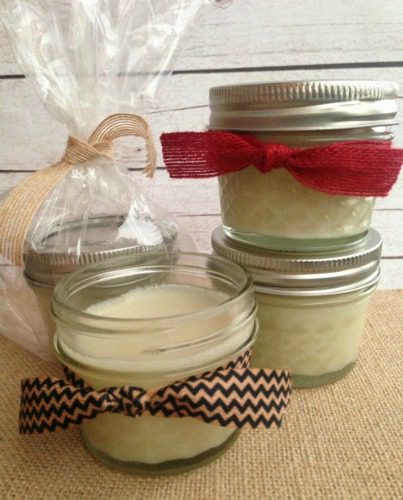 If you love this, be sure to check out my DIY Homemade Body Butter with only 4 Ingredients! This is another All Natural Beauty Product to use on your skin! I use this Body Butter all year long and it has a great feel that keeps my skin super soft! Plus, it smells wonderful!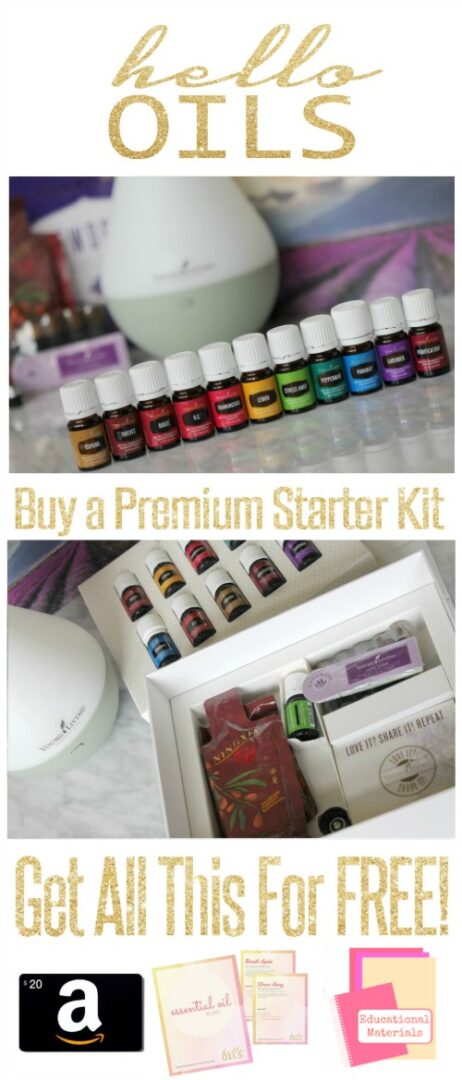 I have been using Young Living Essential Oils for over 18 months now. It is amazing the difference I have seen in me and my family since we started using Young Living Essential Oils.
Because I love these oils so much, I have an AWESOME Deal on the Young Living Essential Oils Premium Starter Kit to share with you! The Premium Starter Kit Includes 10 Bottles of Essential Oils in the Everyday Oils Kit + a Bonus bottle of Stress Away Oil in your Wholesale Membership Package. That's a total of 11 bottles of essential oils to try! Plus, you will also receive the Diffuser, Samples of NingXia Red, Starter Guides and more! Read More Here!

Visit Julie Story's profile on Pinterest.


Disclaimer: These statements have not been evaluated by the Food and Drug Administration. This information is not intended to diagnose, treat, cure, or prevent any disease. The information on this site is not intended or implied to be a substitute for professional medical advice, diagnosis or treatment. Please confirm any information obtained from or through this web site with other sources, and review all information regarding any medical condition or treatment with your physician. Never disregard professional medical advice or delay seeking medical treatment because of something you have read on this website.
Pricing subject to Change at any time. Please make sure you check the current price on Amazon.com before purchasing.