Amazon Baby Products! The Best Amazon Baby Products for newborns and baby shower gift ideas! Practical and perfect for an Amazon Baby Registry or Gift Idea!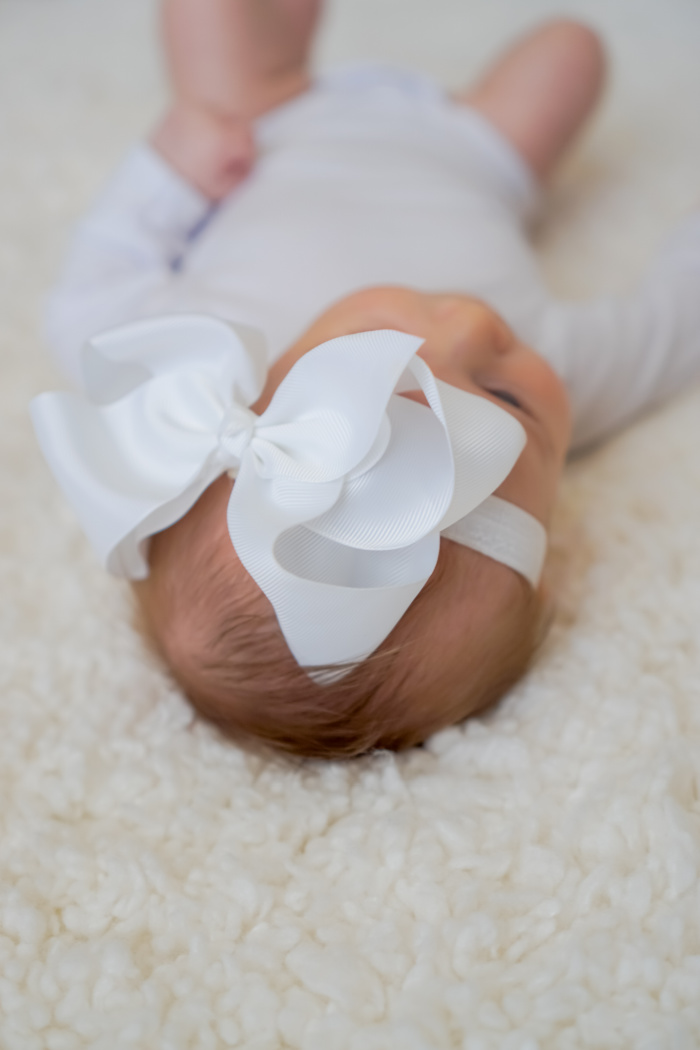 So many Amazon Baby Products to choose from, but which ones are the best?!
As a mom of a newborn, I have been trying many different Amazon Baby Products and decided to round up my favorite ones for you!
These Baby Products are perfect to add to your baby registry or give as a baby shower gift!
Simple, everyday products you will use over and over again. Plus, who doesn't love Amazon – fast and free shipping with Amazon Prime on most items and easy returns.
Looking for more baby ideas and products?! Here are more of my favorite Baby Finds!
Amazon Baby Products
Hair Bows & Accessories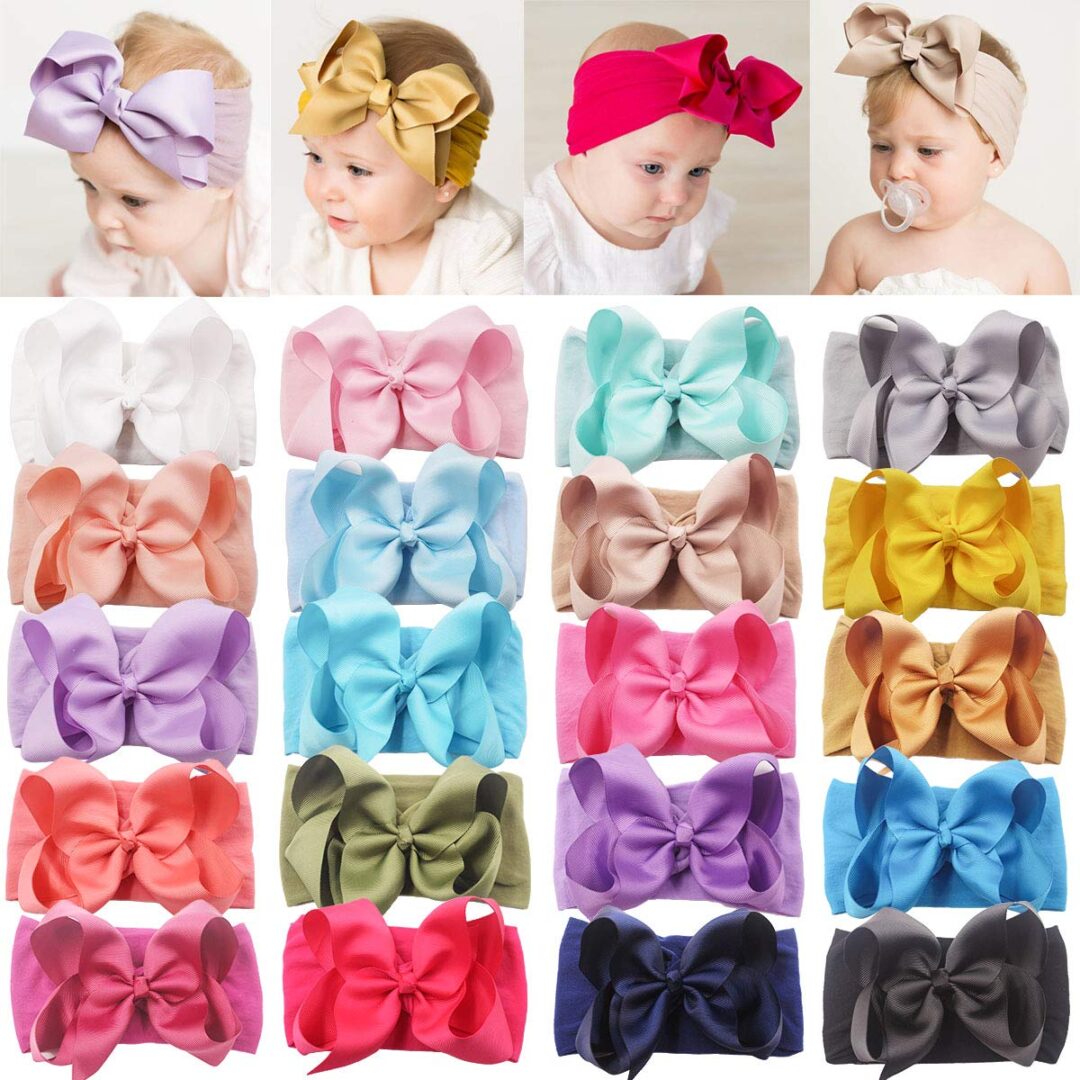 Large Hair Bow on Thick Headbands
I had been looking everywhere for large hair bows on a thick headband when I finally saw one of my friend's little girls wearing one. Of course the answer was Amazon so we had to get a set! Now that Sagely has been wearing her headband bows people always ask us about them and think they are designer! People are shocked (as was I) to learn they are from Amazon and you get 20 Bows for under $17!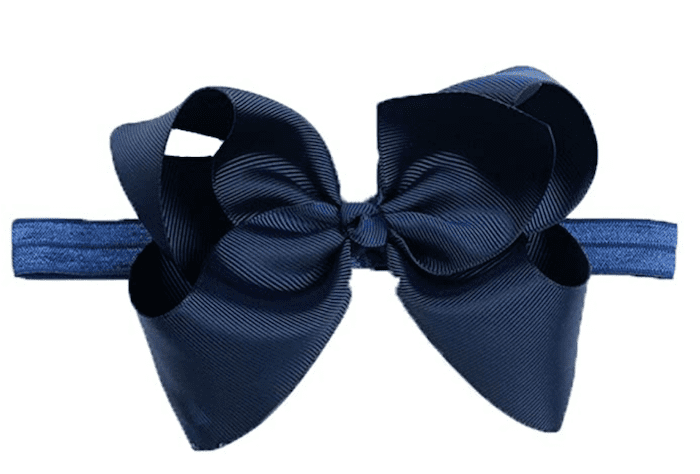 This is my next favorite style of hair bow for my little girl. It's a large hair bow but attached to a thin piece of elastic instead of a large headband. It's about the same size bow, just a little different look!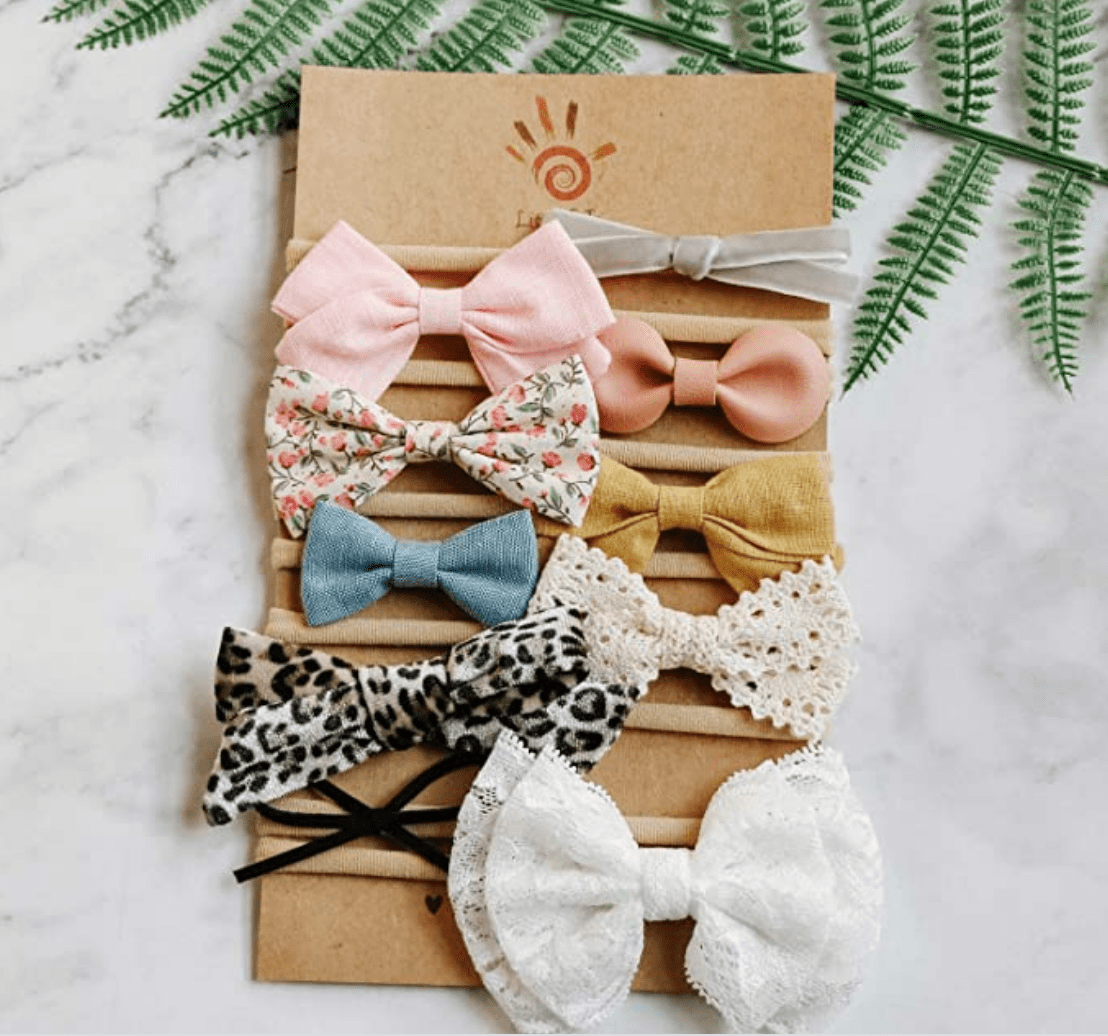 We got these as a gift off of our baby registry and we love these sweet and simple Dainty Hair Bows! Perfect for newborns and they go with so many outfits!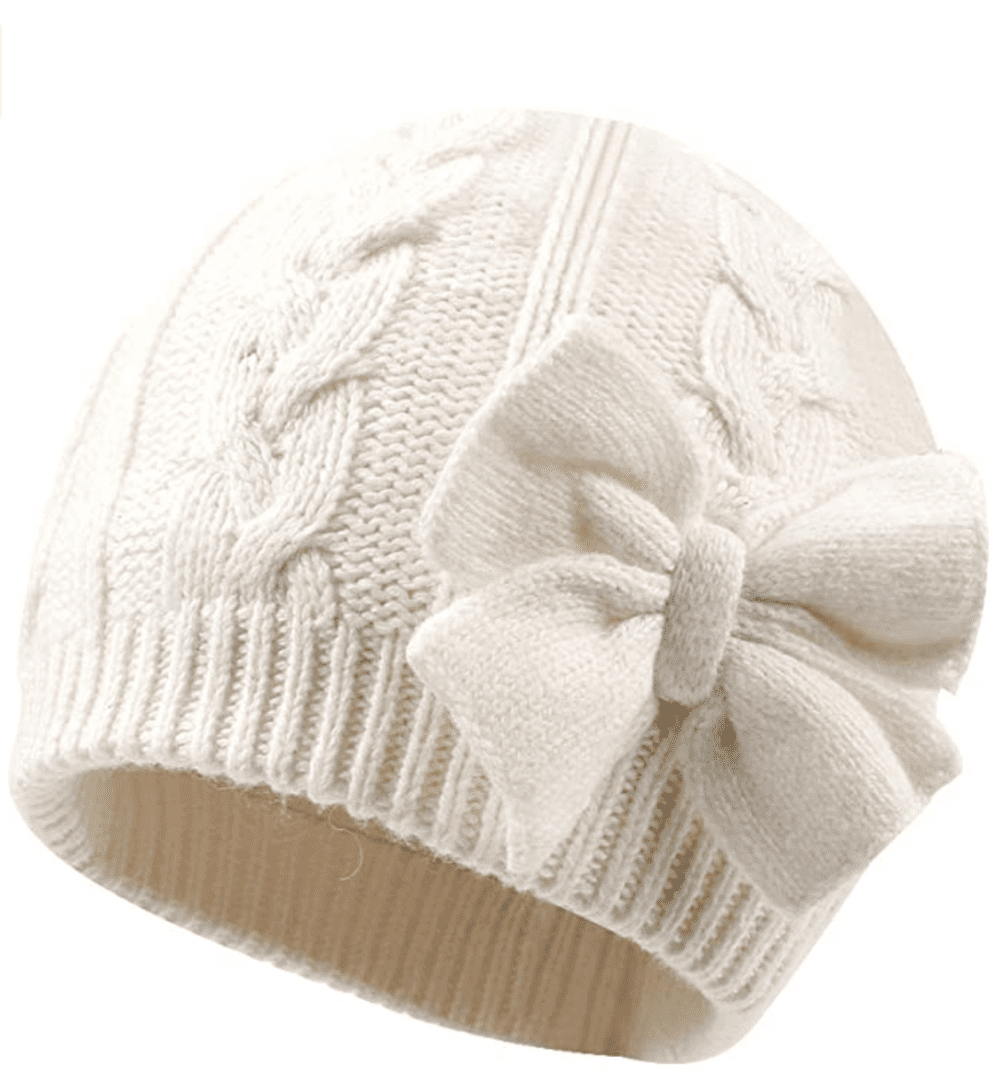 Having a winter baby, we struggled to find newborn hats and clothes that actually fit well. This warm winter hat was perfect for our newborn and stayed in place! It wasn't too big or too small.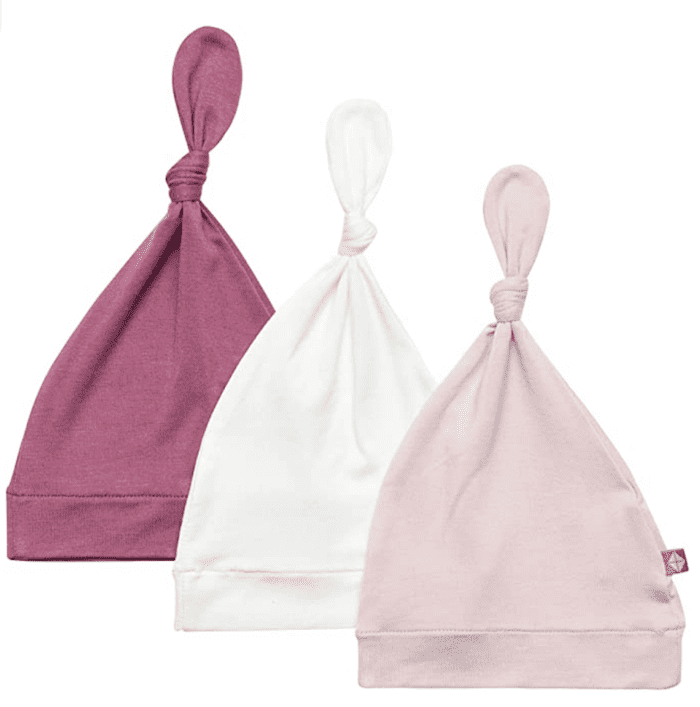 These are my favorite newborn hats for sleeping! Not too thick, and if the hat starts to fall over the eyes you can tie the knot tighter so that they don't slip down. Perfect for adjusting!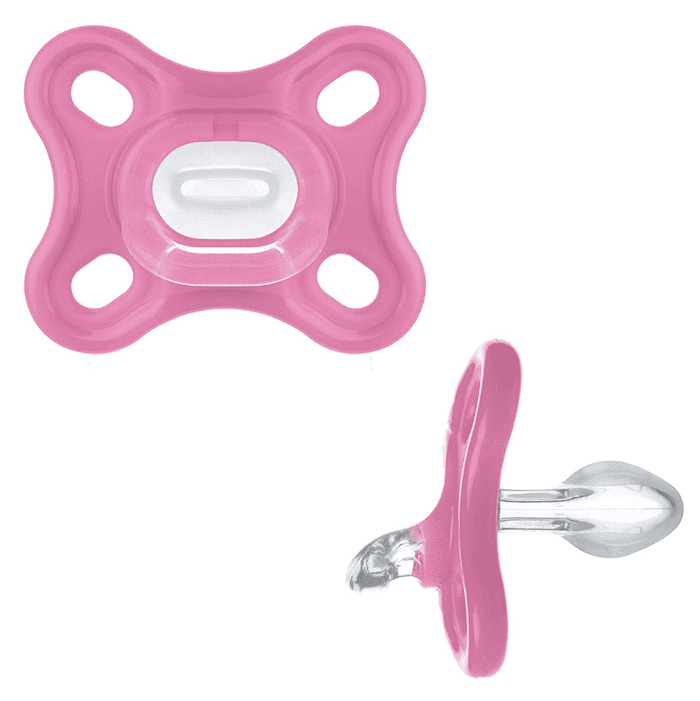 If you have a newborn or a premie baby, checkout these pacis! Sagely was 6.7 lbs when she was born and we waited a few weeks before introducing the paci. However, all of them still seemed SO BIG when she used them so it took me three orders to finally find one small enough! We are still using these at 10 weeks and she loves them more than the bigger ones with thick nipples.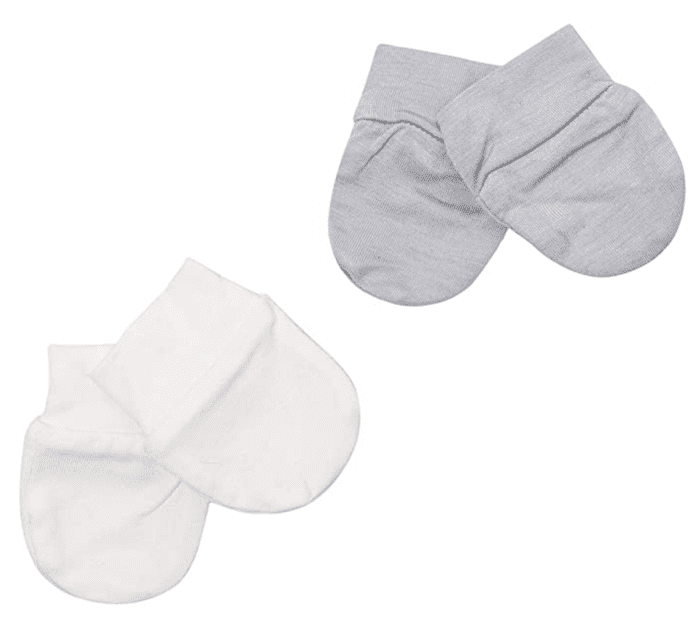 These are the BEST baby mittens that actually stay on!! They are tight, but not too tight. Plus, they are super soft and made from bamboo! The fabric is the same as the newborn knotted caps I mentioned early and one of my favorite baby brands!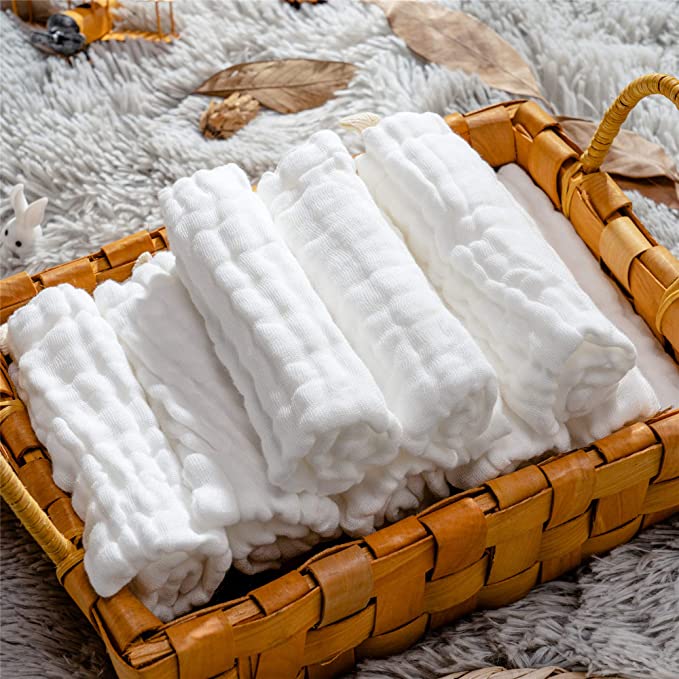 Bath Time
Another Amazon Registry win, these Muslin Wash Cloths are soo good! So good that I have the same brand in towels and burp cloths (see below)! Easy to wash and dry and so soft on baby's skin. These make awesome baby shower gifts or if you are needing easy, everyday wash cloths!
The only complaint I have about these Muslin Baby Towels is that I need more! I registered for one and received one, but I wish I had 2 or three! They wash and dry so easily and are so soft! I have another 1-2 on my list to buy myself because they are that good. The perfect baby shower gift bundled with the wash cloths above!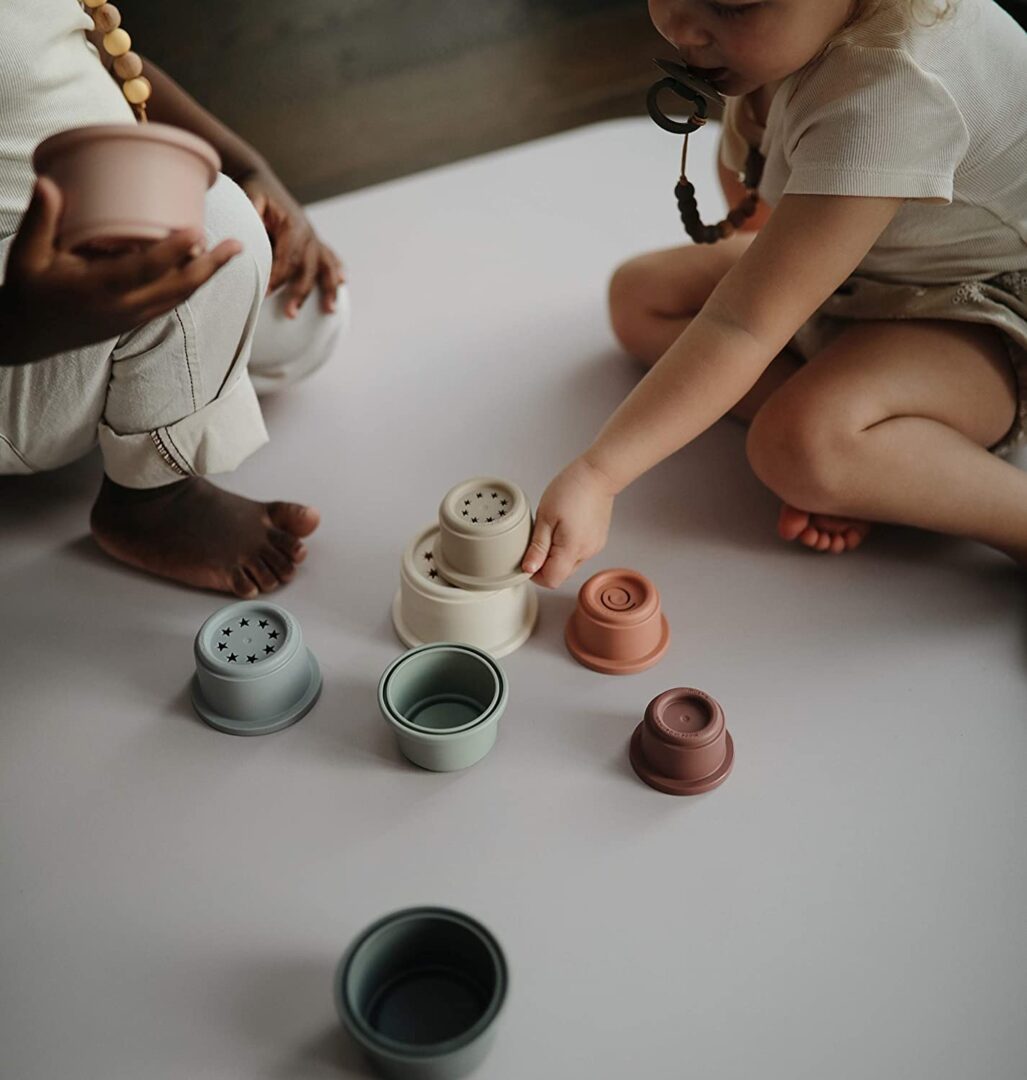 How cute are these stacking cups?! I'm a huge fan of the muted colors so they were perfect for us! Our newborn doesn't play with them yet because she is too young, but we do use them to wash her hair! I know she will love them! Also an easy baby shower gift idea!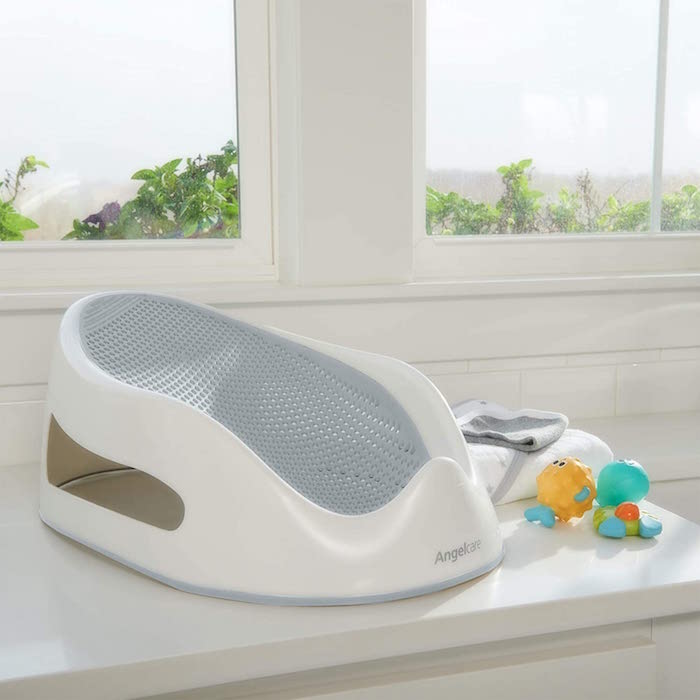 Another registry favorite we got from Amazon is this Angel Care Baby Bath Tub! It's so easy to use and I love that it's easy to clean and use in the tub!
Nursing Supplies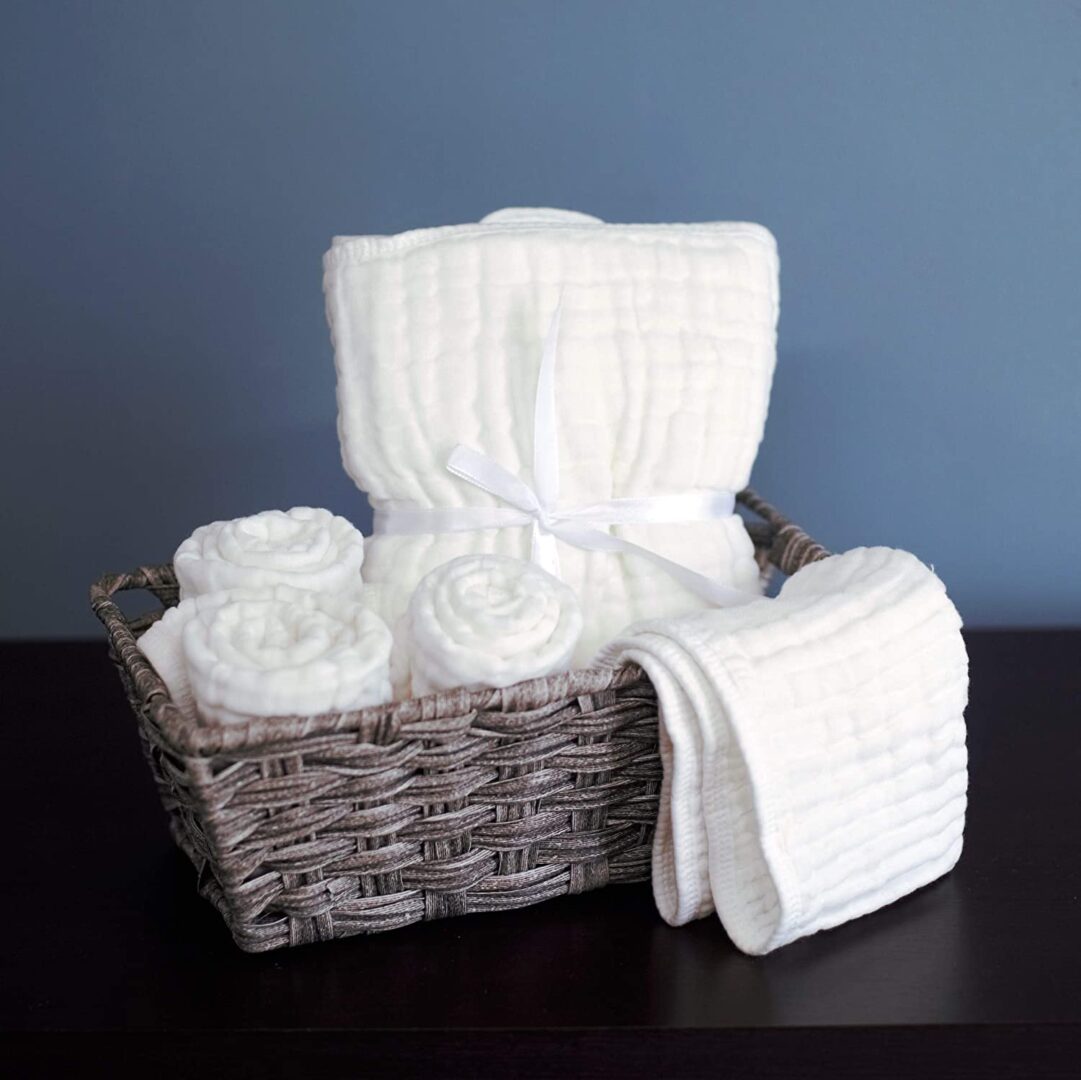 The same material as the wash cloths and bath towels above, these muslin burp cloths are so handy to have! Plus, you get so many in a package that you are able to use and wash without any problems. We recently went on vacation and these are the burp cloths we took. Because they are so cheap I wasn't worried about losing any. They came out to about $2 each!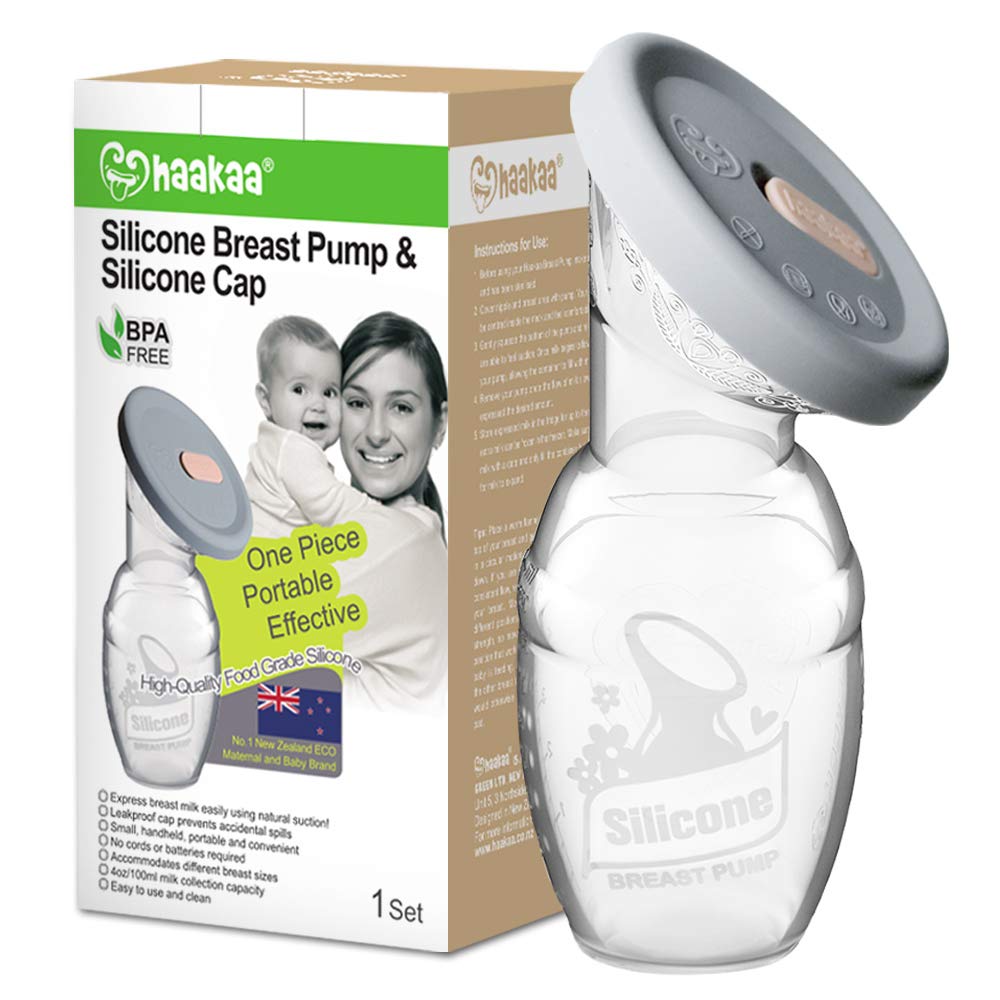 Breast feeding mommas, this hand pump is perfect for catching the letdown while you are nursing. Just put it on the other side and watch it fill up! I also took this on vacation with me since it was small and easy to use. I only used it once a day in the mornings before I nursed and got enough milk for an extra bottle!
These are SO helpful! They help take all the air out of the milk and freeze flat for easier storage. Label clearly for easy use and thawing! Choose the brand that works best for you and your pump. I got these milk storage bags and they have been great!
I recently bought these because it's not fun to wash the bottles that came with my pump over and over again. There is an adapter included that fits my Spectra S1 pump so that I can pump directly into the containers to store them in the fridge. Collect your desired amount and then put the milk in the storage bag above!
I normally had enough milk after a day or two to freeze.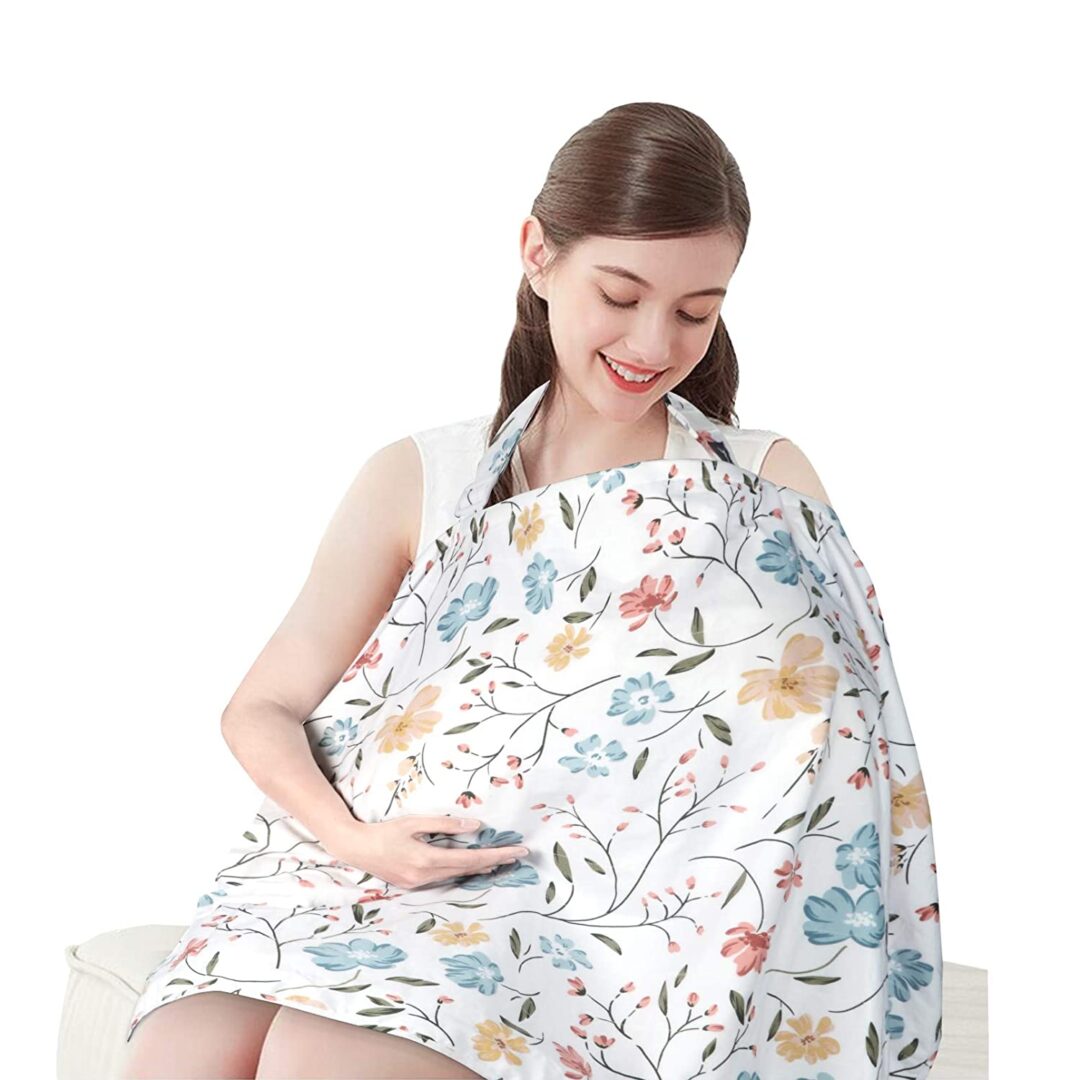 I tried so many nursing covers before I found this one that I absolutely love! The 5-in-1 covers are cute and nice, but they aren't very practical. I love the structured top so I can see Sagely when I'm nursing and the adjustable strap around the neck. Perfect for feeding on the go!
Baby Room
LOVE My Vava Baby Monitor. After reading so many reviews on baby monitors, this is the one I ended up getting. It has a super clear night vision screen and the option to split the screen with two cameras at the same time if you have two kids to check on.
How cool is this?! Especially for a newborn! I wanted to be able to see my baby move and breath at night for extra peace of mind. By using this mount it got the camera closer to my baby and more clear so I didn't have to zoom in. It's been super helpful for the newborn stage.
I don't know if I could sleep without my Owlet Heart Rate Monitor. I have the series 3 and it works great! Getting proper fit of the sock and the base being in a good spot for readings are key. Another great way to check on my baby and get a good night sleep.
The Diaper Genie is one of the products I almost skipped on. I didn't think I would need or want it, but it's been super helpful for diaper changes and stinky diapers. Super convenient and easy to use.
Diaper Genie Amazon Replacement Bags
These can get expensive, so I bought the Amazon version off Amazon. Having both brands, I can't even tell a difference! Will definitely keep buying these off Amazon!
On-the-Go Accessories
We have two diaper bags for Sagely. One for me and one my husband will carry (a normal backpack ;)) lol I bought this changing mat to take on trips and keep in the backpack and it's perfect! So easy to use and perfect for changing diapers on-the-go!
This is a cool little gadget to get a better view of your baby in the back seat. Just having a mirror is okay, but having a camera so you can see your baby well is SO helpful!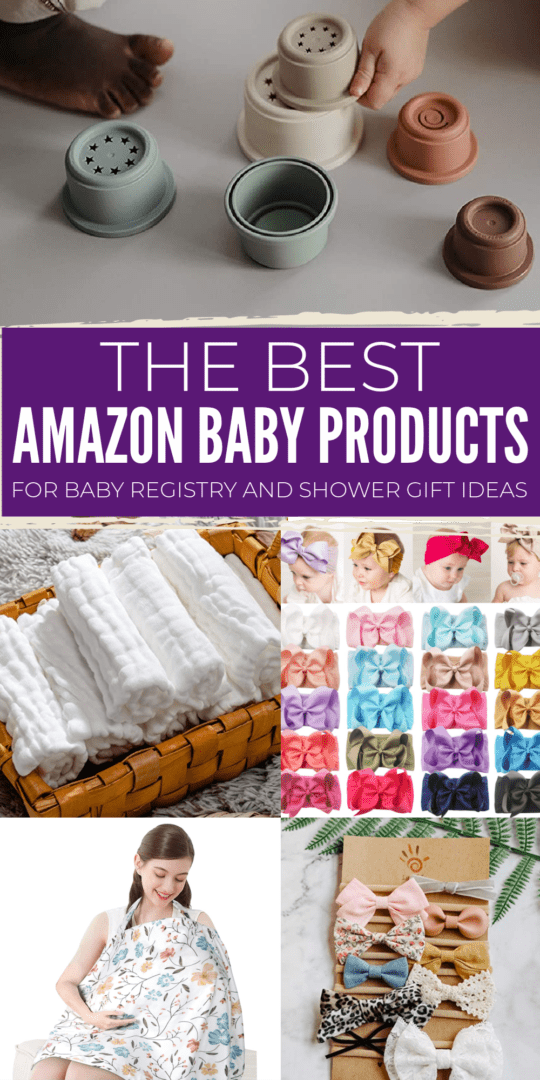 I will update this list as I go for more helpful and practical Amazon Baby Products. Like I said above, I've bought so many and also returned a handful of unhelpful products. The products I share with you are super helpful and items I would buy again or give as a baby shower gift!