Cute Maternity Clothes! Pregnancy Must Haves for Cheap and Affordable Maternity Dresses, Tanks, Jeans, and Leggings on a budget for a comfortable pregnancy!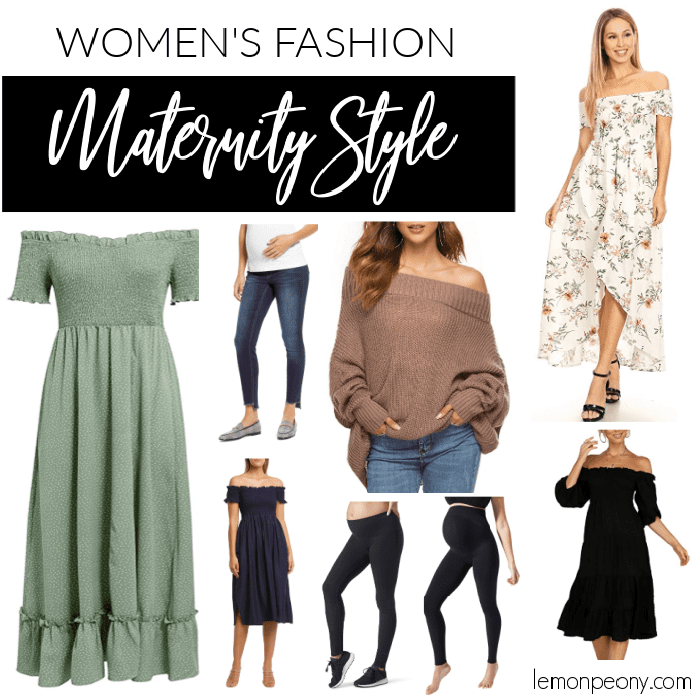 Here are some of my favorite Cute Maternity Clothes I have found recently!
I wanted to share them with you since you never know how things are going to fit or where to get the best deals.
Plus, here are more Baby Related Posts you may want to check out!
Some of these maternity clothes I mention below are not specifically maternity only. They are dresses and items that work well for maternity even if they aren't "maternity". I am ALLLL about the off the shoulder right now, I just think it's so flattering with a growing bump to add a little interest up top and balance out all of the extra fabric.
Another thing that I'm loving is smocking. Smocking helps keep the shape without being too frumpy and it's super comfortable for a growing bump.
Cute Maternity Clothes
This Black Off the Shoulder Dress is SO cute! It's not maternity, but it totally works with a bump. Perfect to transition from Summer to Fall or to wear in the Spring Summer. It's also available in white and orange. The white would be perfect for a gender reveal party or maternity photos!
I got a large in this dress even though I'm normally a medium. The reviews say it runs small so it's helpful to size up for a better fit.
How cute is this Off Shoulder Floral Smocked Dress?! Available in Ivory and Navy, this is the perfect pregnancy announcement or maternity photos dress – especially if you are having a girl! It's beautiful material and fits well with a bump. Size up for the best fit if you are pregnant.
If you are looking for a spring or summer option (or something to wear into Fall with a sweater, I am loving this Polka Dot Off Shoulder Long Dress. If you are taller (like me), the slit may be a little short, but you can always add a few stitches. This dress is available in 4 colors – I got the green color, and I get so many complements every time I wear it.
It's super flattering with a growing bump, the perfect length, and so comfortable for the early stage of pregnancy. I got a size 8 which is a little larger than my normal size. I would size up if you are pregnant.
I am LOVING this Off the Shoulder Dress! It's so comfortable and perfect for the growing bump! It's not maternity, so i'm excited I'll be able to wear it next year too. It's made super well and I love the color. I wore this for our gender reveal and got so many complements on it!
I am loving this Women's Off Shoulder Oversized Pullover Sweater is so cute and perfect for transitioning into fall and winter. I plan on wearing this with shorts while it's still warm outside, and then with maternity jeans in the fall and winter. There is plenty of room for a growing bump and the Khaki color is PERFECT!! However, it is also available in 5 different colors.
I got a Large in this sweater (and I'm normally a Medium). There is so much room I could have gotten my normal size, but the large fits too and will grow with me through the winter since I'm not due till January.
When looking for maternity jeans, I already ordered one pair I didn't like and sent them back and I'm waiting for these 1822 Denim Step Hem Skinny Maternity Jeans to come in the mail!
I love the hem on these and think they will look super cute with sneakers or boots. I will be able to wear them with sweaters or cute tops too! I can't wait to get them in – I will update you when I know more.
**Update** I got these jeans today and they feel SOOO good! SO much better than the last ones I ordered! They are the perfect length, so comfortable, and not a lot of extra fabric! I may have to grab another pair to have options!
The best part about these jeans is that they come with Free Shipping and Free Returns! You could even buy a couple of sizes and send back the ones that don't fit.
Leggings!!! No pregnancy is complete without a pair of Maternity Leggings. I found these Sport Support Maternity Leggings for only $25 + Free Shipping at Nordstrom! They fit great and seem to be a great workout option!
I am a Lululemon fan when it comes to workout leggings, but sadly they do not make maternity sizes. I'm hoping these SportSupport leggings will be great for my workout classes and getting some exercise in (as well as lounging around the house).
Finally, here is a pair of Everyday Maternity Leggings. These are a little more thin than the SpotSupport ones, so I would not recommend trying to workout in these. However, they would be super comfortable to wear with a sweater or t-shirt for an everyday look.
I'll be living in these with cardigans, tanks, and oversized sweaters this Fall and Winter!
Maternity Tanks
OHHH that makes me remember one more Maternity find that I absolutely LOVE!! These Maternity Nursing Tanks from Amazon are SO GOOD!
They come in a pack of 4 which comes out to only $9 each! That is a huge value for Maternity Tank Tops! I choose to get the nursing ones so that I could wear them now and after the baby is born.
The material is super soft and they are long enough for my long torso and growing belly. They do not ride up and I love that they are nylon + spandex and not cotton.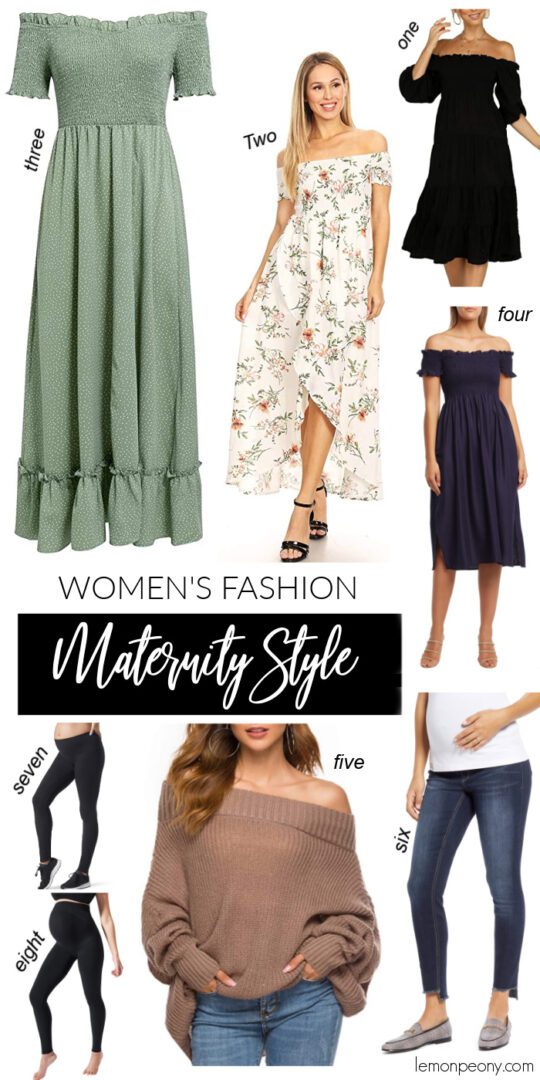 I hope this post has been helpful for you if you are in the beginning stages of pregnancy and looking for some cute maternity clothes that may or may not specifically be maternity. I hope to have more Maternity Fashion Posts coming soon!
Which piece is your favorite and do you want to add to your wardrobe while pregnant?!
Download this FREE e-book today!!
Get access to 11 Sweet & Easy Dessert Recipes when you subscribe to our e-mail list!
Join LemonPeony on Pinterest!.


Pricing subject to Change at any time. Please make sure you check the current price on Amazon.com before purchasing. As an Amazon Associate I earn from qualifying purchases. Click here to view my entire Disclosure Policy.