Easy Homemade Tomato Basil Pasta Recipe | One Pot Dinner!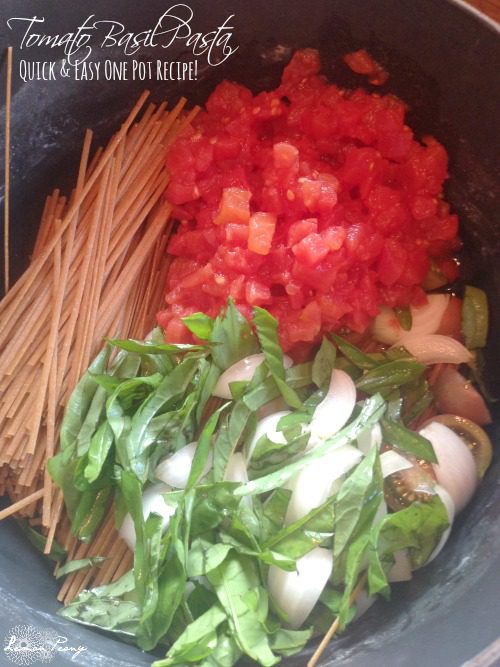 If you are looking for a Quick and Easy One Pot Recipe for Dinner, or a Crockpot Meal, Check out this Easy Homemade Tomato Basil Pasta Recipe!
This Easy Homemade Tomato Basil Pasta Recipe is the Perfect Easy Dinner Recipe for you and your family! Plus, it's healthy!! Make this One Pot Dinner if you are in a hurry or not wanting to deal with the cleanup after a meal! Plus, some of these ingredients came from my garden which made it extra fresh and healthy!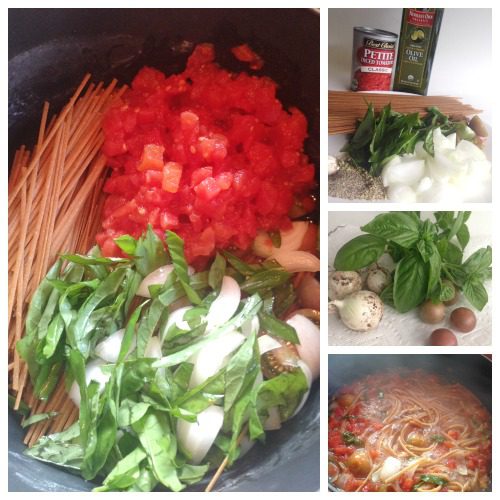 Easy Homemade Tomato Basil Pasta Recipe
Here's What You Need:
1 can diced tomatoes (you can use fresh if you want – I used 4 Fresh cherry tomatoes from my garden)
4 small onions cut in strips
4 sprigs of basil leaves chopped
1 teaspoons oregano
1/2 teaspoon of garlic powder
1 teaspoon pepper
2 tablespoons Olive oil
4 1/2 cups chicken broth (you could also use vegetable broth)
12 oz whole wheat linguine

Directions:
Place the pasta, onion, basil, and tomato, in large pot, pour the chicken broth in, and add all of the spices!

Cover pot and bring to a boil.

Once it's boiling, reduce to a low simmer and keep covered.

Cook for 10 minutes stirring every 2 minutes.

You can cook the pasta until almost all liquid has been evaporated, or you can take it off the stove right at 10 minutes to make it a little more juicy.

Sprinkle on Parmesan cheese as desired and Enjoy! =)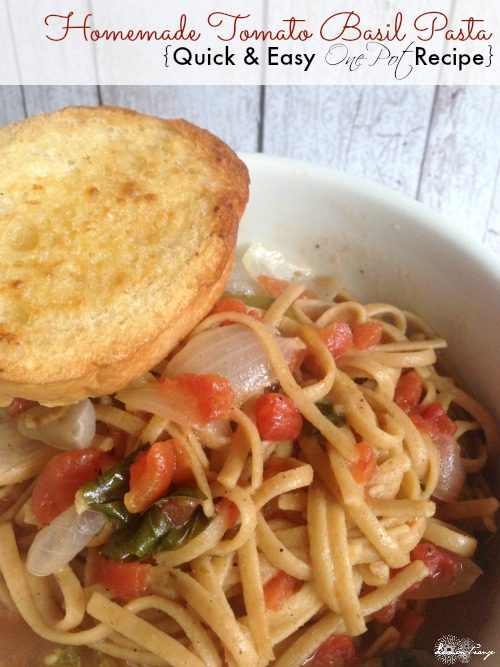 This is a Delicious and Fresh recipe your whole family can enjoy! Plus, be sure to check out my Chicken Rigatoni Recipe for an easy Crockpot Spaghetti Dinner Recipe! I am so excited because the Cherry Tomatoes, Basil, and Onions all came from my garden! Now that all of my other tomatoes are ripe I think I'm going to make it again with Fresh Roma Tomatoes!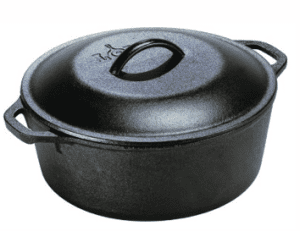 I used a Cast Iron Pot when I made this Pasta Dish. It was perfect to hold all of the ingredients and cooked so well! Get one now at Amazon for only $32.37, down from $60! Receive Free Shipping with Amazon Prime, or Free Super Saver Shipping on orders of $35 or more!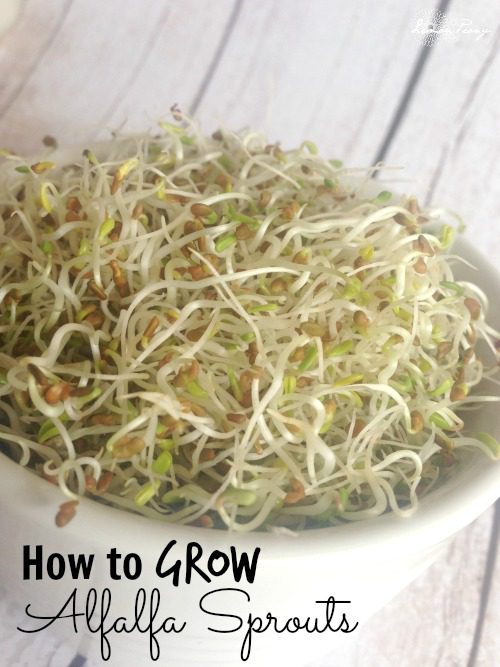 Also, if you love fresh recipes and growing your own veggies at home, Here's an easy way to Grow Alfalfa Sprouts in just 3 Days!
Plus, be sure to sign up for my E-mail Updates so that I can keep you posted on more great Recipes and special giveaways!

Visit Julie Story's profile on Pinterest.


Pricing subject to Change at any time. Please make sure you check the current price on Amazon.com before purchasing.
Posted by
Julie Story
. This post may contain affiliate links. Please read our
Disclosure Policy
.