Homemade Potato Soup Recipe!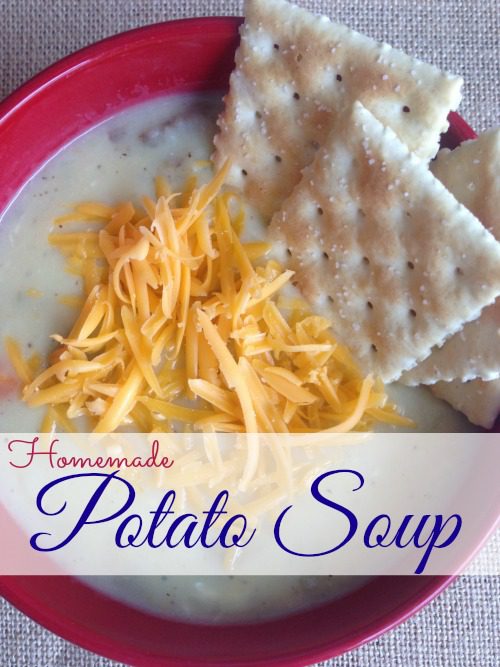 It was a SNOW DAY here at my house, so I decided to create a Homemade Potato Soup Recipe with the things I had around my house!
It turned out GREAT so I decided to share the recipe with you! This Homemade Potato Soup Recipe was perfect for a cold snowy day. Try this out if you are looking for a warm soup recipe for the fall and winter, or anytime of the year.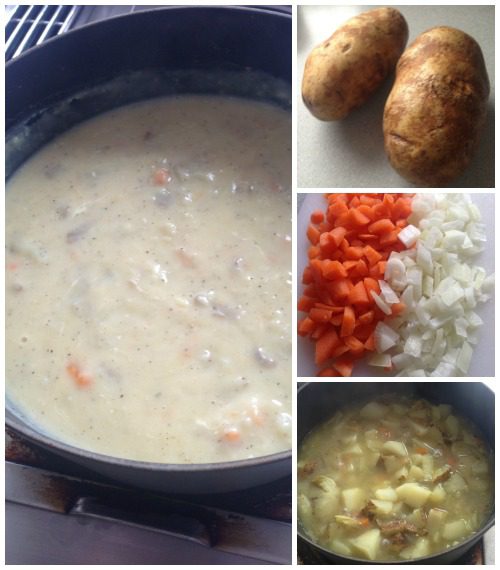 Here's What You Need:

4 Cups of Water

2 Tablespoons of Chicken Base with Parsley (you could use 2 cans of Chicken Broth instead of Dried Chicken base).

2 Large Potatoes

1/2 Cup Chopped Carrots

1/2 Cup Chopped Onion

Salt (to taste)

Pepper (to taste)

1/2 Cup Milk

4 Ounces of 1/3 Less Fat Cream Cheese
Directions:
1. Bake your Potatoes in the Microwave for 5 minutes, flip them over and bake them for another 3 minutes. Be sure to wash & poke holes in the potatoes before you place them in the microwave. *This helps to speed up the cooking process because your potatoes will already be soft!
2. Combine Water, Chicken Base, Onions, Carrots, Salt, and Pepper into a large dutch oven and bring to a boil. Let this cook about 15 minutes or until the carrots are soft. *You could always cook your onions and carrots in a little butter before you place them in the broth.
3. Cut your potatoes into pieces and add them to your broth. Cook for 15 minutes on medium low heat. *I left the skin on my potatoes, but you could always peal them first.
4. Smash the potatoes to help thicken your soup and add in the cream cheese and milk.
5. Stir your soup to make sure the cream cheese is fully melted and add salt and pepper to taste!
I added a little bit of shredded cheese and crackers to my Potato Soup, but this is always optional! I hope you ENJOY!
These Perfectly Baked Apples would be a great addition to this Potato Soup Recipe! Try this tonight with your family!
Visit Julie Story's profile on Pinterest.



Pricing subject to Change at any time. Please make sure you check the current price on Amazon.com before purchasing.
Posted by
Julie Story
. This post may contain affiliate links. Please read our
Disclosure Policy
.