Pumpkin Cheesecake Bars Recipe!
Amazing Pumpkin Cheesecake Bars Recipe! This Pumpkin Cheesecake Recipe is the perfect twist on Pumpkin Bar for Fall and Thanksgiving! The best holiday Pumpkin Dessert Recipe!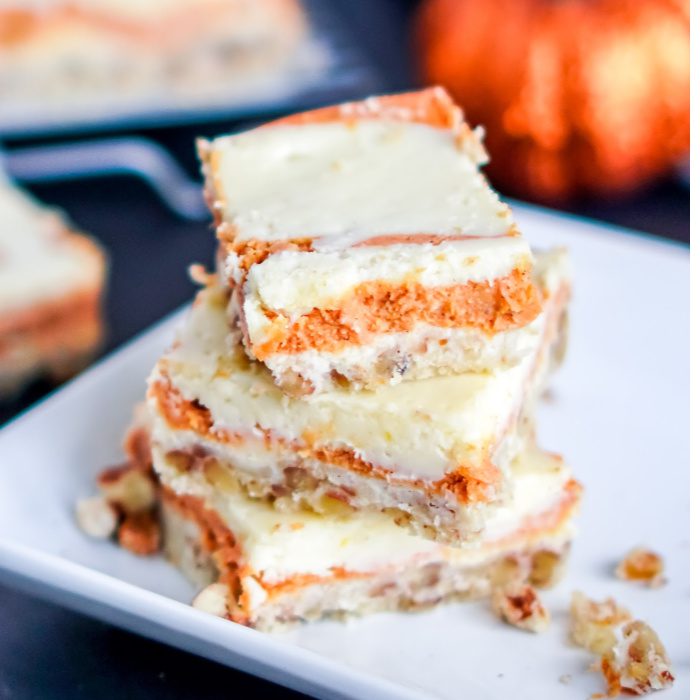 If you are looking for the Best Pumpkin Cheesecake, this Pumpkin Cheesecake Bars Recipe is sure to be a hit for Fall and Thanksgiving! Add this twist on Pumpkin Bars to your holiday table for Thanksgiving or Christmas!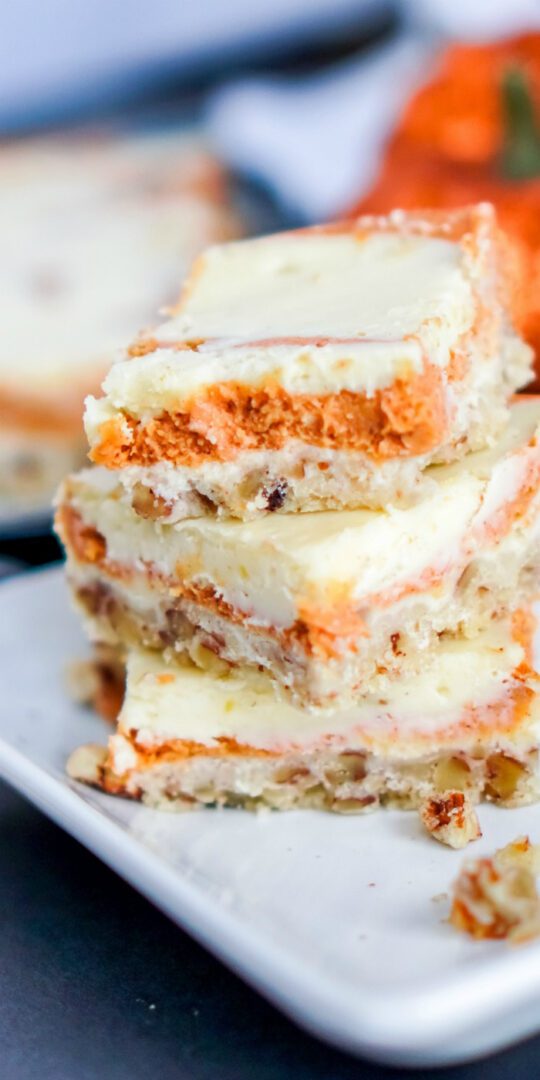 Plus, here are even more Amazing Fall Pumpkin Recipes!
I am LOVING all things pumpkin spice right now! Anything that screams fall, cooler weather, cozy blankets, and holidays!
If you are looking for an easy holiday dessert recipe, be sure to try these Pumpkin Cheesecake Bars! It's the perfect blend of pumpkin and cheesecake with an amazing pecan crumble crust!
Here are a few of the questions I get asked about Pumpkin Cheesecake Bars!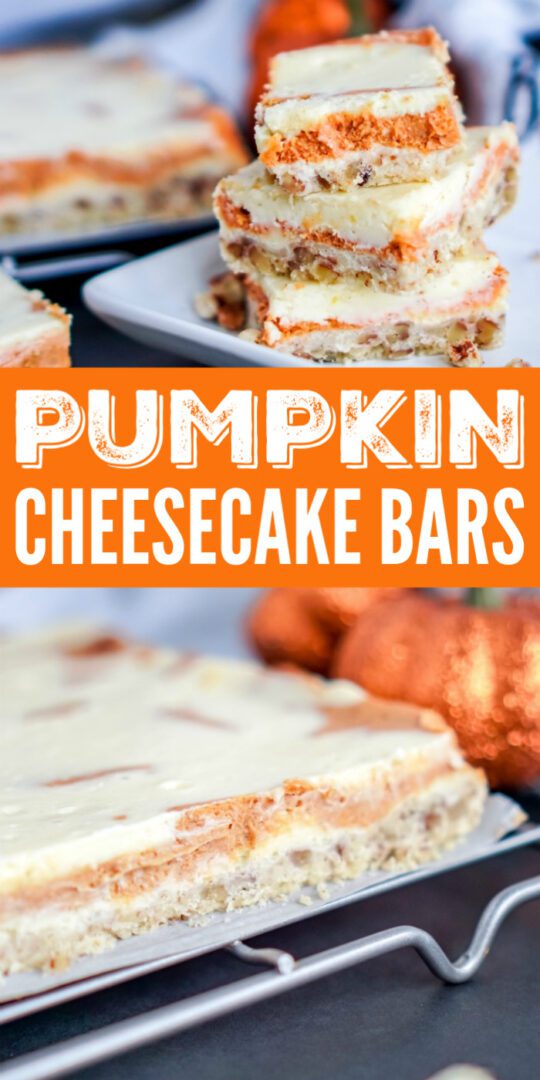 How do I make pumpkin bars with cheesecake?
Pumpkin Bars with Cheesecake are super easy!! Just make pumpkin cheesecake bars! Combine layers of pumpkin cheesecake with regular cheesecake for an amazing Pumpkin Swirl Cheesecake Bars that are SO GOOD!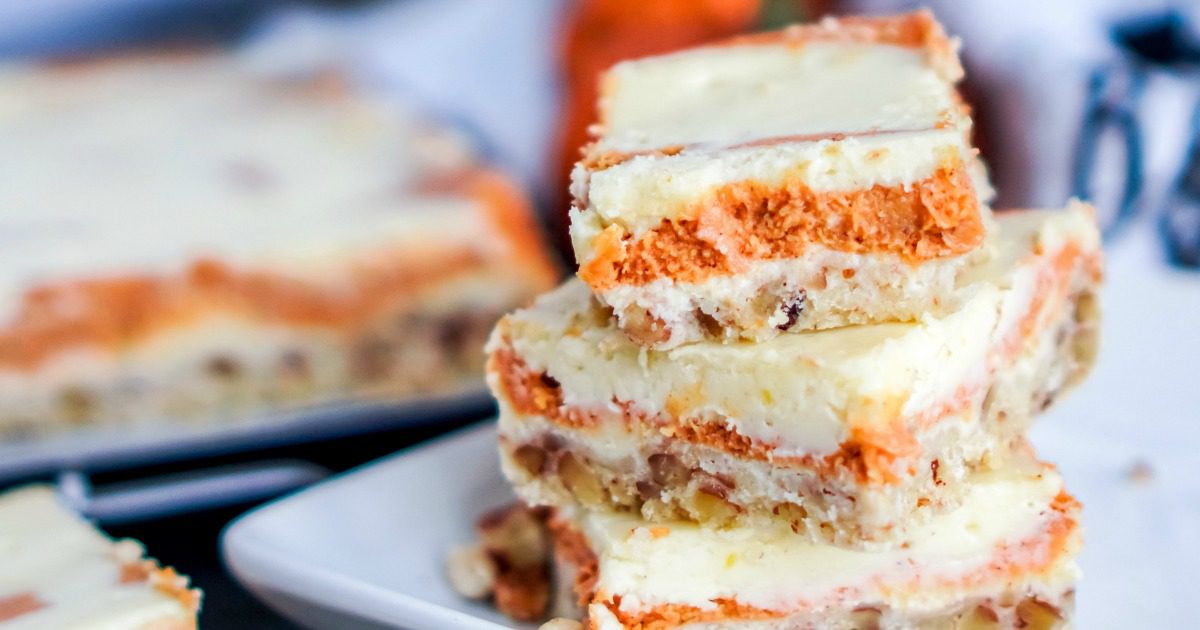 How do I store pumpkin cheesecake?
Because of the cream cheese in Pumpkin Cheesecake, store pumpkin cheesecake or pumpkin cheesecake bars in the refrigerator in an air tight container.
Can I freeze pumpkin cheesecake?
Yes! One of my favorite things about cheesecake is that you can make it ahead of time, put it in the freezer, and thaw 24 hours before you are wanting to serve!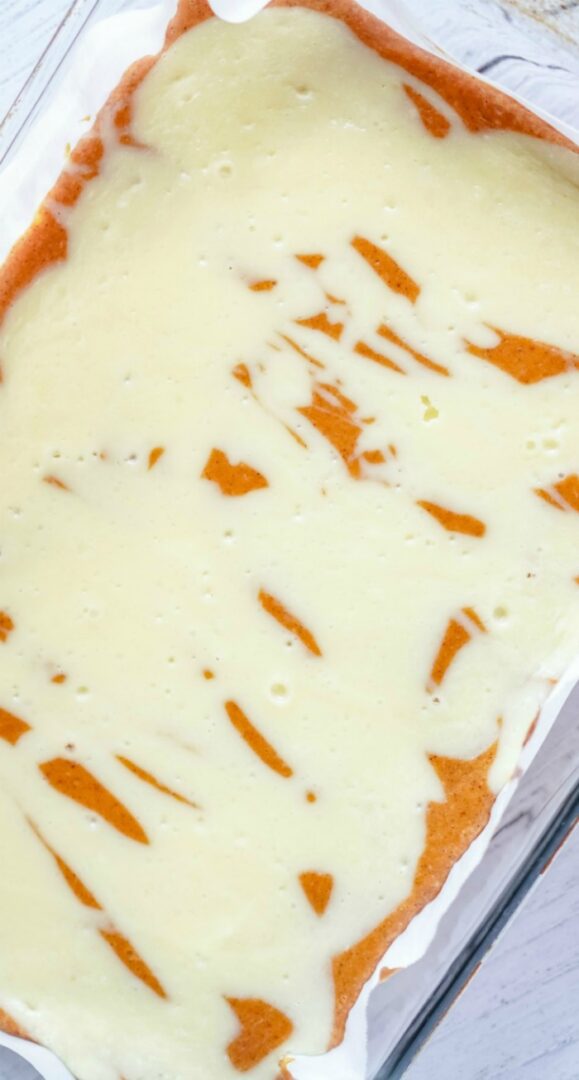 How do I make my cheesecake firmer?
If you want firmer cheesecake, use 2 teaspoons of all-purpose flour to every eight-ounce brick of cream cheese. You can also leave out the heavy cream or sour cream if your cheesecake recipe calls for it.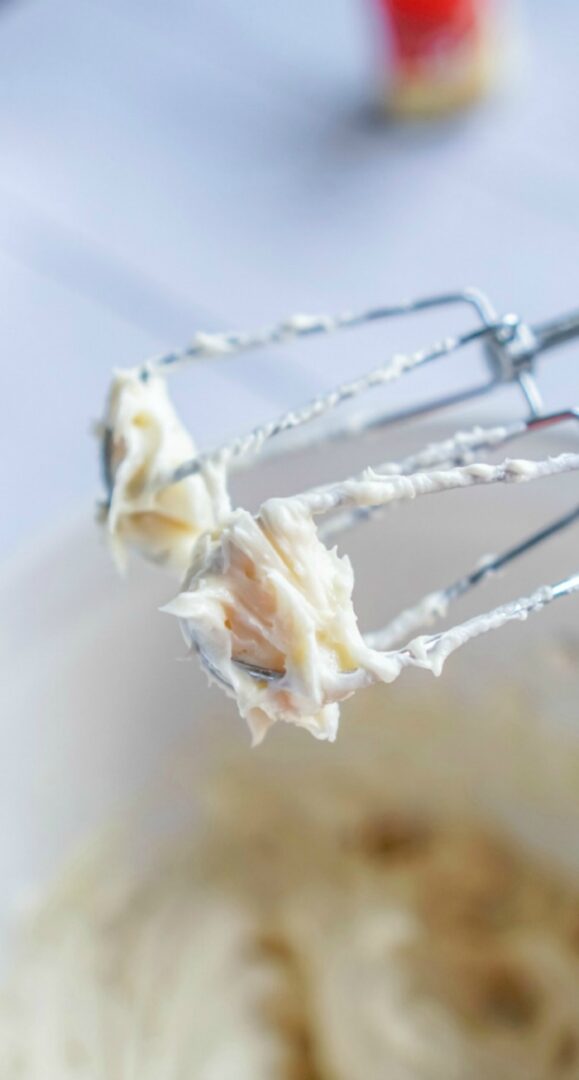 Can you over beat cheesecake?
This is one of the hardest parts when making cheesecake. You have to mix the cream cheese enough so there are no lumps, but you also do not want to beat too much air into the mixture or the cheesecake will rise too rapidly in the oven causing it to call and crack.
How do you make cheesecake without a mixer?
A hand mixer is best when it comes to mixing cheesecake to beat all of the lumps out of the cheesecake. Avoid food processors or blenders which can prevent your cheesecake from setting.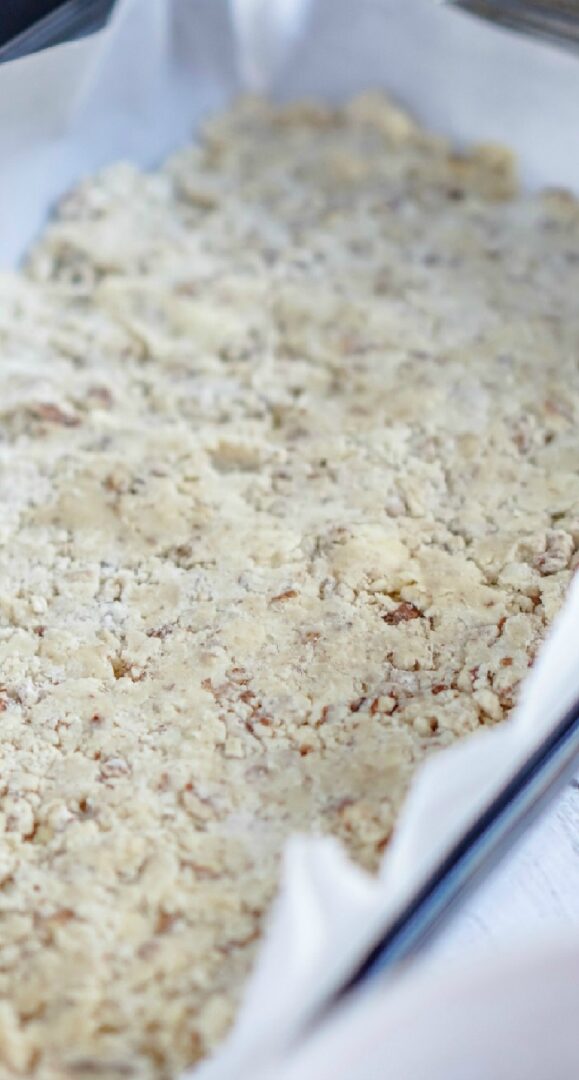 Pumpkin Cheesecake Bars Recipe
The best part about this Pumpkin Cheesecake Bars Recipe is the Pecan Crumble Crust! It's SO good! Start by making the Pecan Crumble Crust and press it into your baking dish. Bake your crust for 15 minutes while you prepare the cheesecake.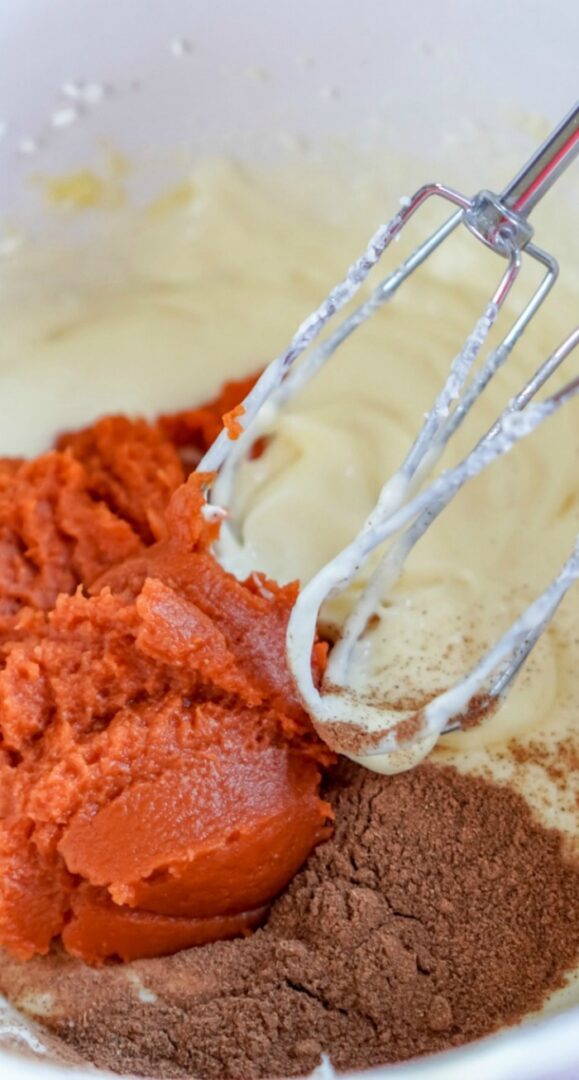 Mix your cheesecake layers, divide them in half, and set them aside. Finally mix your pumpkin cheesecake layer and set it aside. Layer your pumpkin cheesecake and bake according to directions below. Once it's baked, be sure to let the cheesecake cool for one hour before you place it in the refrigerator for another 3 hours or over night.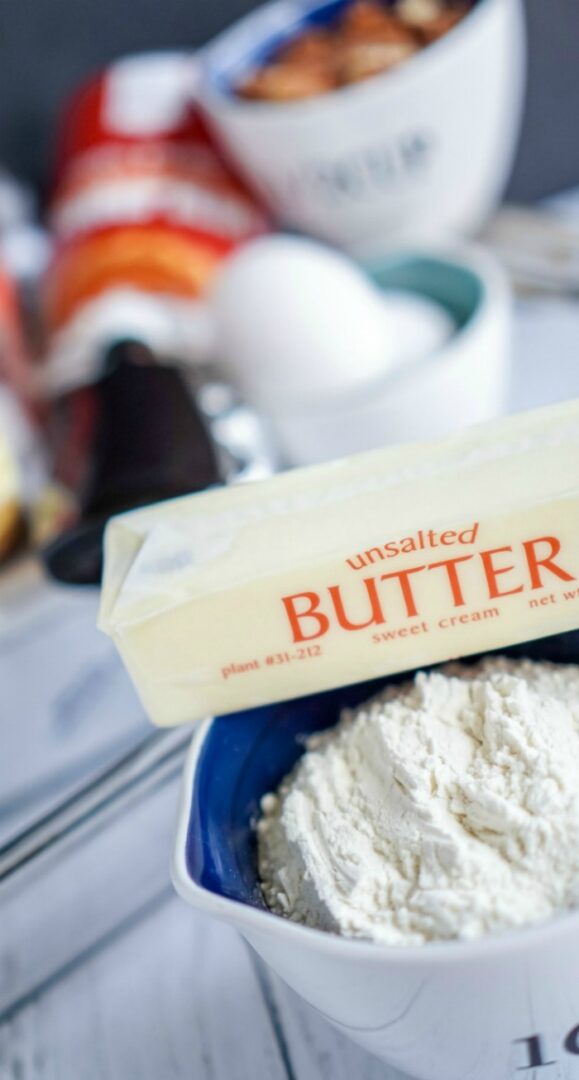 Pumpkin Cheesecake bars Ingredients
Crust:
1 Cup Flour
1 Stick of Butter (softened)
1/2 Cup Chopped Pecans
Cheesecake Layers:
(Make 2 layers separately or mix all together and then divide in half)
2 Package of Cream Cheese
1 Cup Sugar
2 Egg
4 Teaspoons Vanilla
Pumpkin Layer:
1 Packages of Cream Cheese
1/2 Cup Sugar
1 Eggs
1/2 Cup Canned Pumpkin
2 Teaspoons Pumpkin Pie Spice

Pumpkin Cheesecake Bars Directions
Preheat Your Oven to 350 Degrees.
Line a 9×13" baking dish with parchment paper.
Combine Crust Ingredients (flour, butter, & pecans) and press it down on the bottom of your baking pan.
Bake crust for 15 minutes and let cool completely.
Reduce the oven to 300 degrees.
For the first cheesecake layer, combine cream cheese, sugar, and vanilla until smooth.
Add in 1 egg and beat on low speed until smooth and fluffy.
Spread this mixture evenly onto your crust once it is cooled.
For the pumpkin cheesecake layer, mix cream cheese, sugar, canned pumpkin, and pumpkin pie spice until smooth.
Add in 1 egg and beat until smooth and fluffy.
Pour this layer on top of the cheesecake layer.
Add another cheesecake layer and drizzle over the pumpkin layer creating a swirl effect.
Bake at 300 degrees for 35-40 minutes or until set.
Remove from oven and let cool 1 hour.
After 1 hour, refrigerate cheesecake for a minimum of 3 hours before cutting them into bars.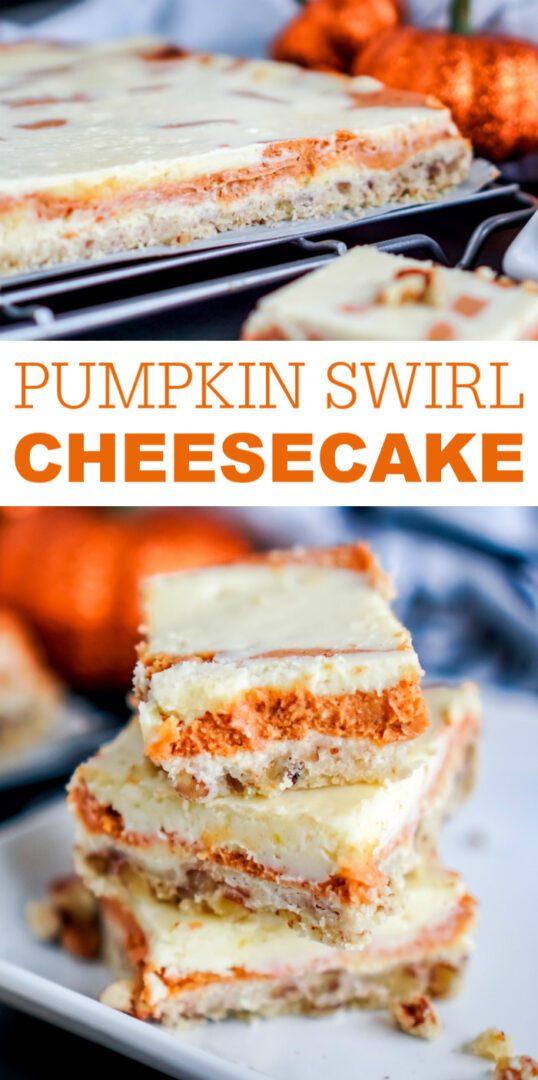 I hope you enjoy this Pumpkin Cheesecake Bars Recipe as much as we do! It's the perfect make-ahead holiday dessert recipe for a crowd! Try this cheesecake for Fall Parties, Halloween, Thanksgiving or Christmas!
Plus, here are 15 Amazing Fall Pumpkin Recipes you don't want to miss (especially the Pumpkin Pie Cheesecake Dip)! 😉
Let me know how your pumpkin cheesecake turns out! I'd love you to tag me on Instagram or Facebook! Be sure to follow me there for even more fun recipes and ideas!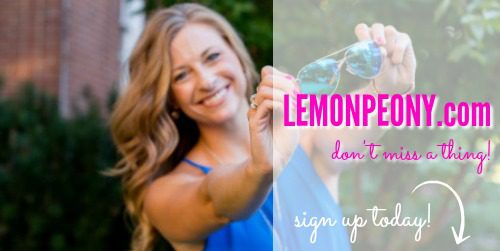 Join LemonPeony on Pinterest!.


Pricing subject to Change at any time. Please make sure you check the current price on Amazon.com before purchasing.