How to Make Homemade Candles in 5 Easy Steps!
Check out these 5 Easy Steps on How to Make Homemade Candles and create cute cheap gift ideas for your friends and family! Great DIY Product for Christmas!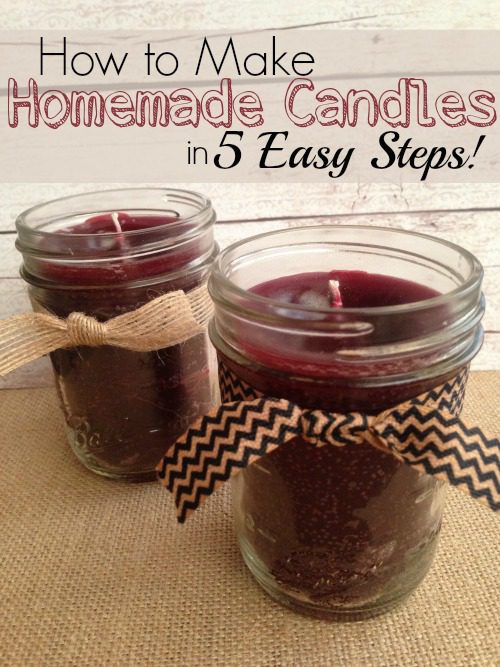 Do you have old/used candles laying around your house but you don't want to get rid of them? Follow these steps and learn How to Make Homemade Candles for cute gift ideas!
Follow these 5 Easy Steps to Learn How to Make Homemade Candles out of old candles that you have laying around your house. This is a great way to reuse some of your favorite items and to create something that is special and unique for your friends. I made a couple of these for some very dear friends of mine for Christmas! I had a few old candles that still smelled wonderful, so I decided to use them to create a personalized and homemade gift for them to enjoy. Here are the steps I followed to create my Homemade Candles!
Plus, here are even more DIY Homemade Gift Ideas!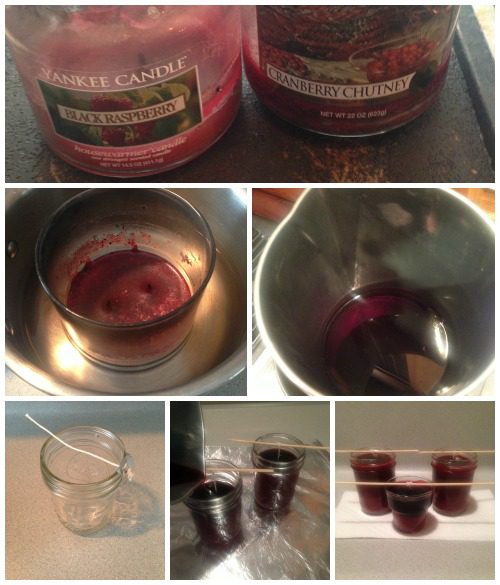 How to Make Homemade Candles
Here's What You Need!

Old Candles (any size, any fragrance)
1. Put 1 candle into a pan of cold water and bring to a boil.
I used a 2-quart pan with about an inch of old water in it. Be sure to put the candles in COLD water and then bring the water to a boil.
2. Melt wax completely, and pour wax into a jar.
Do not use the same jars you are using for your finished candles. You could use one of the old candle jars for this step so that you can combine all of the wax into one place.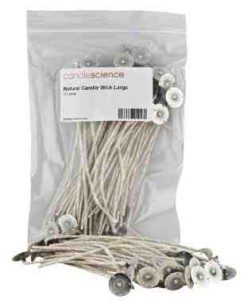 3. Prepare your wick and place in new candle jar.
You can either buy wicks that already have anchors, or you can attach your wick to your anchor so that it is ready for your new candle. Grab these already made Natural Candle Wicks at Amazon for only $8.99!
4. Remelt wax
This is your final step after you have combined all of your old, melted wax into one jar.
5. Pour the melted wax into a new jar to cool. 
I wrapped my wicks around a stick so that they would stay centered in my candles! Check out this 12-pack of 8-Ounce Mason Jars at Amazon for only $8.99, down from $16.99! Plus, receive Free 2-day Shipping if you have Amazon Prime, or get Free Super Saver Shipping on orders of $35 or more!
After my candles cooled, I took the stick off of the wick and trimmed the wicks! The candles smelled great and I loved the mason jars I used for my project! I tied the candles with different ribbons to add a little something extra to the Mason Jars! I think these turned out so cute and were perfect gifts for my friends!
Try this the next time you need something that is simple and homemade. These would be awesome gifts for Christmas, Valentine's Day, or as Teacher Gifts for your child's teachers! Plus, I love that you can make something crafty and fun out of old candles! This is a great way to re-use and recycle!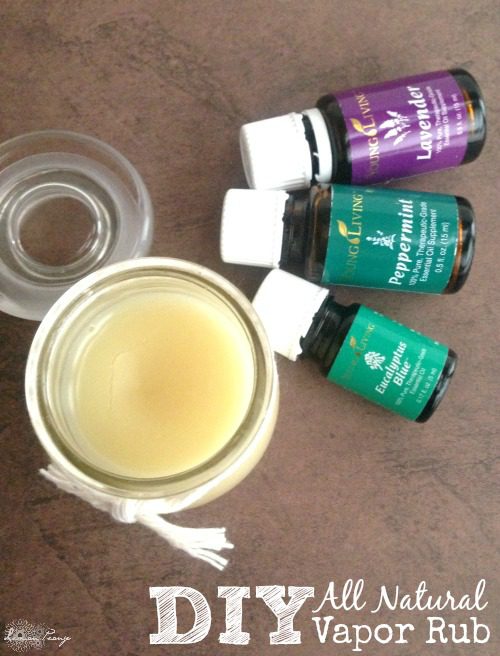 Plus, be sure to check out this DIY All Natural Essential Oils Vapor Rub for a Homemade Vicks Recipe!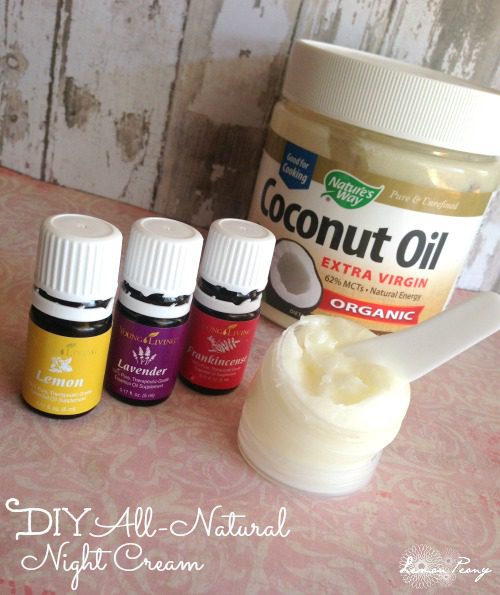 You can also check out this DIY Essential Oil Night Cream Recipe that is a great Homemade Beauty Product for your Skin!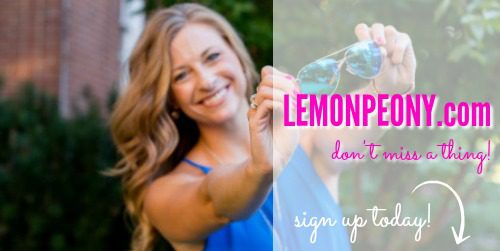 Join LemonPeony on Pinterest!.


Pricing subject to Change at any time. Please make sure you check the current price on Amazon.com before purchasing.