Easy Fall Dessert Recipes
Easy Fall Dessert Recipes! Apple Desserts, Pumpkin Treats, Cookies, S'mores Recipes and More! The Best Amazing Desserts for Fall and Thanksgiving!
I am SO excited to share with you these Easy Fall Dessert Recipes! The perfect list with AMAZING treats for any occasion!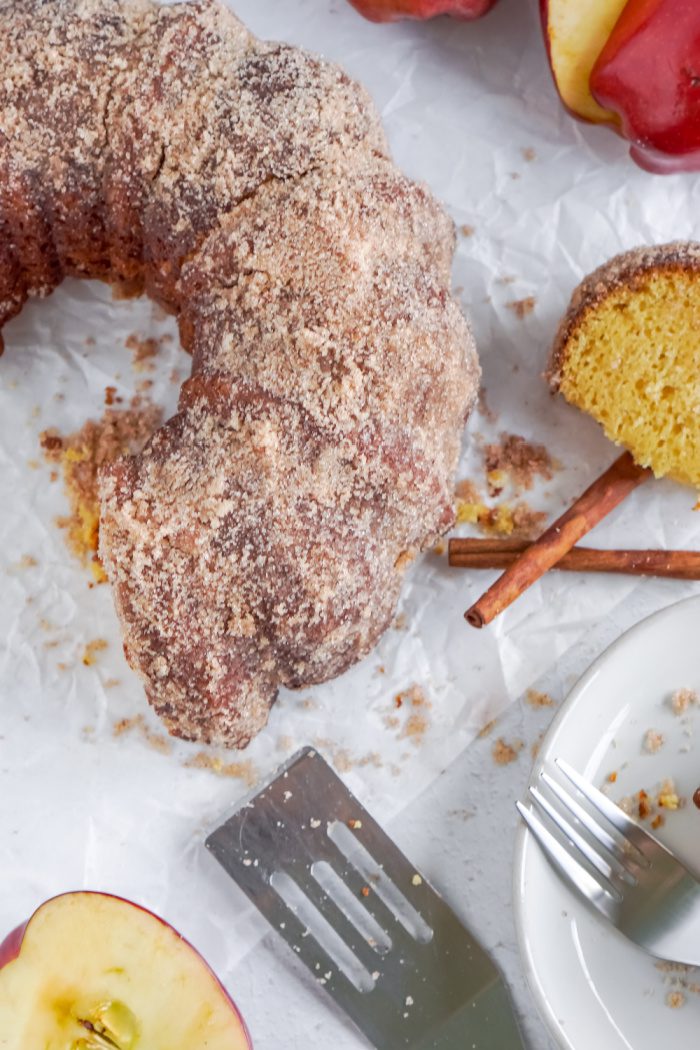 Be sure to try some these other AMAZING Fall Pumpkin Recipes!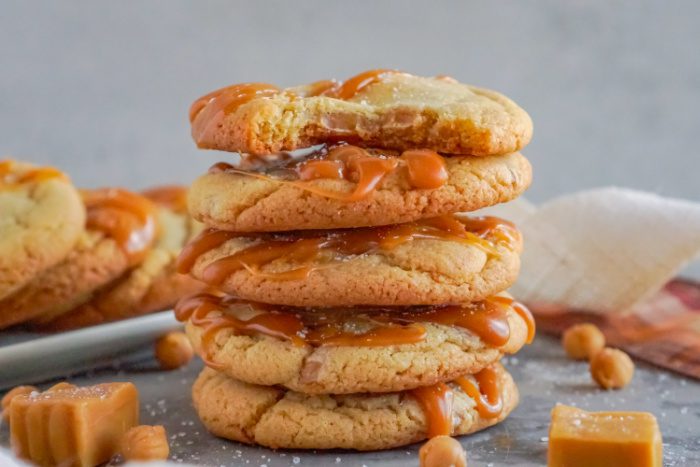 Reasons to LOVE these Easy Fall Dessert Recipes!
The fall season and baking go hand-in-hand! Settle in with a Hallmark movie and let's get baking!
Simple and easy Dessert Recipes for bonfires, family get togethers, or just afternoon treats! Something for everyone!
Both new and classic DECLIOUS recipes your family will LOVE and want to make again and again! YUM!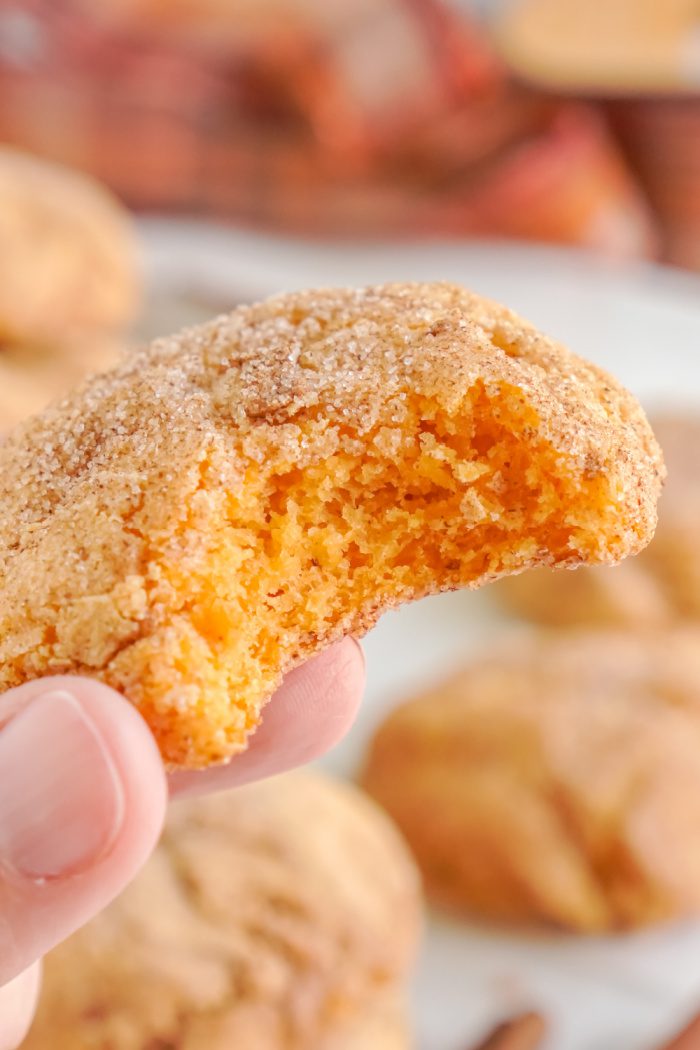 Things you will need to make these Easy Fall Dessert Recipes!
Apple, Caramel, Toffee, Chocolate, Pumpkin, and Cinnamon – ALL THE FALL FLAVORS!!!
Fun toppings like Reese's Pieces, Candy Corn, Reese's Peanut Butter Cups, and even Sea Salt!
Basic pantry staples like sugar, flour, and eggs! SO EASY!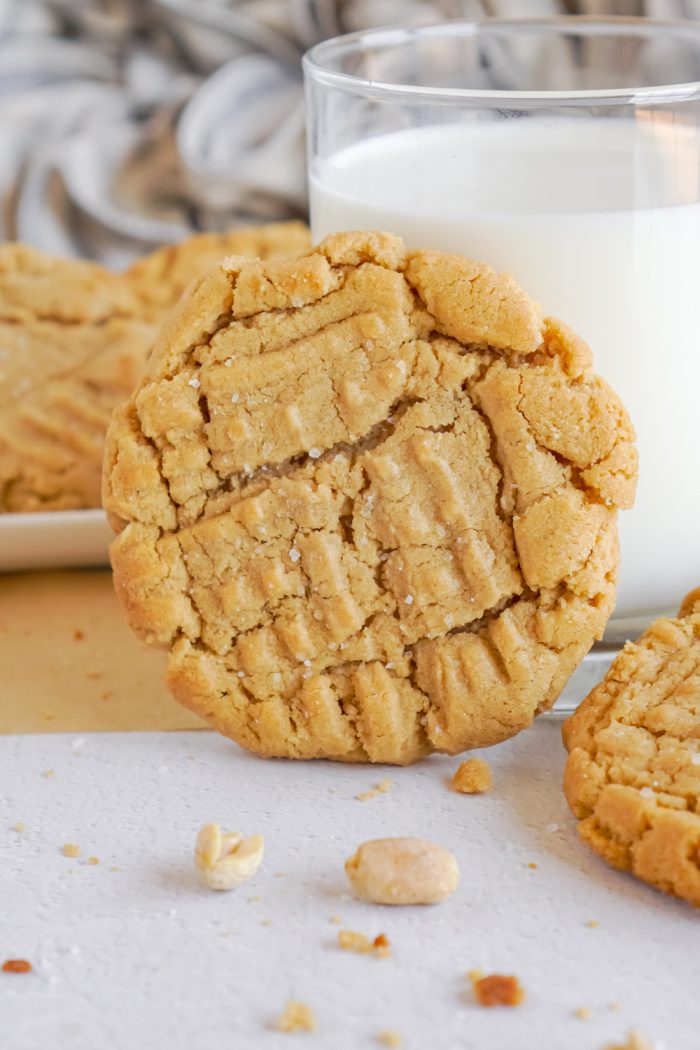 Easy Fall Dessert Recipes
I LOVE fall baking! And here is your GO-TO list for all your Fall Dessert needs! So turn on your favorite Hallmark movie and let's make some of these Easy Fall Dessert Recipes!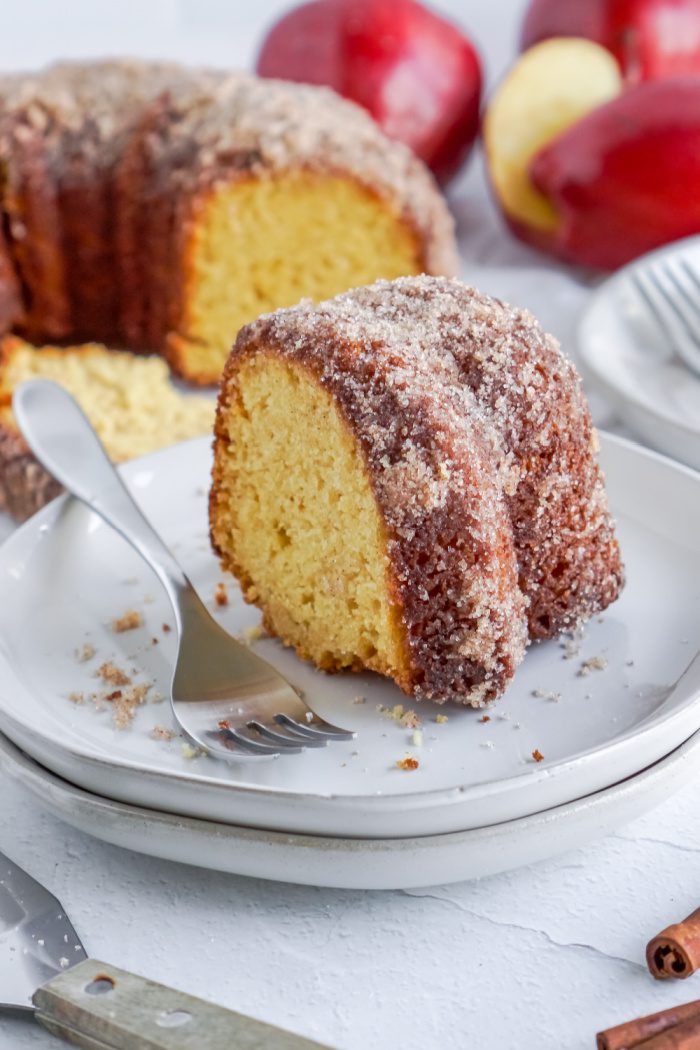 I am LOVING this Apple Cider Cake Recipe for the holidays! Super easy to make and packed with fall flavor! Apple cider and cinnamon – YES, PLEASE! Plus, this is a great Fall Dessert Recipe for those upcoming holiday parties and get togethers!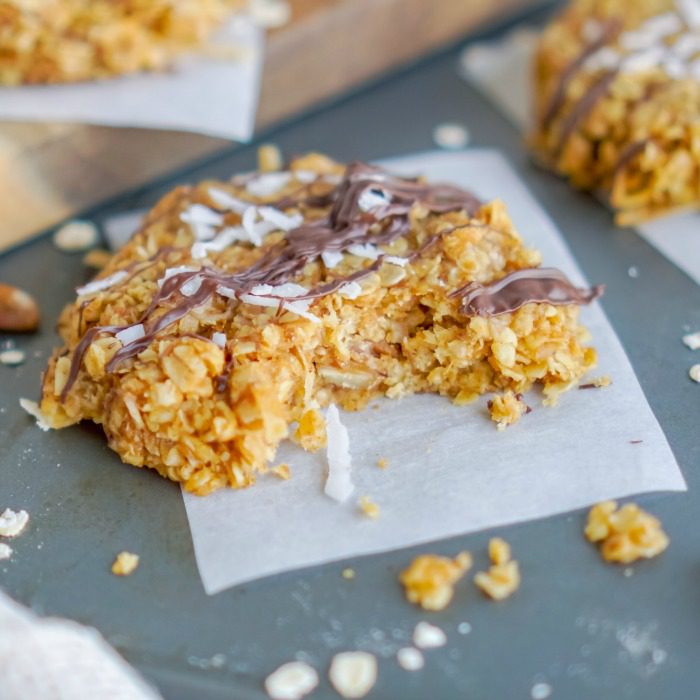 You HAVE try these No Bake Pumpkin Cookies!!! A fall twist on classic no-bake cookies! Packed with peanut butter, coconut flakes, and pecans with fall flavors like pumpkin pie spice and cinnamon! YUM! I love making these when I'm needing an Easy Dessert Recipe!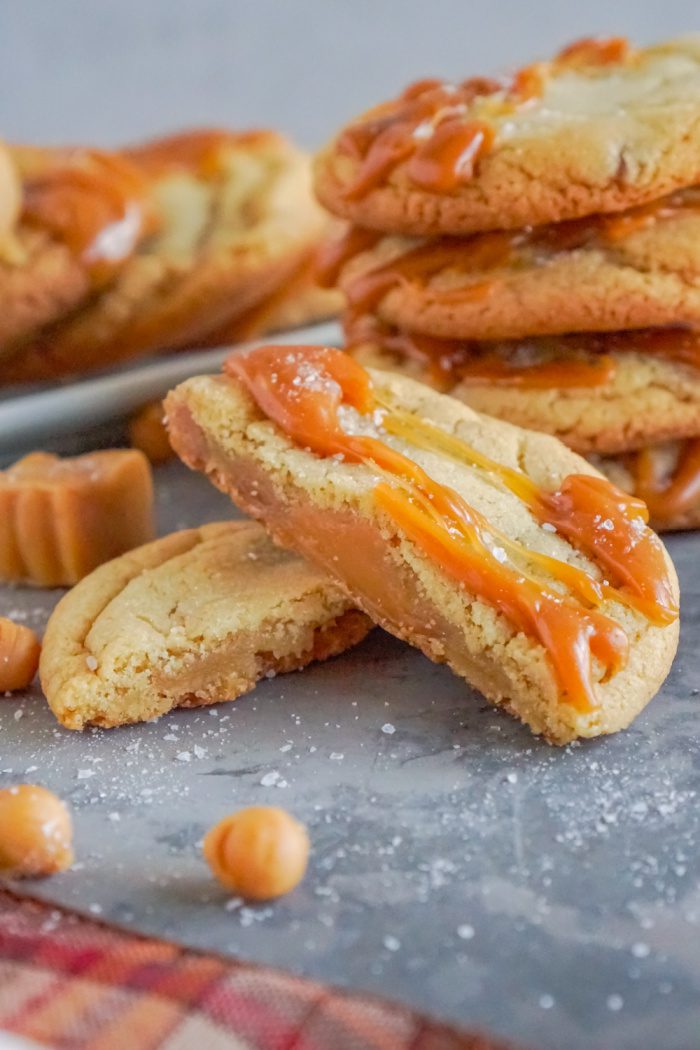 This Caramel Cookies Recipe is the perfect treat this fall! The perfect Fall Cookie – oozing with caramel, inside and out! Whip up a batch of these gooey, delicious cookies on a crisp, fall afternoon! My favorite part is the sprinkle of sea salt on top!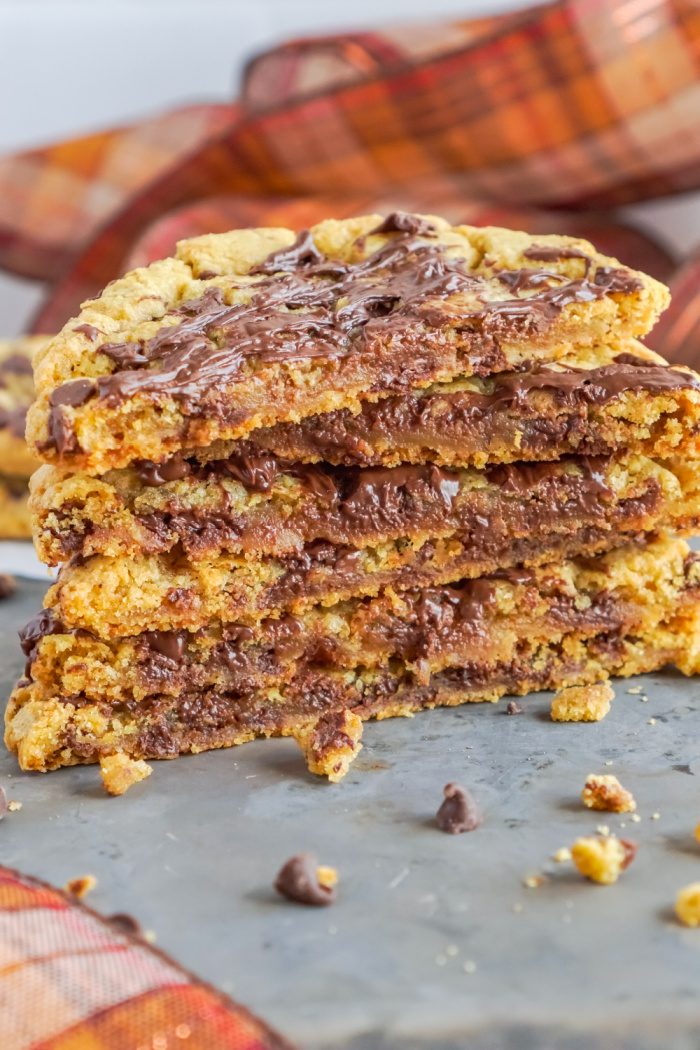 Need a quick and easy Amazing Fall Dessert? Try these Easy Chocolate Chip Pumpkin Cookies! All your classic chocolate chip cookie flavors with a pumpkin twist! Packed with flavor and SO simple! You'll be making them again and again this fall!
Who doesn't love a classic snickerdoodle cookie?!? Well, get ready for the Fall Cookie edition with these AMAZING Pumpkin Snickerdoodle Cookies! The classic, cinnamon-sugar, crunchy coating on the outside with the soft and chewy pumpkin flavor on the inside! I love making this recipe all fall long!
Talk about EASY with these Pumpkin Cake Mix Cookies with Cinnamon Cream Cheese Frosting! Only 4 ingredients! And topped with a delicious homemade cinnamon cream cheese frosting – YUMMY!!! This is one of my favorite Pumpkin Recipes. I love how chewy and soft they are!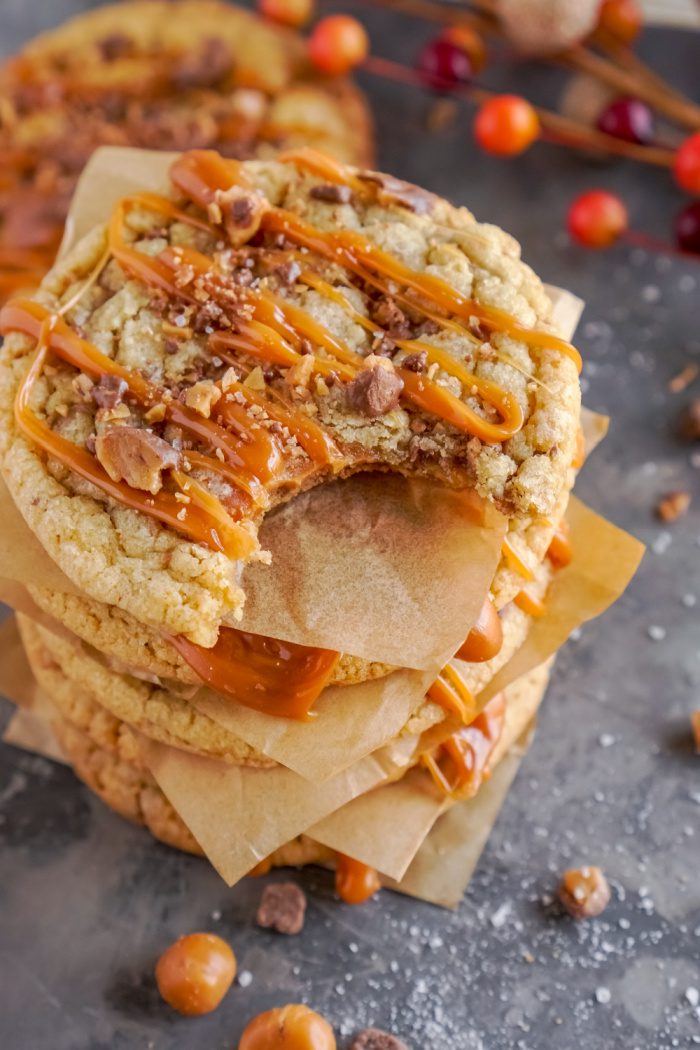 I am OBSESSED with these Salted Caramel Toffee Cookies! They're the perfect Fall Cookie to make this season! My favorite is the caramel and toffee pieces on top with a sprinkle of sea salt! So flavorful and chewy! They're also GREAT for freezing ahead to save time!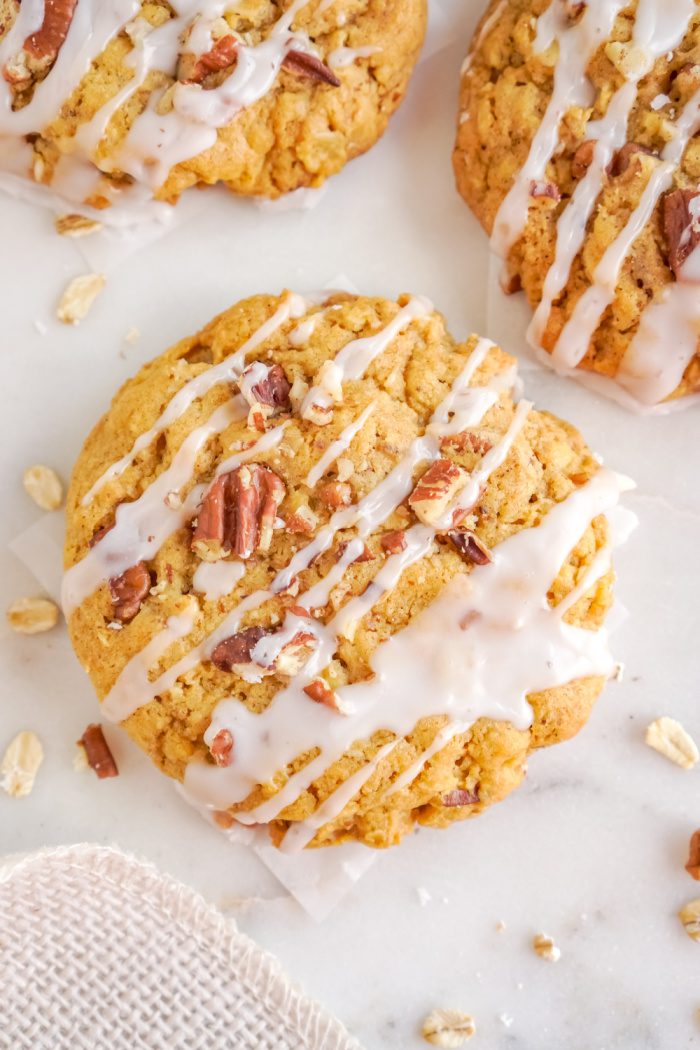 Delicious, bakery style Pumpkin Oatmeal Cookies! Quick and easy with amazing flavor! I especially love the homemade glaze on top! An Easy Fall Dessert Recipe for any occasion! So good!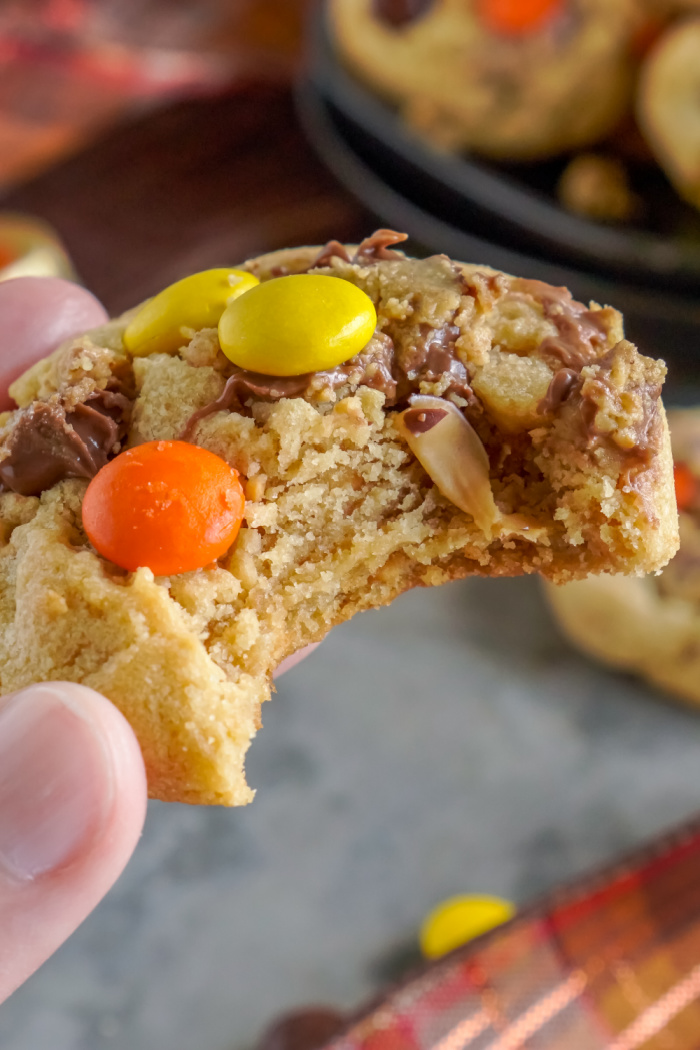 These Reese's Peanut Butter Cookies bring ALL the peanut butter flavor and I am HERE. FOR. IT!!! Packed with peanut butter, Reese's Pieces, and Reese's Peanut Butter Cups! Such a fun recipe to make with kids! The perfect Fall Cookie snack!
Needing a new and Easy Dessert Recipe? Be sure to try these Chocolate Smore's Cookies! These are one of my favorite cookies and they're a real crowd pleaser! All the classic flavors of a s'more in a easy-to-make cookie! Great for your next outdoor party!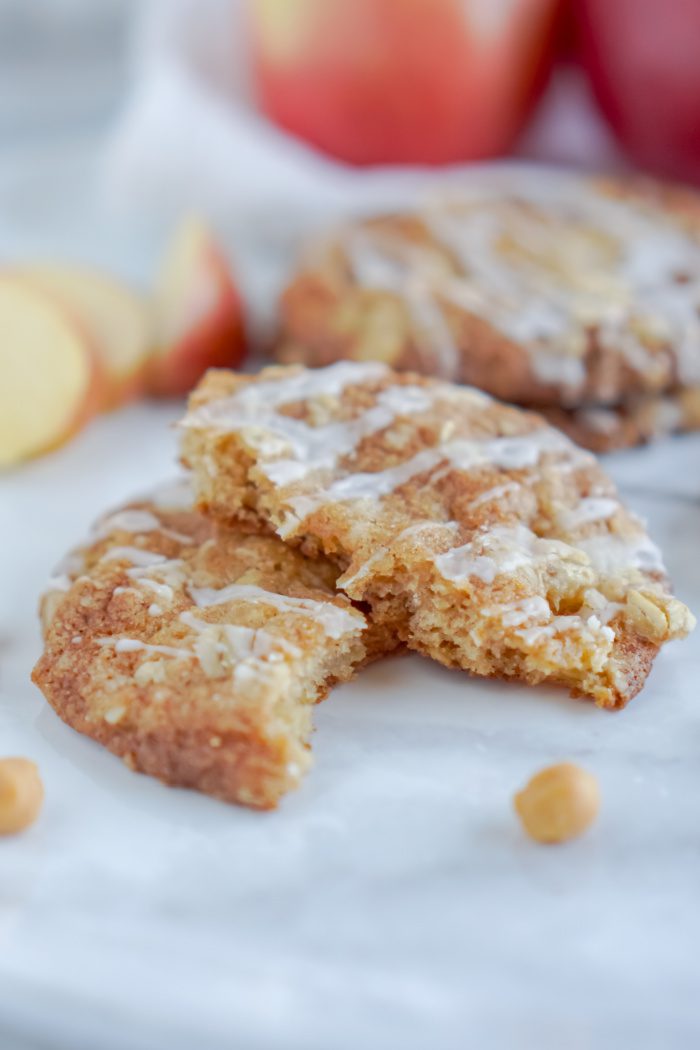 Bring on the fall with these Caramel Apple Cookies! Packed with chunks of apple and caramel pieces with a homemade crisp topping and glaze drizzled on top! Super easy and full of flavor! The PERFECT Amazing Fall Dessert!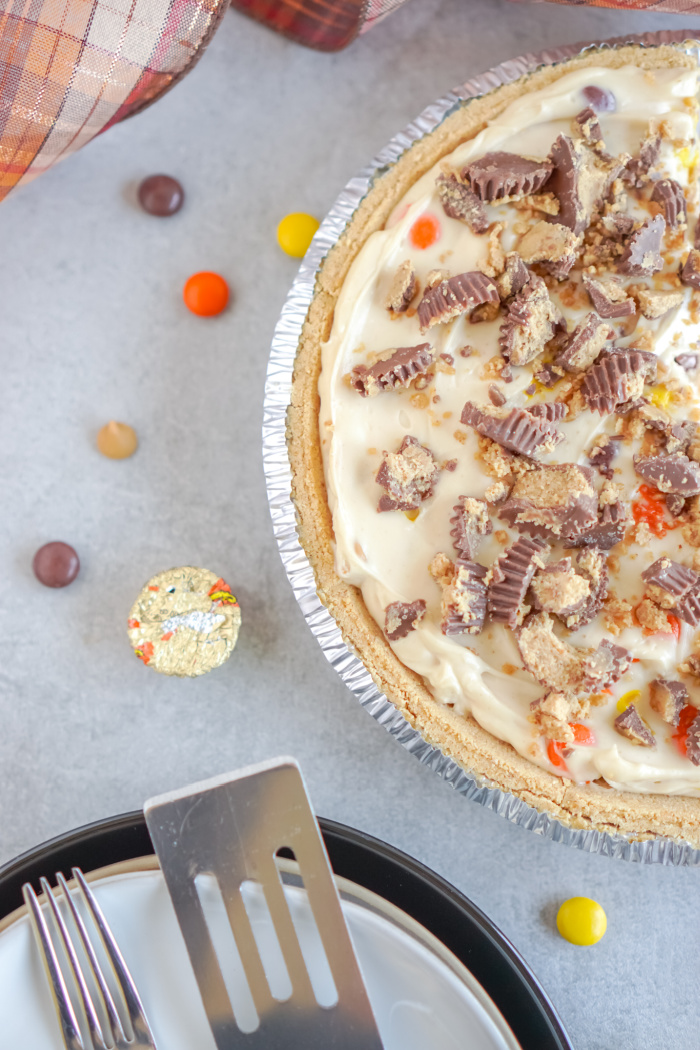 I am a HUGE Reese's fan, so this No Bake Peanut Butter Cheesecake is one of my favorites! A simple cheesecake base with all the peanut butter add-ins! It can even be make with your choice of a store bought or homemade graham cracker crust. This is a great Easy Dessert Recipe for the fall season!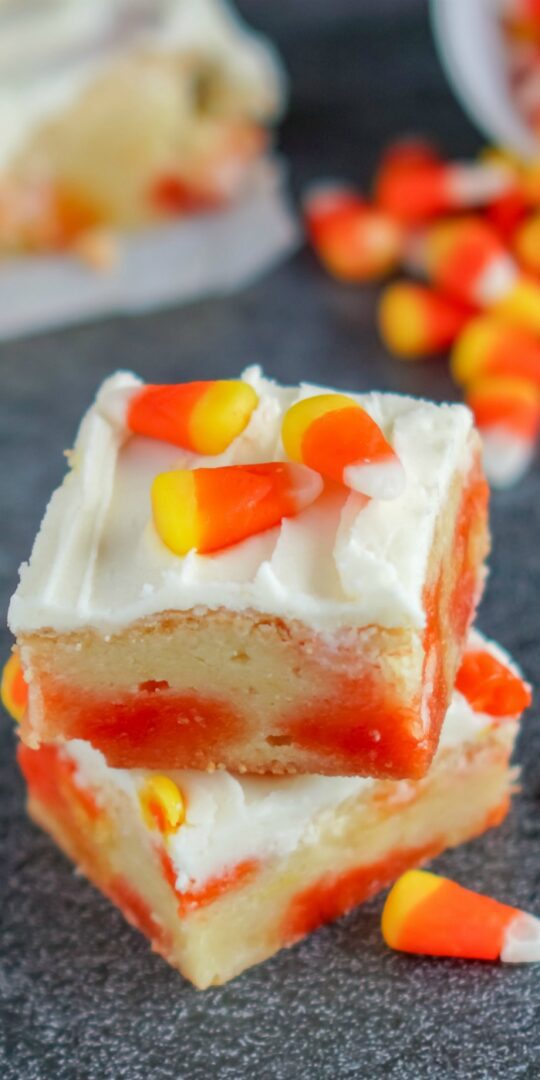 Candy corn is a staple during the fall season, so be sure to try this Candy Corn Cookie Bars Recipe! Such an Easy Fall Dessert Recipe and SO fun to make, especially with kids! Thick and chewy, plus the icing is AMAZING! So easy to whip up for Halloween too!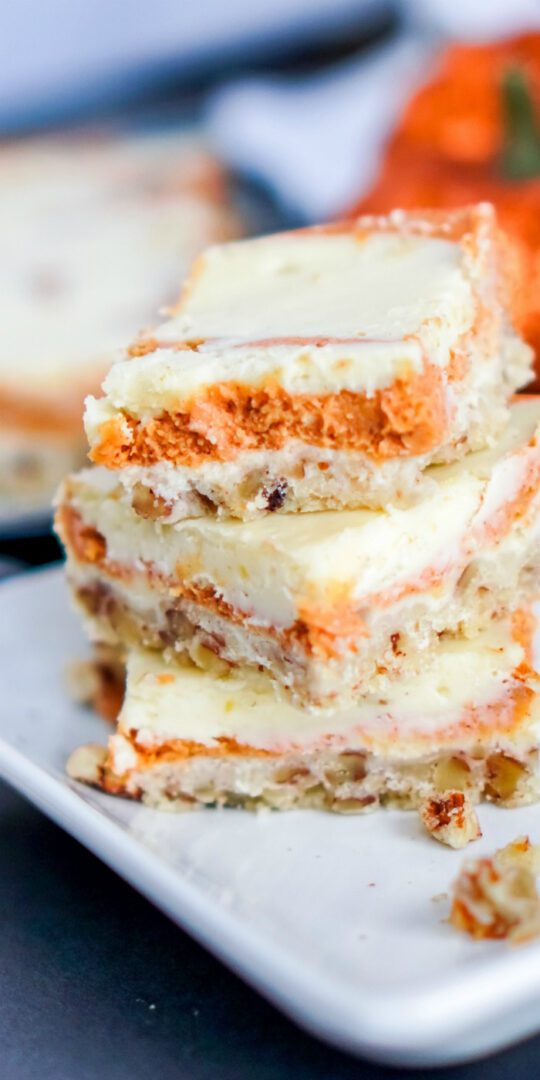 Get ready to impress everyone with your skills with this Pumpkin Cheesecake Bars Recipe! Such an easy Pumpkin Recipe to make this Fall! Full of pumpkin flavor and even simple homemade pecan crust! YUM!
I am LOVING this Easy Candy Corn Fudge Recipe for Halloween! Made from just a few ingredients and the perfect Fall Dessert! Smooth fudge packed with fun fall flavors like candy corn and Reese's pieces! So festive and fun to make!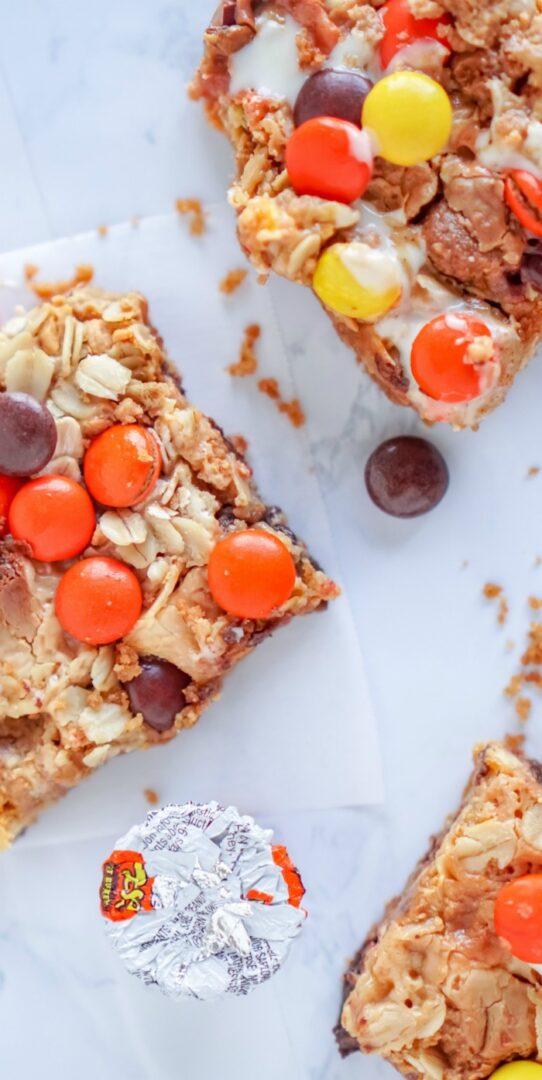 These Peanut Butter Cups Magic Bars are PACKED with fall flavor and such an Easy Dessert Recipe! Add in all your favorites – Peanut Butter Cups, Reese's Pieces, chocolate chips, and more! This is also the perfect freezer dessert to make ahead to save time!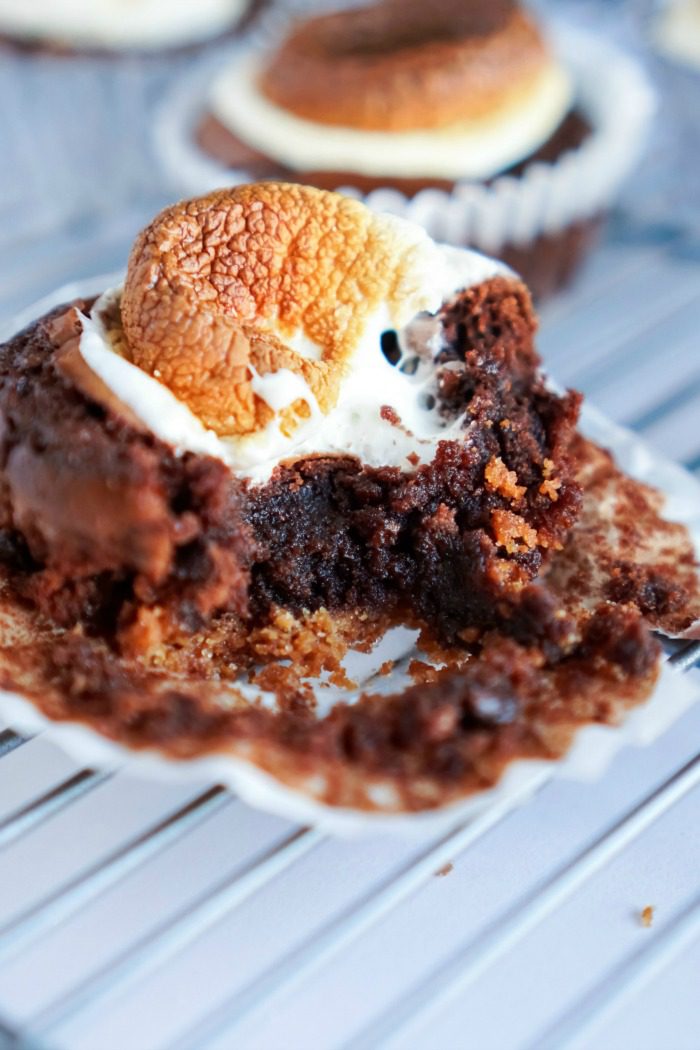 You are going to LOVE these Easy S'mores Brownies Cupcake Recipe! Only a few ingredients to make this Amazing Fall Dessert! I love how simple it is and SUPER tasty! The marshmallow on top is so fun – GREAT for outdoor parties!
Bakery Style Peanut Butter Cookies with a sprinkle of sea salt! A soft and chewy classic cookie made extra large style! This such a great Fall Dessert Recipe packed with peanut butter flavor! Whip up a batch for the perfect afternoon treat!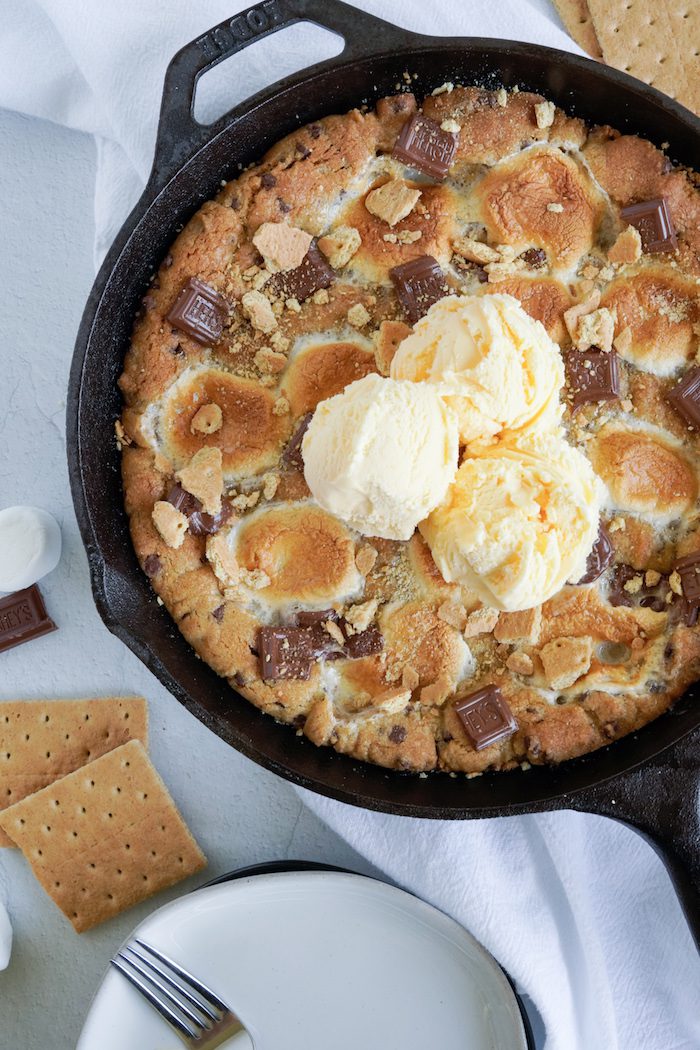 An amazing S'mores Cookie Recipe loaded with Graham Crackers, Marshmallows, and Chocolate! This S'mores Chocolate Chip Cookie in a Skillet is the PERFECT Dessert!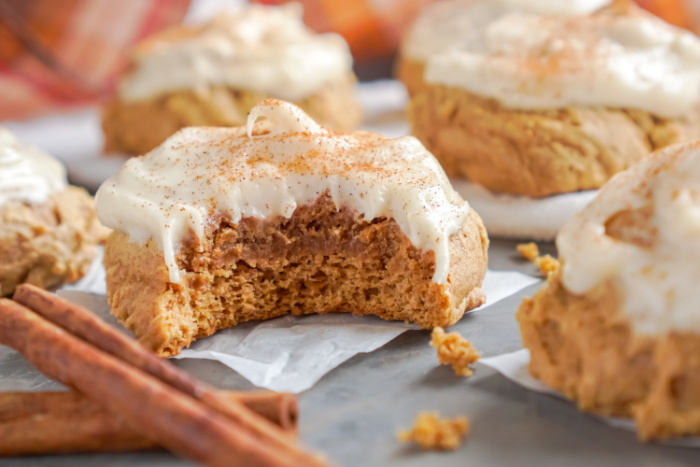 I LOVE FALL!!! The vibrant colors of changing leaves and festive pumpkins! The crisp mornings and chilly evenings that require hot chocolate and a snuggly blanket! It is truly one of my favorite times of the year! And such a GREAT time of year for baking Amazing Fall Desserts!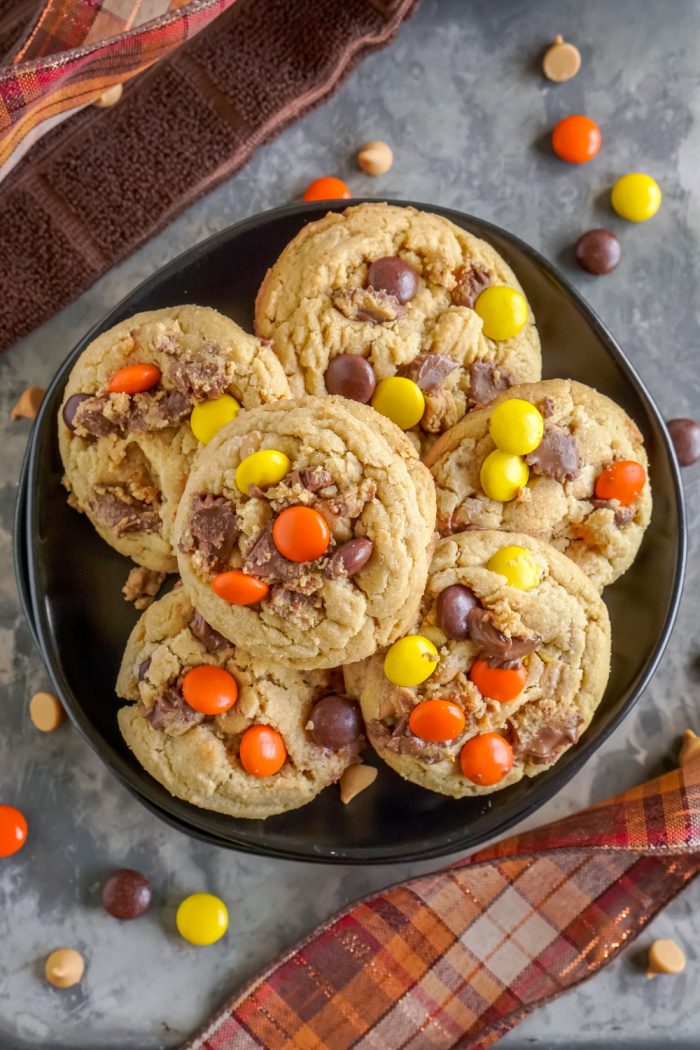 The Fall season is one of my favorite times of the year and is PERFECT holiday baking! There are so many fall flavors that just make the season that much more special! Apple, pumpkin, cinnamon, caramel, and chocolate – which thankfully goes with every season! There are ENDLESS Fall Desserts to try!
There are so many fun parties and events during the fall season! Pumpkin patches, school parties, bonfires, not to mention Halloween and Thanksgiving!
No matter what you're in the mood for, these Easy Fall Dessert Recipes are to sure to be a hit with any crowd!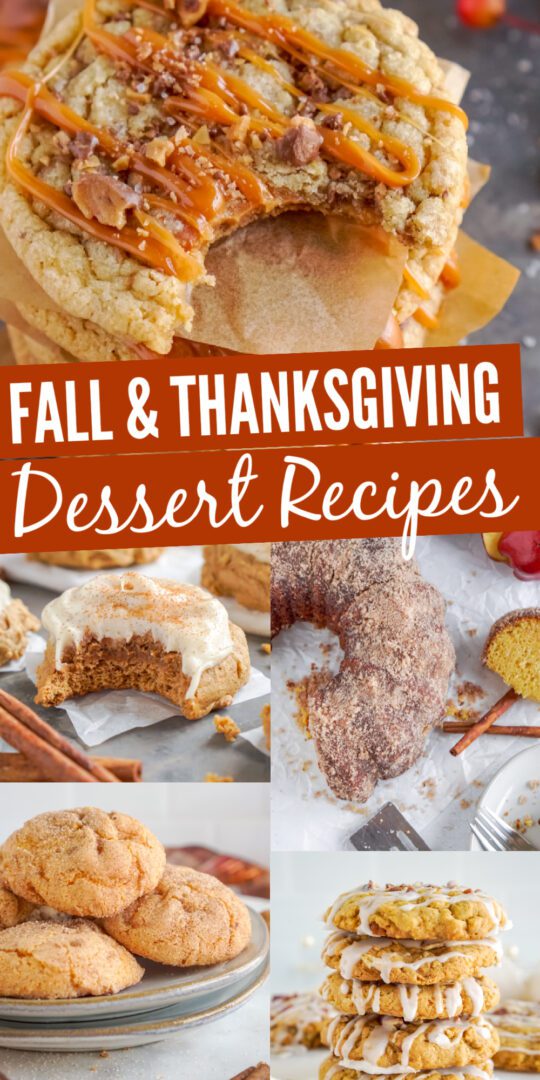 Plus, don't miss these S'mores Dessert Recipes that are PERFECT for Fall! So good!
Download this FREE e-book today!!
Get access to 11 Sweet & Easy Dessert Recipes when you subscribe to our e-mail list!
Join LemonPeony on Pinterest!.


Pricing subject to Change at any time. Please make sure you check the current price on Amazon.com before purchasing. As an Amazon Associate I earn from qualifying purchases. Click here to view my entire Disclosure Policy.