Easy Cadbury Egg Easter Desserts
Easy Cadbury Egg Easter Desserts! Cadbury Mini Eggs and Cadbury Cream Eggs! The Best Cadbury Dessert Recipes!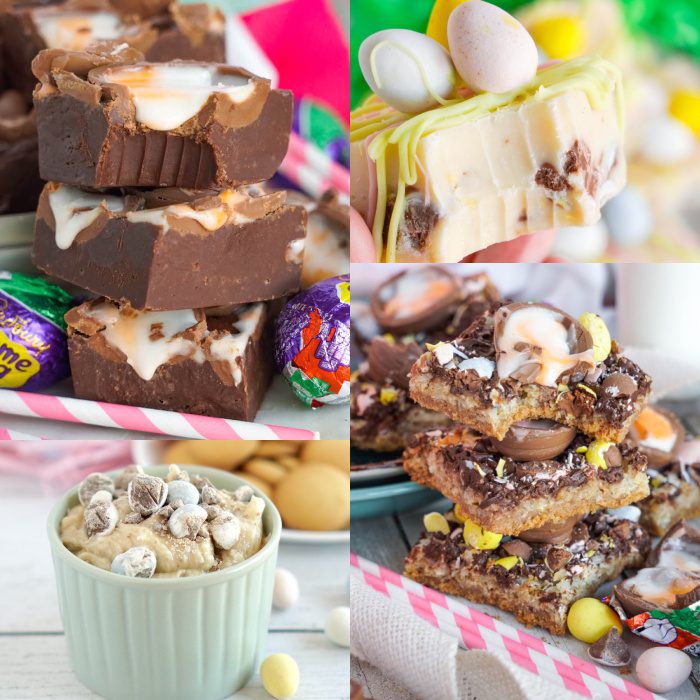 Get ready for Easter with these Easy Cadbury Egg Easter Desserts! The BEST Easter Desserts for your Easter table this Spring!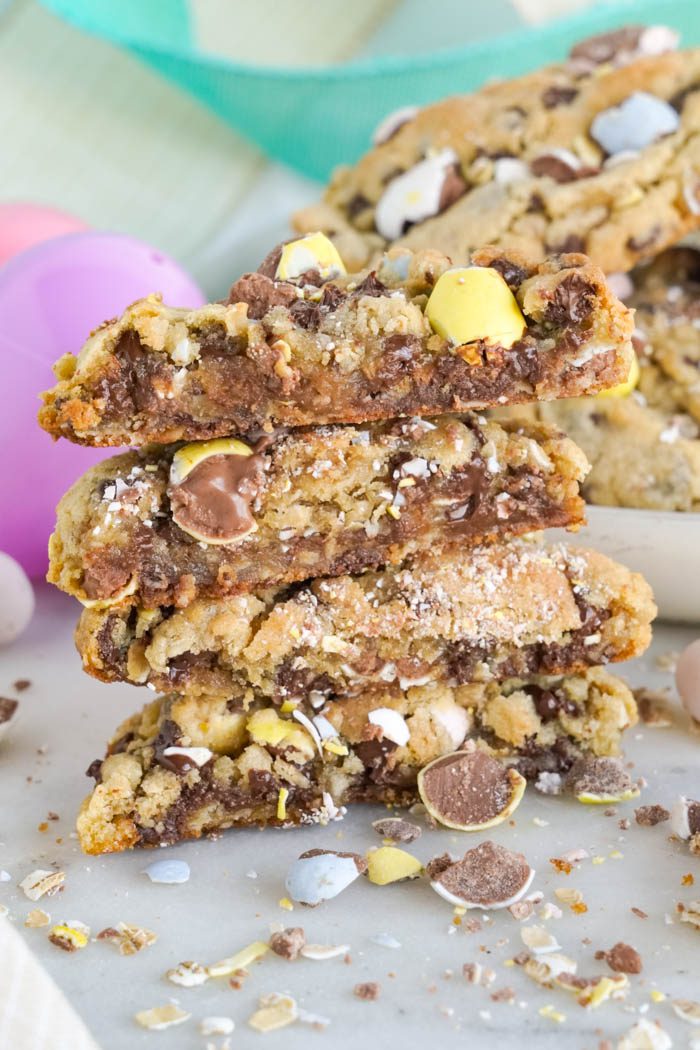 Here are even MORE Easy Easter Dessert Recipes and Easy Sugar Cookie Recipes perfect for SPRING! Fun and delicious Easter Desserts for parties, dinners, and Easter brunch!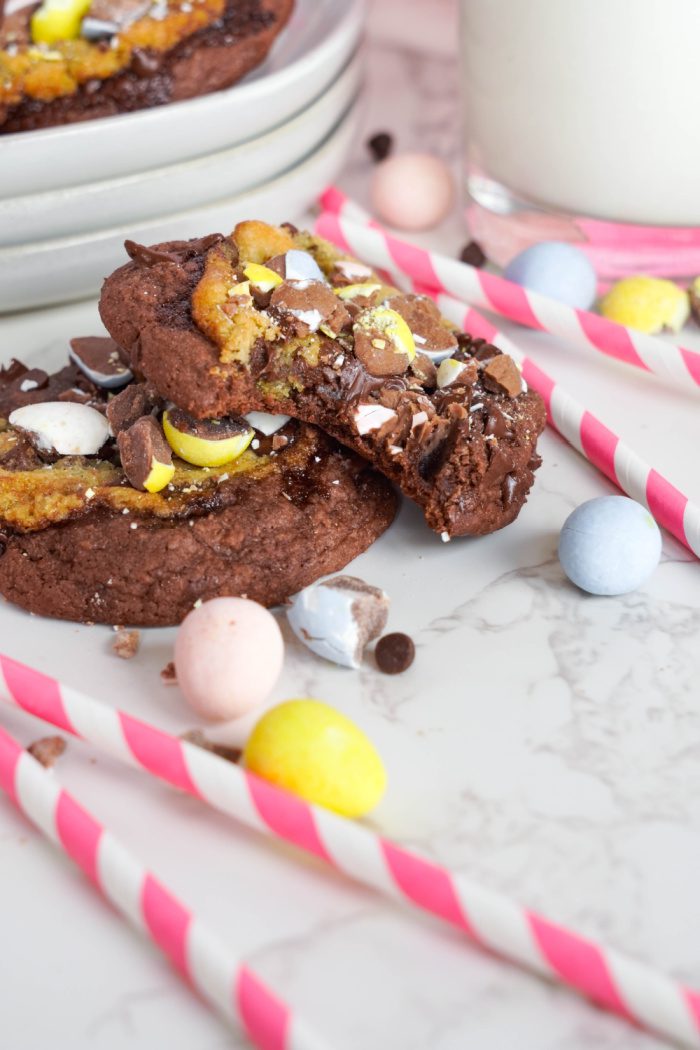 Here's why you will LOVE these Easy Cadbury Egg Easter Desserts!
Simple and Easy Dessert for Easter! Great for Easter brunch, family gatherings, or even Easter Egg Hunts!
Who isn't a fan of Cadbury Eggs?!? Fun Cadbury Mini Eggs and creamy Cadbury Cream Eggs!
Delicious Easter Desserts packed with delicious flavors like White Chocolate, Chocolate Chips, Brownies, Cream Cheese, Rice Krispies and More!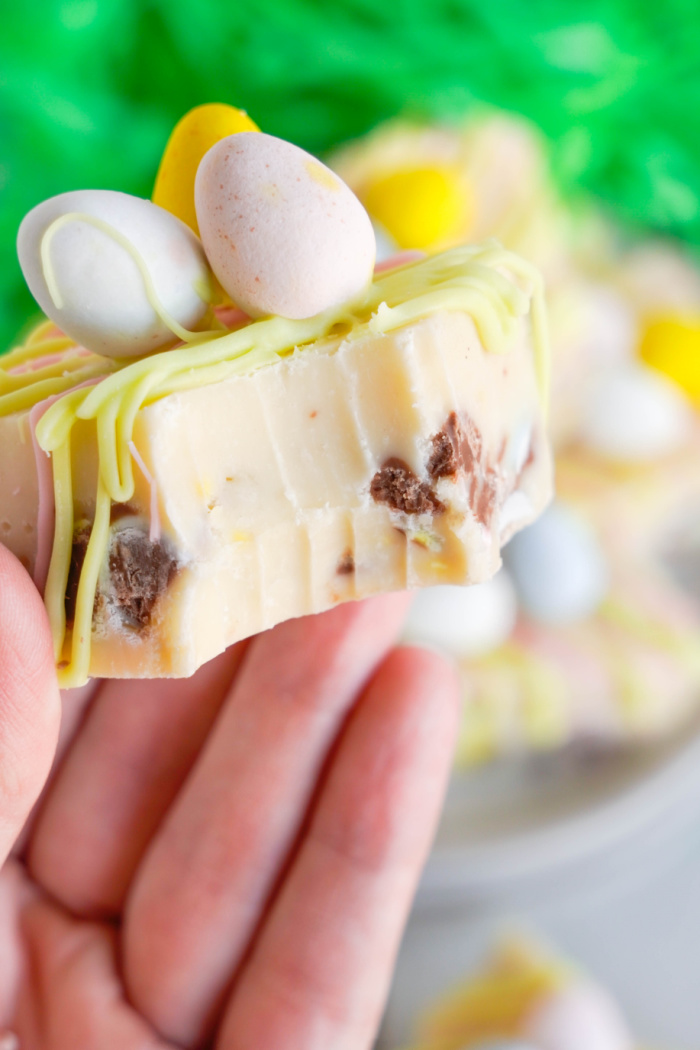 What you will need to make Easy Cadbury Egg Easter Desserts!
CADBURY EGGS! Mini Cadbury Eggs and also Cadbury Creme Eggs! Both are so fun!
Chocolate Chips, White Chocolate Chips, Sweetened Condensed Milk, Butter, Cream Cheese, and Rice Krispies!
Brownie Box Mix and Sugar Cookie Mix
Double Boiler, Cookie Scoop, and Baking Dish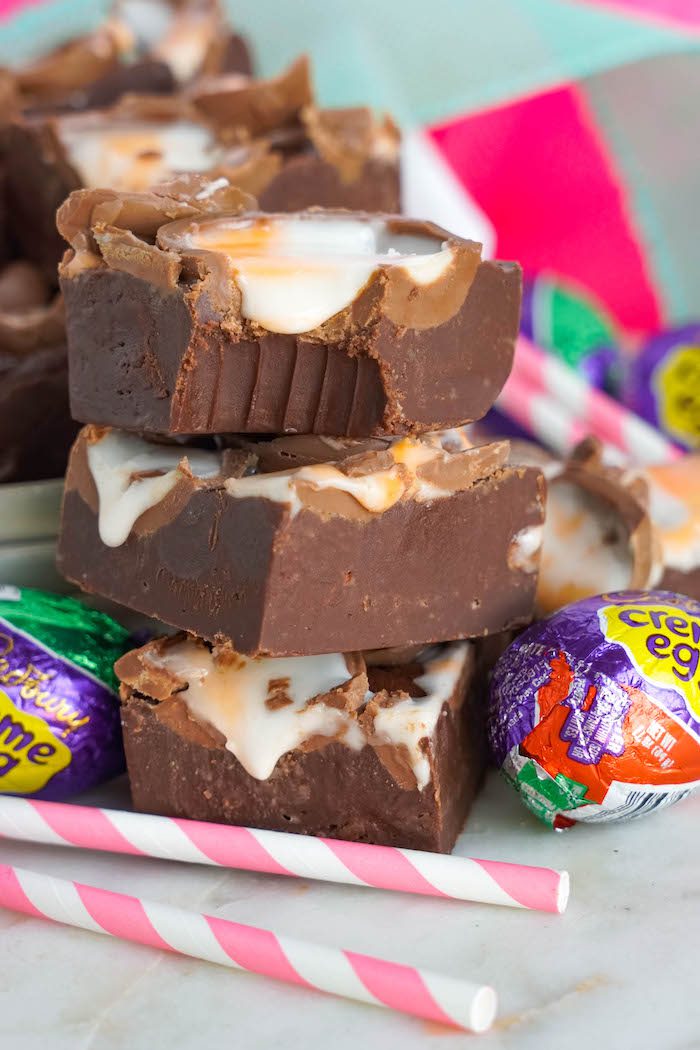 Easy Cadbury Egg Easter Desserts
Cadbury Eggs are the PERFECT addition to Easter Desserts! Here is my favorite Easter Dessert Recipes to fill your Easter table with Easter Fudge, Easter Cookie, Easter Magic Bar, Easter Cheesecake, Easter Cream Cheese Dips, and more!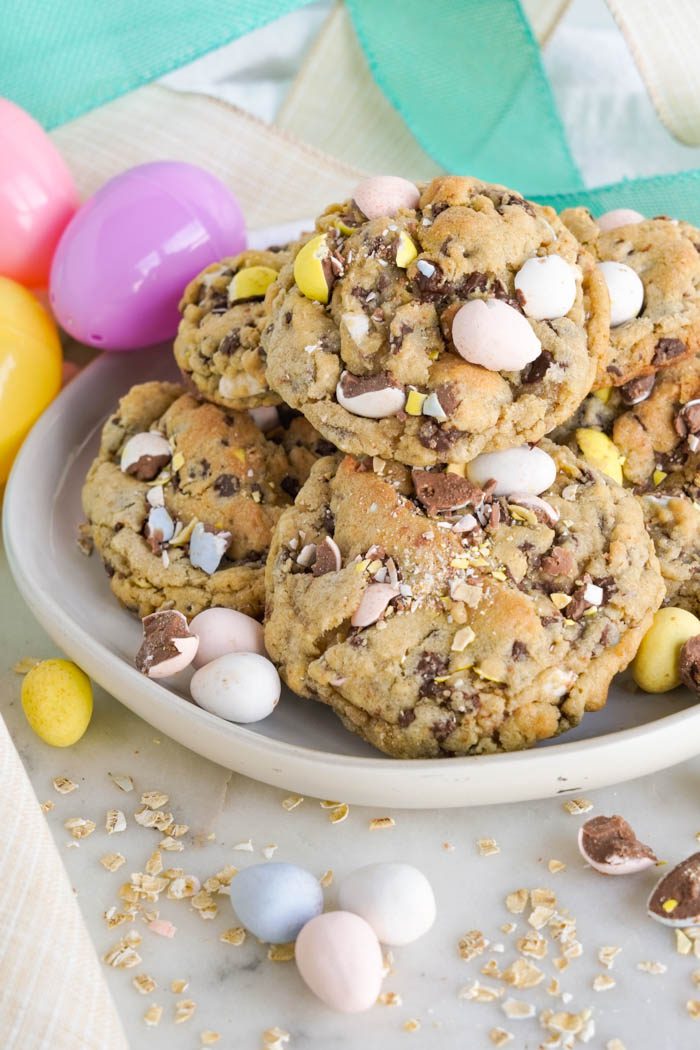 This Cadbury Egg Oatmeal Chocolate Chip Easter Cookies Recipe is a MUST TRY this Easter season! Super easy Easter Cookies Recipe packed with oatmeal, chocolate chips and Cadbury Mini Eggs! So fun and great for kids!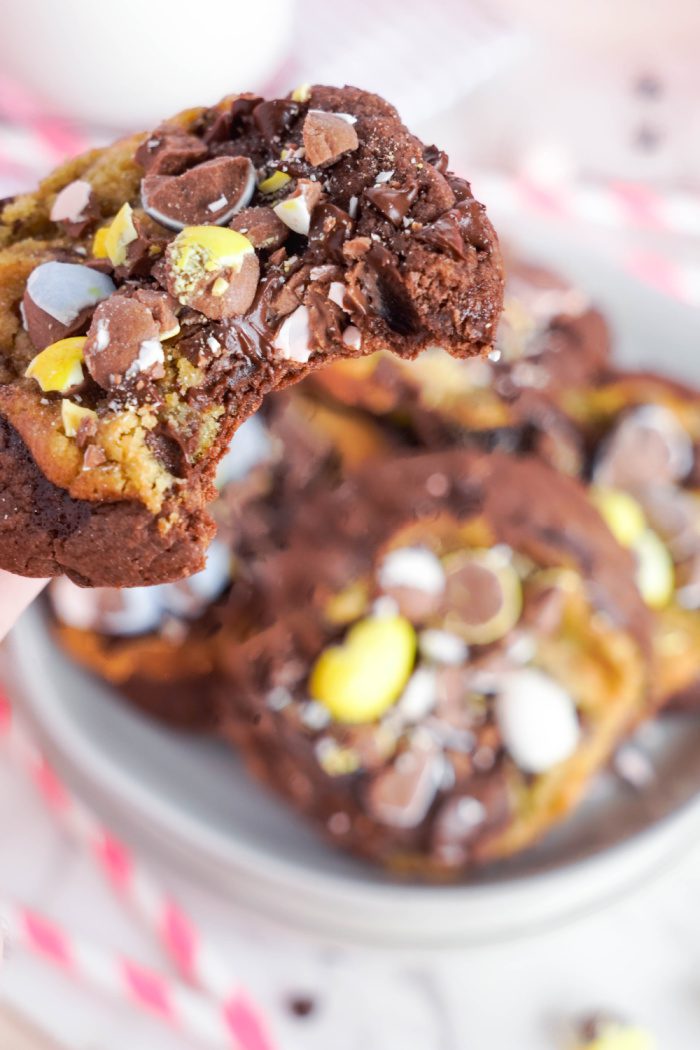 Get ready for these AMAZING Cadbury Egg Easter Brookies! I love the flavor of these Easy Brookies. So simple to make with a Brownie box mix and a few chocolate chip cookie dough ingredients! Plus, topped with Cadbury Mini Eggs – perfect for Easter!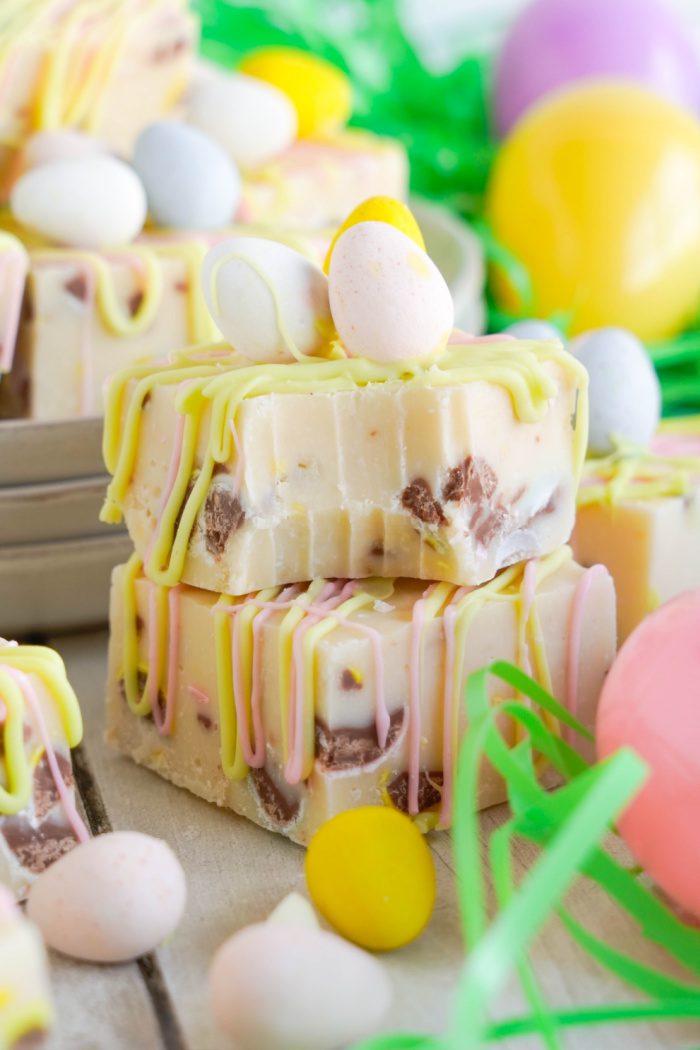 Easy White Chocolate Fudge Recipe with Cadbury Mini Eggs is one of the easiest Easter desserts to make! Plus, the perfect Fudge Recipe to make it the day before and save time! Smooth and delicious White Chocolate Fudge packed with Cadbury Mini Eggs, inside and out! YUM!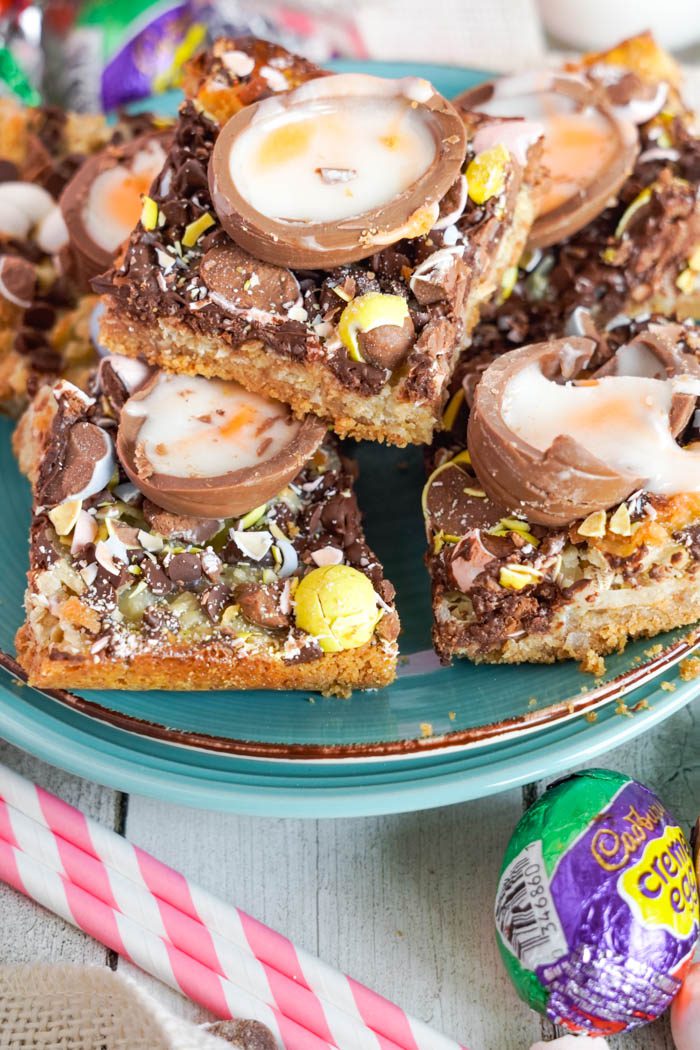 Try these delicious Cadbury Creme Eggs Easter Magic Bars! Chewy and gooey Easter Magic Bars topped with Cadbury Creme Eggs! Super easy – just add everything to a baking dish and bake! A great Easter dessert for crowds!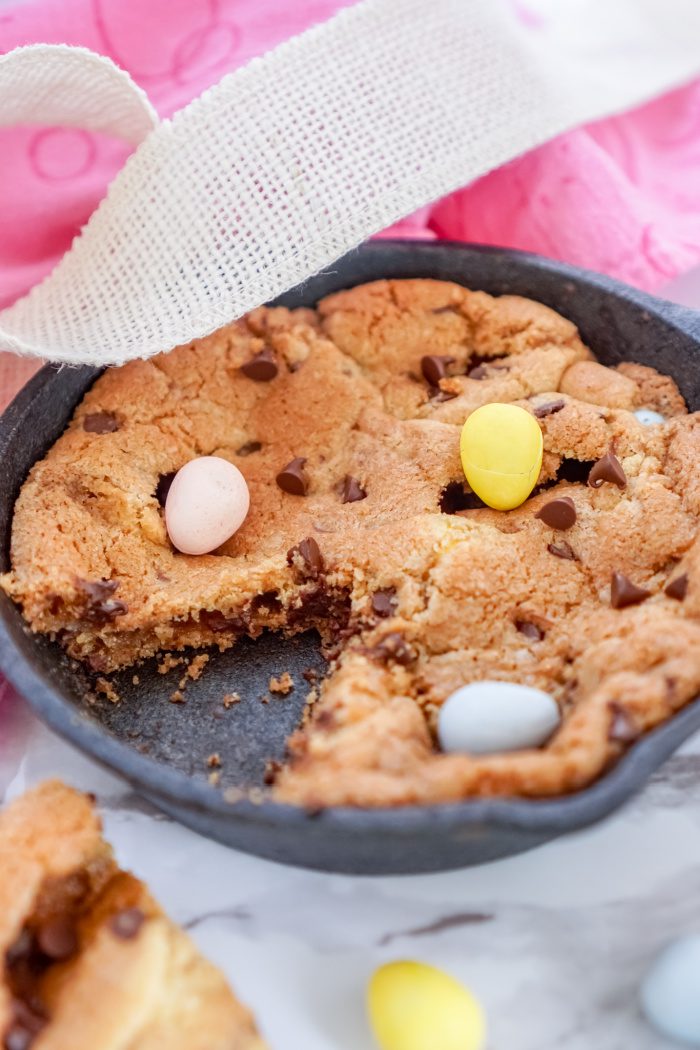 If you're needing a quick and easy Easter dessert for a crowd, try this Cadbury Skillet Cookie Recipe! Super simple Chocolate Chip Cookie ingredients and packed with Cadbury Mini Eggs! Super fun for Easter and so easy to whip up! Be sure to give it a try!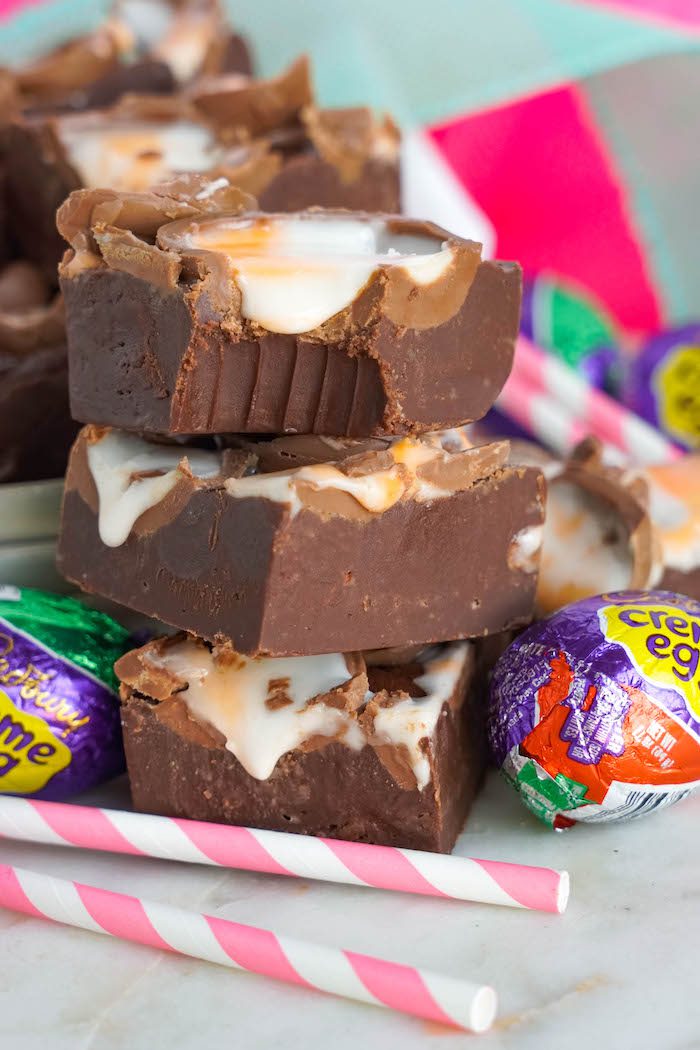 I am OBSESSED with this Easy Chocolate Cadbury Creme Eggs Fudge Recipe for Easter! So creamy and PACKED with chocolate – especially with the Cadbury Creme Eggs! Your guests will LOVE this Chocolate Fudge Recipe, plus it's the perfect dessert recipe to make ahead of time! Love it!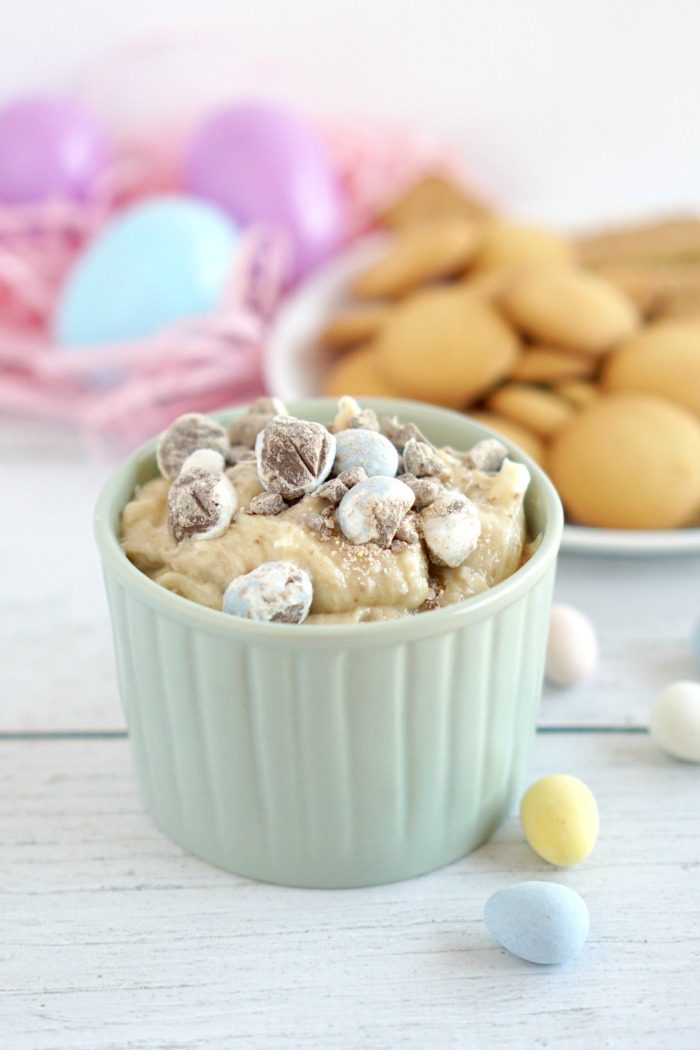 One of my FAVORITE things to make for Easter is this Easy Cadbury Easter Dip Recipe! A super easy and creamy Easter Dip – perfect with Graham Crackers, Vanilla Wafers, Pretzels, or Fruit! Great for a crowd and so fun for Easter brunches and parties! Let me know what you love to serve with it!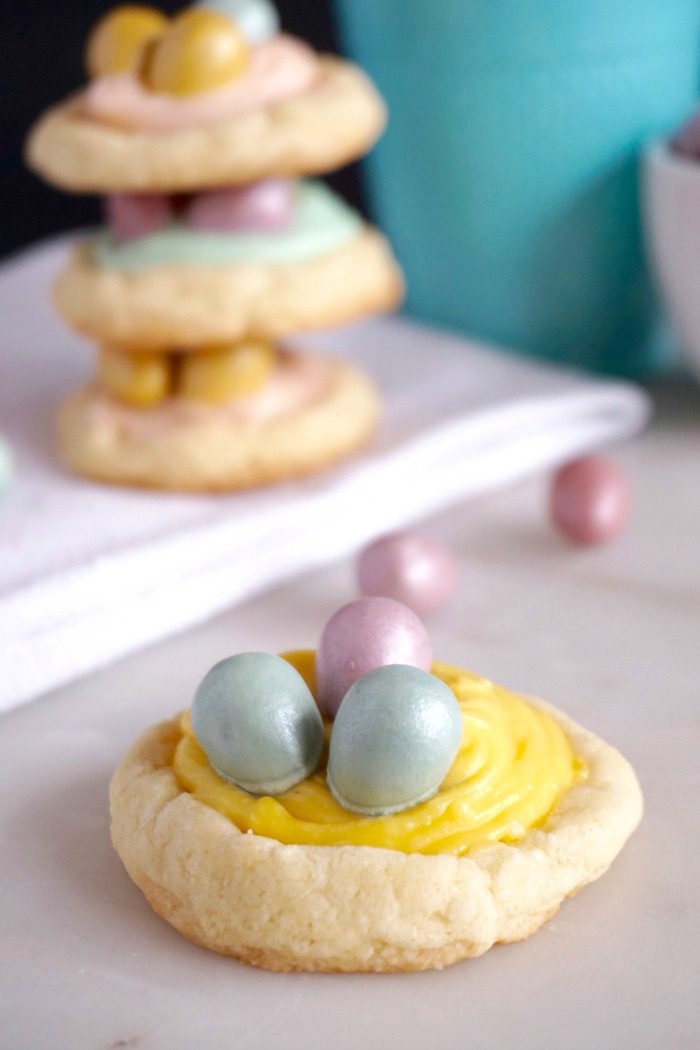 How CUTE is this Easy Cadbury Birds Next Easter Sugar Cookies Recipe?!? A great "kid-friendly" Easter Recipe made from a Sugar Cookie Mix and topped with a delicious homemade cream cheese frosting. My favorite is the Cadbury Chocolate Eggs on top – SO CUTE!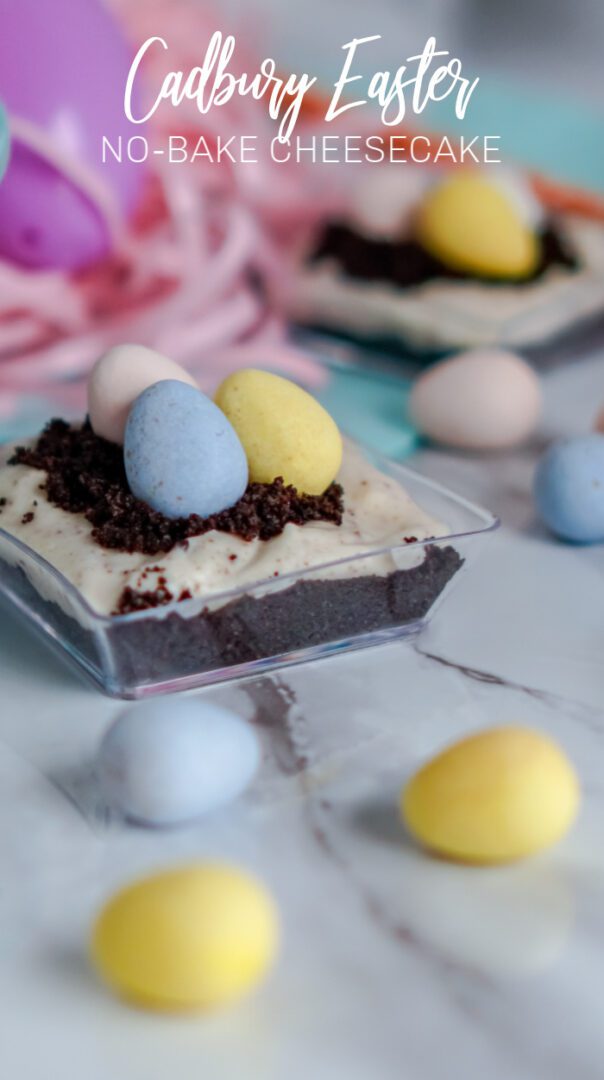 Be sure to try this Easter No Bake Mini Cheesecake Recipe this Easter! This homemade Cheesecake Recipe is SO simple to make and the perfect dessert for your Easter table! You can make individual servings or one large cheesecake dish depending on your need. Plus, it's great for making ahead of time since it will need to chill before serving. So yummy!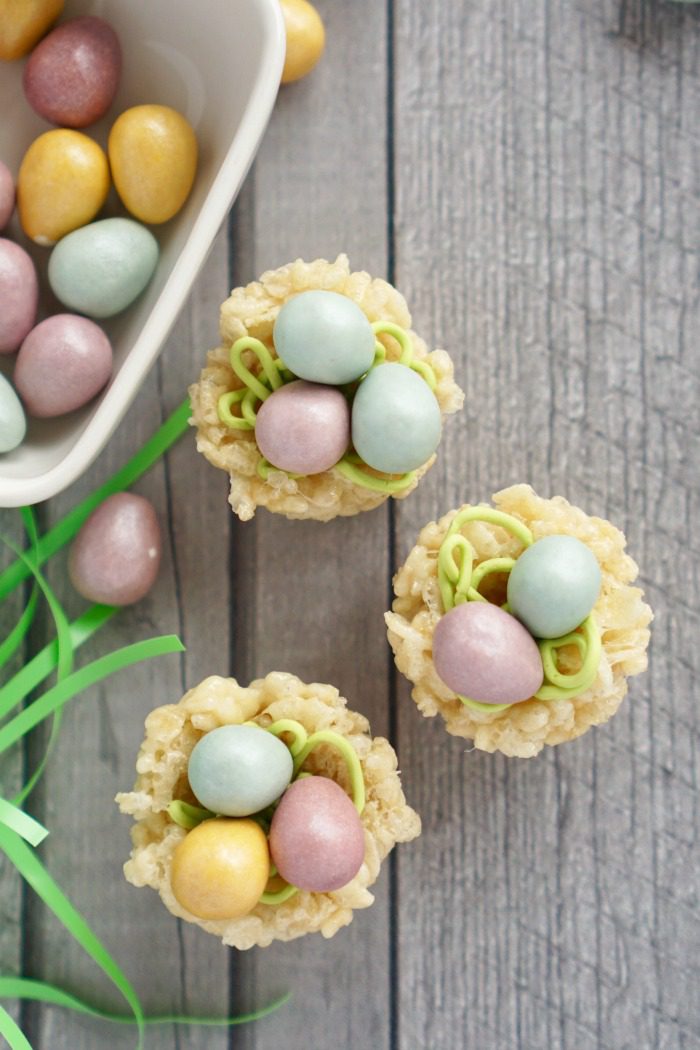 This Easter Birds Nest Rice Krispie Treats Recipe is a MUST TRY, especially for kids! A super easy Easter Dessert for Easter Egg Hunt Parties, Easter Brunches, and Easter Parties! Simple and delicious Easter Rice Krispie Treats with Cadbury Chocolate Eggs! So fun!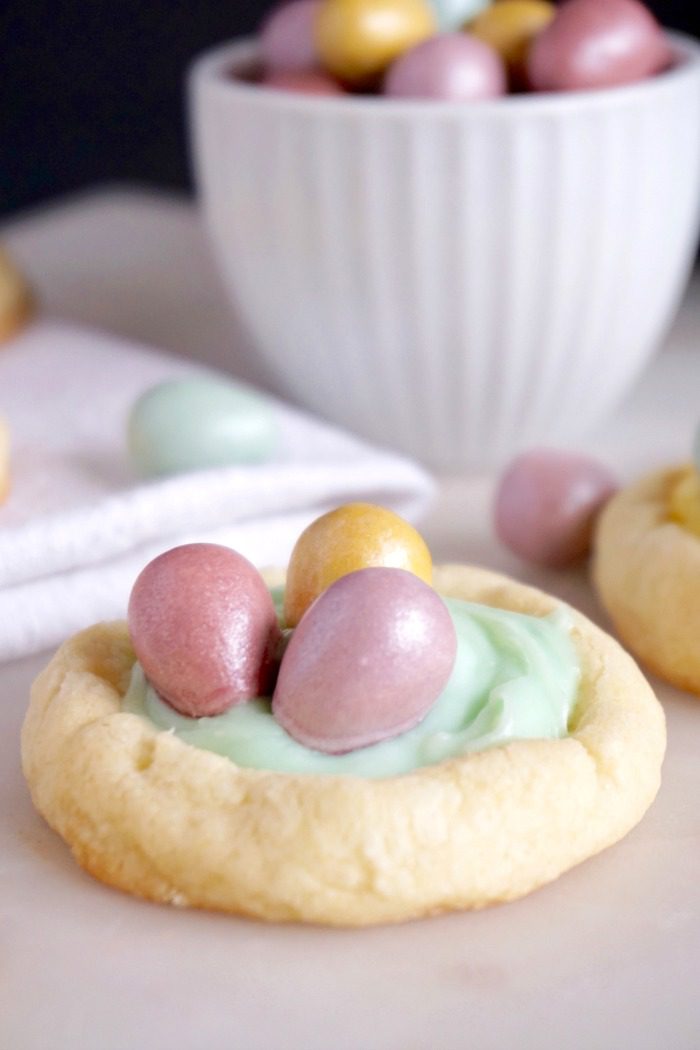 I LOVE Springtime and Easter! Watching the season change and seeing new life grow all around is so fun! And making delicious Easter Desserts is another favorite pastime! Fudge Recipes, Cookie Recipes, Magic Bar Recipes, and more! Let me know your go-to favorite Easter Desserts!
Cadbury Eggs are such a fun way to decorate your Easter Desserts for parties and gatherings! I love that I can incorporate them in my Easter Desserts and also decorate with them too! Whether you plan on using Mini Cadbury Eggs or Cadbury Creme Eggs, these fun chocolate candies take your Easter Desserts to another level!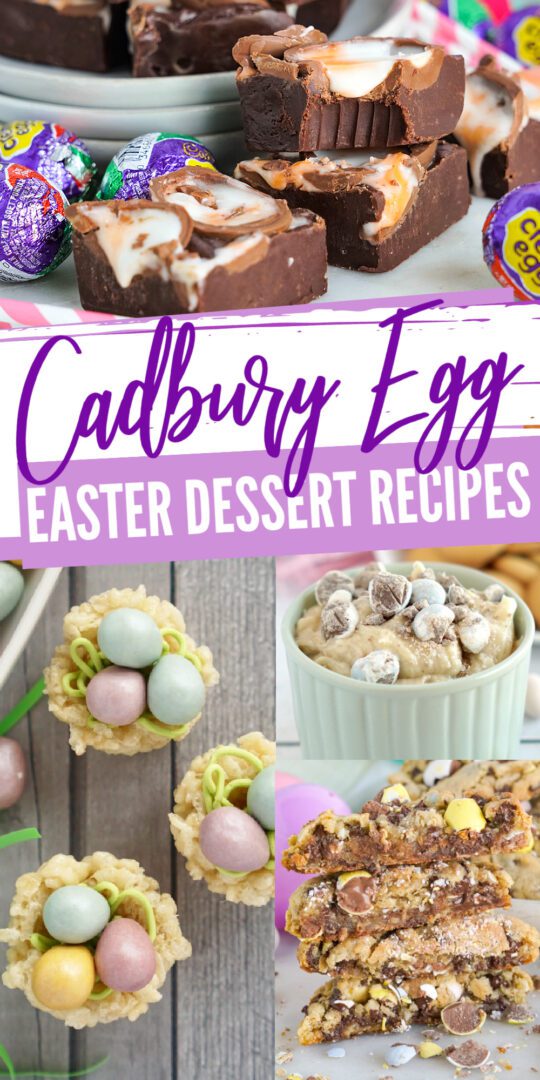 Another one of my go-to Dessert Recipes are Easy No Bake Dessert Recipes! Like these delicious No Bake Lemon Cheesecake Rice Krispie Treats Recipe or this amazing Chocolate Chip Cookie Dough Dip Recipe! Quick and simple No Bake Dessert Recipes for any occasion!
Download this FREE e-book today!!
Get access to 11 Sweet & Easy Dessert Recipes when you subscribe to our e-mail list!
Join LemonPeony on Pinterest!.


Pricing subject to Change at any time. Please make sure you check the current price on Amazon.com before purchasing. As an Amazon Associate I earn from qualifying purchases. Click here to view my entire Disclosure Policy.